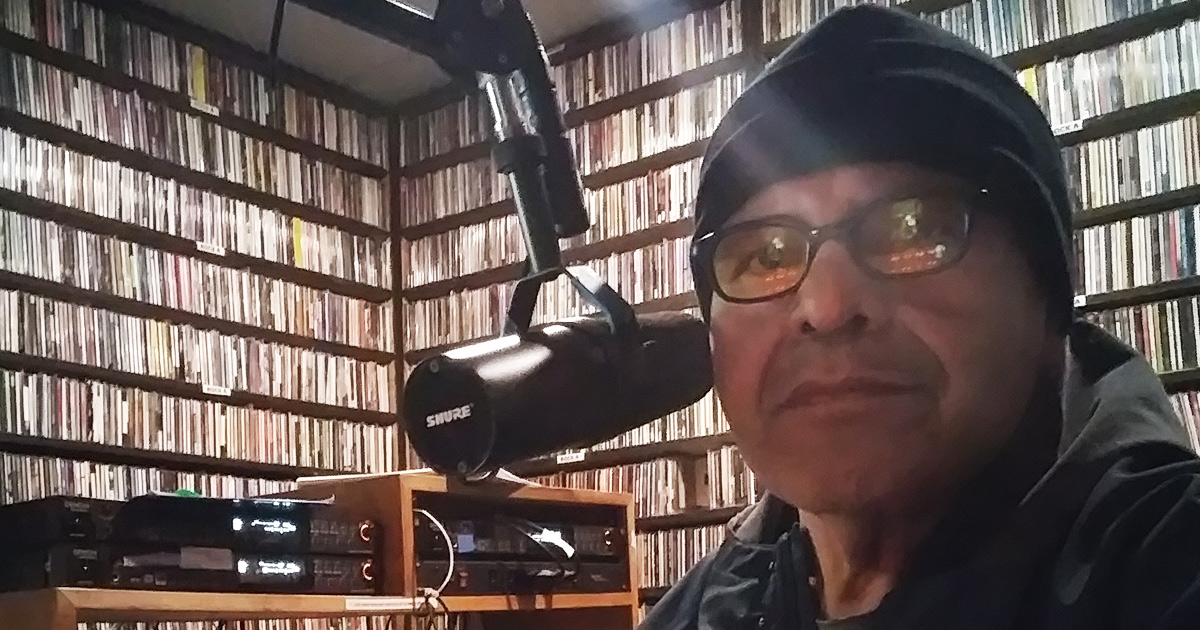 Fernando Castro | Sound Evolution
4 December 2018 Host Spotlight
---
by Barbara DeMarco-Barrett
I recently listened to your show, Sound Evolution, which airs on KUCI Saturdays at 6-8 a.m. and became mesmerized. How did you come to play a combination of world music, Latin alternative, and electronic music?
In the beginning, my intention was to do an electronic music show where I could play all the sub genres within it: trance, drum n' bass, house, and experimental.  But there were other genres I love and thought deserved air play.  I have enjoyed Latin Alternative and the great rock explosion of talent that left a mark during the 1980s.  Plus, my family introduced me to a lot of the Latin American rhythm at an early age.  During my years in University, I took a world music class and it opened new horizons with new music and it strengthen my curiosity to discover new sounds from all over the world.  Long story short, I decided to honor "the true spirit of the underground" that KUCI represents and took on the endeavor of playing a vast variety of music.
What do you hear from your listeners?
My listeners know they will find cutting edge music divided into three genres and some of them enjoy one, two, or all three.  They have been kind when they express their understanding for the music I play and are surprised for the discovery of new sounds they are searching for.  The listeners are passionate about a specific genre and give me band names to check out. I get constant feedback and enjoy their suggestions and requests.
Who's up at six in the morning? Do you take requests?
I enjoy it when our listeners make a request.  Some of them give me suggestions of new sounds and bands I have not heard of.  It is a symbiotic relationship that enriches the listeners as well as me.  The listeners are active members of the show and that is what makes it special to do a show at 6:00 a.m. Saturday morning.  The listening audience know they will be exposed to different sounds and enjoy two hours of energy and good vibes.  People are going to their weekend jobs, others are waking up with KUCI and listening at home.
Because KUCI streams worldwide, you must have listeners in some pretty far-flung places.
The world of radio is important locally but it has expanded to the ears of people all over the world.  Just imagine … there could be people listening in Australia, India, Spain, Mexico. or Argentina. It gives you a strong sense of responsibility.  The listeners expect the DJ not only to share but to mix all those great sounds and make it an enriching experience.
How did you find KUCI?
I was station surfing, tired of the same sounds, and disappointed stations were not willing to take a risk and give a chance to all the music that deserved to be played.   All of a sudden, I heard a ska show on a Saturday afternoon on a faint signal of an old radio I had.  It was the Ska Parade with Tazy Phillips and as I listened more to the station, I came across Riders of the Plastic Groove and was surprised with the variety of music. I fell in love with the free form format the station has.  I became a loyal listener and then some years later I had the honor of becoming a DJ at KUCI.  I checked the KUCI website and found the opportunity of becoming a DJ as a community member.  Initially, I debated whether or not to do it but because I have a degree in communications, I decided to take a chance.  It has been eight wonderful years so far. The time has flown by.  I usually don't keep a count of how many shows I have done but I was pleasantly surprised by the number of years I have been at KUCI.
What do you listen to when you're away from the station?
When I am not at the station and not listening to KUCI, I listen to a lot of music including some of the genres I do not play on my show.  I listen to classical music, jazz, punk and, thanks to my brother, some metal, grind core, and experimental music.  I also try to concentrate on finding new sounds in the genres that I play on my show.
Any bands or solo artists you recently fell in love with?
I specially enjoy Natalia Lafourcade and her venture to explore the sounds of her native state of  Veracruz, Mexico.  Her most recent album, Musas, En Manos de Los Macorinos, is filled with great folk songs that reflect the deep love she has for the music she grew up with.  Los Macorinos, who used to be the guitarist of legendary singer, Chavela Vargas, adds to the tone and atmosphere of this great release.  From Musas, I love Quererme Como A Mi Me Gusta. I was surprised to learn it was composed by Natalia.  It has an excellent energy, rhythm, and melody.  Lafourcade recently won the Latin Grammy for Best Folk Album. I also love the mix of different sounds.  Nortec Collective mixes the Norteño sound with electronic music. I love the energy of Nusrat Fateh Ali Khan and the remixes of the songs he recorded, and many other musicians who are able to add to the rich sound of the world of music. Imarhan, Tinariwen, Fatoumata Diawara, Tribalistas are world music artists I enjoy, to name a few.  In the Latin alternative world, female singers have recently taken the forefront in music.  Besides Natalia Lafourcade, Carla Morrison from Mexico, Mon Laferte from Chile, and Catalina Garcia and Li Saumet from Colombia are great female vocalists that are making an impact and are not only involved with their music but also collaborate with other artists.  I love ska and the Latin alternative world has a great number of quality acts.  Panteon Rococo, Maldita Vecindad, 8 Kalacas, Autenticos Decadentes, and Tokyo Ska Paradise are at the top of my playlists.  In the electronic music section, I featured some cool artists as Bonobo, Fakear, Colossus, Maduk, and Ben Bohmer.  Trance, Drum n' Bass, Hardcore Techno, and House are the styles of electronic music I play on Sound Evolution.
How much new music or artists do you find through the plethora of CDs sent to the station?
KUCI is responsible for getting great world music, Latin alternative, and electronic music.  Its library is immense and filled with great music I still need to explore.  Plus, we have the ability to listen to new music that gets delivered digitally to our radio station.  I spend time after my show exploring all those rich new sounds that arrive via digital format.  It is going to be the future of music and to have it at your fingertips on the computer makes it so convenient.
What's on your nightstand?
In my room, I have my turn tables and mixer as well as my boom box and a library of music that covers all types of music.  I have also an extensive collection of music in an external drive that delivers so many great hours of music. I love history so my bookshelf is not only filled with my old textbooks, but it also includes a collection of history books and magazines. Nothing is better than to have a good read and listen to great music before going to sleep.
One thing your listeners, fellow DJs, and Public Affairs hosts might be surprised to learn about you.
I coach soccer and whenever I get the chance, and I do the play-by-play of the soccer games for local indoor and outdoor soccer leagues.  I have been blessed to meet and interview some of the great retired soccer players I watched on television when they come to southern California to play an exhibition game.  It is another passion that keeps me busy throughout the week, besides my regular job. I also coach adults', kids', and ladies' soccer teams and it is a delight to be on the field.  I am fortunate to say that I have collected a lot of soccer trophies and I am lucky to coach groups of talented people.
I have fond memories of my childhood when I did play-by-play of soccer games and recorded them in old tape recorder.  My brother used to do the sound effect (the noise of the fans at the stadium).  I knew it was what I wanted to do in my life. KUCI plays such an important role in that aspect.
— November 5, 2018
---
Barbara DeMarco-Barrett is host of Writers on Writing, Wednesdays at 9 a.m., and a contributor to USA Noir: Best of the Akashic Noir Series (Akashic, 2013). Watch the book trailer at penonfire.com.
---