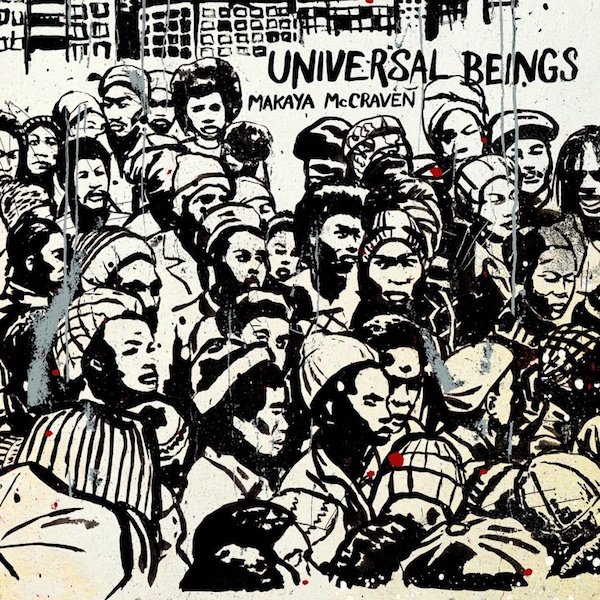 Jazz, Not Jazz | 11/29/18
29 November 2018 Jazz : Not Jazz
---
Makaya McRaven   –  Universal Beings    –  (International Anthem)
There is jazzy music and there is something else. I choose to call it "jazz itself". Jazz itself may or may not be music. It can be painting, conversation, a way of walking, a way of dreaming, a way of coughing.  If it is music, it may or may not check all the jazz boxes, (syncopation, swing, modal changes), or feature standard instrumentation, (piano trio, saxophone quartet, big band), it may apparently fall into the canon of other genres, or not even fit traditional genre classifications. Many musicians who are jazz like to call their music "creative music" (Art Ensemble of Chicago) or Miles Davis's term "social music". The overt purpose behind my postings here on the KUCI website is to reframe  perceptions, liberate ears, facilitate authentic connections between artists and listeners. That is also the work of composer/drummer Makaya McRaven in his most release, a 2 CD opus recorded  in four cities with varying combinations of collaborators.
The journey starts in New York. Here McRaven is joined by harpist Brandee Younger, cellist Tomeka Reid, Joel Ross on vibes,and Derzon Douglas on bass. The sound is as the instrumentation might imply is ethereal. The harp and  pizzicato cello often converse over deep grooves. The spirit is tribal, communal, ancient and contemporary at once. Subtly playful, there are undercurrents of '70's soul to help anchor the ear with something familiar.
Then we're off to Chi-town where the amazing saxophonist Shabaka Hutchings (from London's Sons of Kemet), Tomeka Reid  again, Chicago's omnipresent Junius Paul on bass, and McRaven form a post hip-hop power quartet that mirrors hyper arrhythmia over acute tinnitus. Gorgeous. There are meditative passages with hoarse sax solos that bewail.
In London, saxophonist Nubya Garcia (remember her name), keyboardist Ashley Henry, and bassist David Casimir, take McRaven's music into neo-electronica realms, "Everybody get up on your feet and trance!", before going deep into reconfigured African jams. There is a deep chill out groove in this session that should be a radio fave, "Suite Haus".
Finally L.A. explodes with franticism. Josh Johnson on  alto sax (Holophoner), Miguel Atwood-Ferguson, violin, Jeff Parker guitar (Tortoise), bassist Anna Buttress, and percussionist Carlos Nino take the music in experimental/rock inflected  realms contrasted with with more of the deep plucked string /sax/snare combo circular grooves that permeate the release no matter where the tunes were recorded. This is so good I bought it  for the station. Oh yeah, it is the essence of jazz itself.
---
Jason Kao Hwang/Burning Bridge  –   Blood    – (The Sound Recordings)
Composer/violinist Hwang is a superior case in point for my contention for the existence of "jazz itself".  Recognizable tropes from classical musics, both western and Chinese, jazz and experimentalism, cohabit amiably in a series of momentary revelations that span a gamut from anxious humor to furious contemplation. The tunes "Surge, Part 1" and "Surge , Part 2" are golems of music, something else and human too.
---
Collective Order  – Vol. 3   – (Self Released)
Collective Order is a large ensemble  (as opposed to a big band) from Toronto. Several of that city's premier artists, many who lead their own groups, occasionally join together to perform what is basically orchestral jazz of the first magnitude. This release is a portrait of Toronto and her people, "…we created a collection of compositions inspired by our cultural heritages and personal experiences…we aim to eliminate imaginary boundaries and establish new traditions."
The tunes are rich and vibrant. The connections to  emotional and cultural verities are real, not paint by number. I was deeply moved by "Theme for Lake Ontario pt. 2" and a melody that I call a modern classic, "Edward".<
---
Larry McDonough Quartet  –   Alice in Stonehenge    – (Self Released)
Composer/pianist McDonough releases a 2 CD set, one disc acoustic, one electric.  The title refers to the lead off tunes for each disc, "Alice in Wonderland" on disc 1, "Stonehenge" on disc 2.
While the generic feel differs from straight ahead jazz with some balladry ala Chet Baker on disc 1, to rock improvisation on disc 2, the music is always performed with easy technical acumen that releases an aura of well being throughout the project.
---