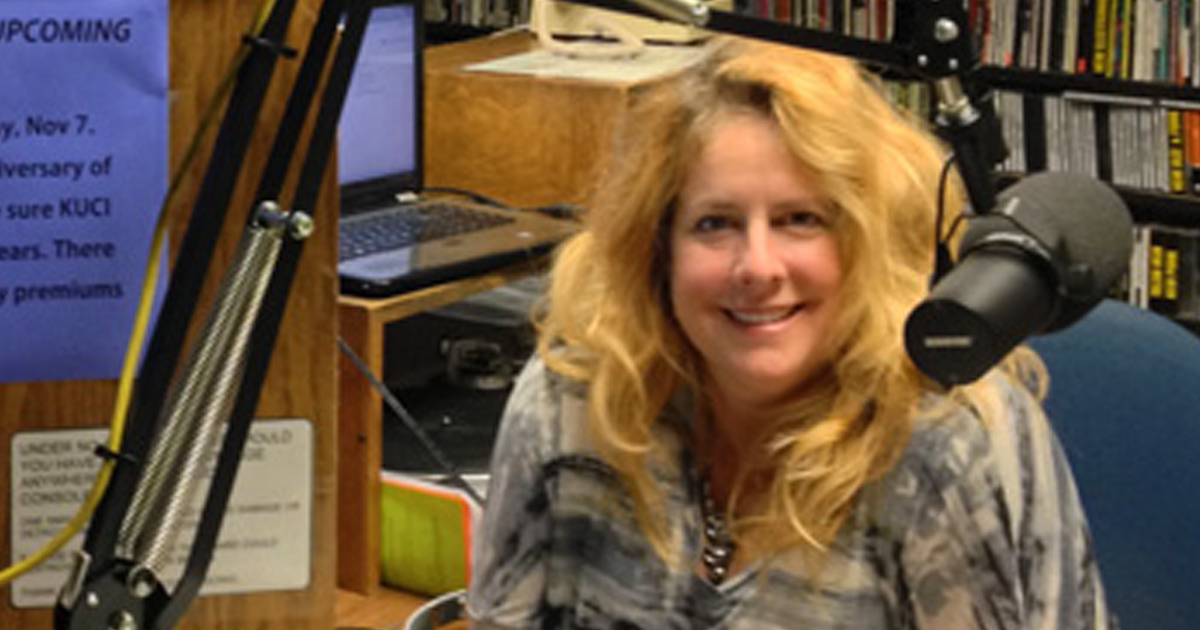 Kimberlee Martin | Real People of Orange County
21 November 2014 Host Spotlight
---
by: Nicole Nelson
Kimberlee Martin's Real People of Orange County takes a look inside the lives of OC's stand-out personalities who are a positive influence on the community. The show airs live every week Thursdays at 4:00p.m. She also currently serves as KUCI's Public Affairs Director.
First, Kimberlee, tell me about the inspiration for your show. What gave you the idea to highlight "real people" in Orange County?
I felt the media profile of Orange County did not represent the people that I was fortunate enough to know here in Orange County. I found very dedicated individuals deserving praise and a positive mention. But because of the current appetite for reality TV, they would not likely receive it unless they behaved in a ridiculous manner.
How do you find guests for your show?
I ask most people I come in contact with if they would like me to share a story of extraordinary people they know here in OC.
Who has been your favorite guest, one who surprised you or impressed you?
I have enjoyed the passion and dedication of each of my guests, but one of the ones that sticks out for me is the airline pilot. He shared some information that actually makes me nervous for the future of commercial aviation.
How long have you been on the air? How did you come to have a show at KUCI?
I have been with KUCI for three years. I took the course to help out a friend that wanted a career in radio. She needed a co-host. But once I was done with the course, she had moved on and I was offered my own show.
What do you hear from listeners?
In general, most say keep up the great programing. So that is always nice to hear. During my four-part series on domestic violence, we had a caller call in three times. He was very thankful for what we were doing with the show that day and I think he was actually reaching out for help. I hope he dialed the help line.
Do listeners ever nominate guests? Is the show interactive in that way?
I ask each week and have received requests for a few folks.
Here at KUCI, you are now Public Affairs Director. What is your favorite part of the job?
I love my role as director. My favorite part is interacting with the other DJ's and helping them make KUCI work in their lives.
Will you continue on for another term as Public Affairs Director?
It is a role that can be filled by a student, but if nobody is available, I will happily help out.
Are there other shows on KUCI that you listen to on a regular basis?
I wait rather impatiently for the new Writers on Writing show. Ask a Leader, Counterspin and Planetary Radio, Film School. I podcast the ones that I can and listen at night.
When you're not at the station, how do you spend your time?
I operate a board and care for the elderly and run kids to and from school spanning three different counties. I spend way too much time on the road.
What is the most valuable part of hosting a show on KUCI?
I love hosting because I feel I get to bring many peoples stories to the community. They may not lead exotic lives but they most definitely give deeply and enrichingly to their community. I consider my show my way of giving back to this great county. And by sharing their stories, giving back to hose that devote themselves to improving the quality of life of those around us.
Can you make a brief pitch to listeners who might be considering getting involved — why should they consider starting their own show?
KUCI is a rare opportunity to share your views and opinions with your local community. If you have an interest in reaching a wider audience on a regular basis, consider joining our panel of DJ's.
— November 21, 2014
---
Nicole Nelson is co-host of "Writers and Writing" Wednesdays at 9 a.m. PT.
---