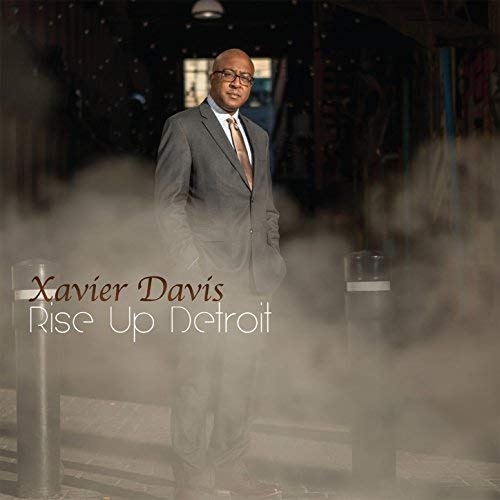 Jazz, Not Jazz | 11 / 19 / 18
19 November 2018 Jazz : Not Jazz
---
Xavier Davis – Rise Up Detroit – (Detroit Music Factory)
Dave McMurray – Music Is Life – (Blue Note)
Few cities have been as denigrated as Detroit. The stigma attached to the city by riots over half a century ago, the white flight that so severely decimated the city that whole swathes of the landscape returned to woods and prairies, and the American automobile industry facing near bankruptcy, convinced popular opinion to marginalize the city, dismiss it as a lost cause.
I am a native of Detroit. I am old enough to remember when it was America's 4th largest city, alive with a rich cultural life, political significance, and prosperity. Now it is the 21st largest city, right behind El Paso. Despite this quantifiable decline, the quality and vibrancy of the music made in Detroit has been a constant. Remember the rock of the Iggy Pop, The White Stripes, MC5, Was(Not Was), the funk of George Clinton, the hip hop of J. Dilla and Eminem, the jazz of Dinah Washington and James Carter, the blues of John Lee Hooker and by the way Motown and its successors in soul music?
Two recent releases illustrate the determination of Detroiters to remain, rebuild, and thrive.
The first, composer/pianist Xavier Davis's "Rise Up Detroit", is a suite of gloriously melodic music orchestrated using a piano trio and a string quartet. It is a chronological portrait that traces the city's history from the time it was a stop on the underground railway for slaves escaping to Canada, through Henry Ford's revolution, massive black immigration and prosperity, civil rights and wrongs, white emigration, and finally "Detroit 2.0", the present.
Jazz composition when it rigorously adheres to the traditional forms of classical music but still swings has a particular type of resonant authority. When done well, it reaches across the chasm of cultural presuppositions and has a clarity and directness that can be both moving and revelatory. That's the case here. It is all seriously wonderful. The tune "Exodus" and the "Exodus Interlude" which follows I find find to be sublimely brilliant.
Dave McMurray is a saxophonist who frequently collaborated with super producer and Blue Note Jazz president Don Was. Not only was he an essential element in the sound of Was(Not Was), he contributed to several of Was's productions with Bob Dylan, The Rolling Stones, Patti Smith, etc. He says that the element in his playing that appears in the work of other Detroit artists like James Carter and Yusef Lateef is a "singing" quality. On this self-produced release in power trio format with bassist Ibrahim Jones, and drummer Jeff Canady, there is tight control over the bop and wail. They do "sing", however the analogy I would choose is the speech of "talk singing". Some notes are spat out with determination, some casual asides pull you into intimate confidences. McMurray touches base with a couple of Detroit standards, "Atomic dog" and "Seven Man Army" (great arrangement on that one), but I like the originals best particularly "After the Storm","Detroit Theme/Detroit 3″, "Bop City D", "Naked Walk" and the title cut, "Music is Life".
---
Julian Arguelles – Tonadas – (Edition Records)
English saxophonist Arguelles, currently based in Austria, explores Spanish themes with verve and nuance. Working in quartet format,sax, piano, bass and drums he often juxtaposes Flamenco and Moorish elements with modal jazz. There is a moody piece that I found particularly moving, "Tonadilla".
---
Dayramir Gonzalez – The Grand Concourse – (Machat Records)
Young Havana born pianist Gonzalez takes his tradition (forms like Danza and Son) to New York and his own psyche to create something else. That something else is a pastiche of neoclassical romanticism, electrifying percussive jazz chordal structures, pentatonic modal departures, and soulful meditations. This record is unlike any other except to say that like the legions of jazz piano geniuses out of of Cuba he is extraordinarily insightful, and technically masterful.
---
Chucho Valdes – Jazz Bata 2 – (Mack Avenue)
One of the aforementioned piano geniuses from Cuba is Valdes, a founder of the group Irakere which opened up the deep African roots of Cuban music to U.S. audiences in the 1970's. He has gone on to win nine Grammys. At 77 he continues to be a definitive interpreter of the Cuban tradition, and also one of the finest jazz pianists ever. On ballads he plays with the ease and tenderness that eludes so many, (think Bill Evans), yet he has lost none of his fire. Deep forms are punctuated with blues asides and references to the avant garde of say Cecil Taylor or the skew classicism of Glenn Gould when that iconoclast early in his career destroyed Beethoven. It's that good.
---