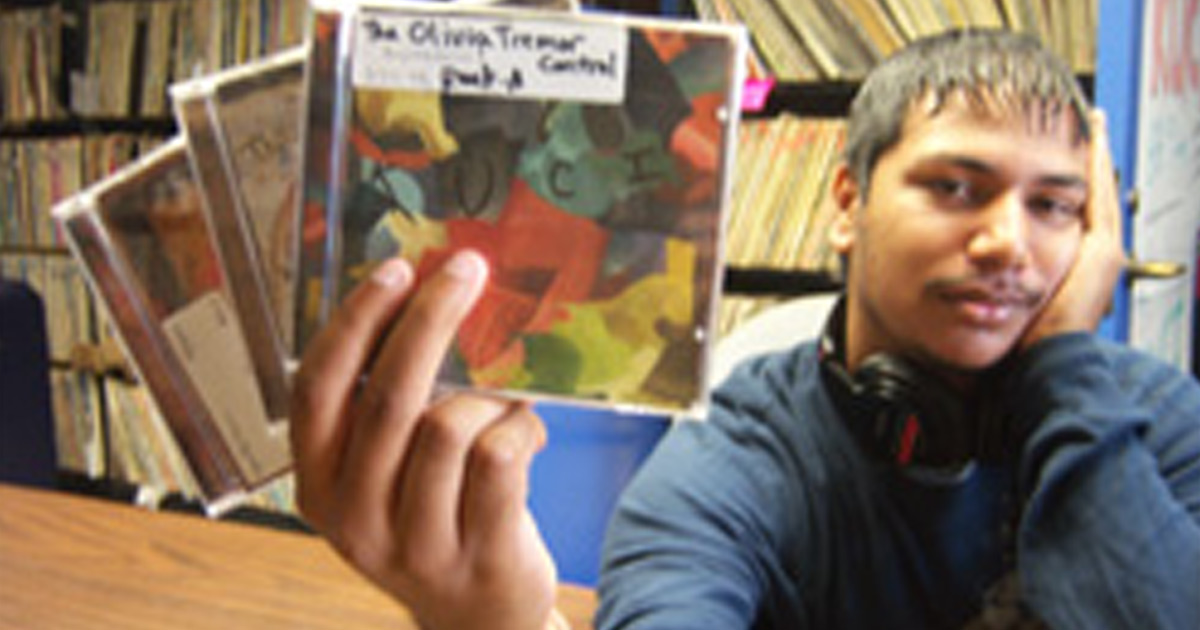 Shapan Debnath | How Goes?
6 November 2009 Host Spotlight
---
by: Mari Frank
Shapan Debnath has been involved in KUCI ever since first coming to UCI 3 years ago. He has a great show called "How Goes?" The show is not limited to any specific genre, but rather it takes on the personality of its host. From psychedelic pop to abrasive garage rock, the show has brought a variety of music to the KUCI airwaves. The show's playlists has morphed the longer that Shapan's been exposed to the great music at KUCI and the creative DJs. He is currently the productions manager and oversees everything added or removed in the KUCI cart system.
Tell us how you came to be at KUCI.
I transferred from UC Riverside and was lightly affiliated with the radio station there. So once I transferred, I was interested in UCI's college radio station. I found out more about the training class through the kuci.org website.
What is your present management position and what does it entail?
I'm productions manager. I monitor the cart system and upload public service announcements (PSAs). I add and delete carts accordingly, and manage everything that goes in, out, and all changes whether it's a PSA, promo, station ID, hot keys effects, or anything like that. KUCI DJs are usually the ones making the PSAs, I send appropriate scripts to DJs that are originally sent to me by people looking to promote an event or non-profit cause.
What part of the job is the most enjoyable?
I like creating PSAs when there are really cool events coming up that otherwise people might not know about. My favorite kind of PSAs to make are those that bring people out to the community.
What surprises have you experienced?
KUCI DJs can be pretty interested in making cool and unique PSAs or station IDs. I like it when people are actively involved in the station and don't just do something because they have to do it, but they do it because they dig it and want to make the station a great place.
What are your goals for the station?
I want more people to know about KUCI, I'd like to get KUCI more involved with the community and the university, too. I talk about the station a lot to people who usually have no idea it exists.
Tell us about your background.
Well, I'm from Los Angeles and love it in Southern California, though I also have a soft spot for New York. There's little else to say about my background that I feel worth mentioning, really. I'm pretty happy with the person I am even though I'm pretty sure most people don't know who that person is.
What's the name of your show on KUCI and how did you decide on that name?
My show's name is "How Goes?" It's a phrase I've been saying for a long time, so it just stuck as the name of my show. The phrase is being overused now, to be honest, but I still catch myself saying it from time to time.
How long have you had your show?
I've had my show for nearly 3 years now.
What is the website URL for the show and what will we find there?
The show's url is www.kuci.org/howgoes. If you go there you'll find all my playlists since the very first show, a little about me section, a bunch of links, and a bunch of info on the bands I've interviewed and the ones that played for the show.
What do you play on your show?
Everything. I'll play anything that sounds good to me.
Describe the format of your show.
It's pretty freeform. Now that it's back during safe harbor hours, I really like to be spontaneous. I usually have a set playlist of songs I keep in mind to play, but I don't stay strictly to that list. If I hear a song and I think some random spurt of the moment song would go well, I play it, I like taking requests and then I find a set of songs that go along with that request. I love when my friends are on the show and often I find myself talking more than I expect myself to. I've kinda got use to it by now, I love the way the show work out.
Who is your ideal listener?
Anyone who's open to music. Any kind of music. Or even if you're not, because that's challenging and fun. My stuff is usually laced with accessible hooks so I love getting that mainstream listener who maybe heard indie music and is more interested. As long as you have an open mind you might come out with something you really enjoy that you hadn't heard before.
You are a student at UCI, so tell us about what you are studying and your future career goals.
I'm a Biology major with a Philosophy/Psychology double minor. I pretty much enjoy all three of those fields quite a bit, though I'm planning to stick with Medicine for my future… possibly pediatrics.
What do you like best about being a student at UCI?
UCI has a nice campus, and I've made a bunch of good friends here. I think people won't understand what a nice, quaint little place Irvine is until they're gone. It's also a pretty legit school, academically.
What are your challenges?
Hah, just balancing all my school stuff, the few extracurriculars I'm into, and a social life. There's a lot of stress involved in keeping everything neat, but once you get some results it can be worth it.
What have you learned about yourself, your responsibilities, and others while working at KUCI?
I've found out that when I'm passionate about something, I can get really involved and I want to get really involved. Being around other similarly minded people is something everyone should experience.
What's most challenging about being involved with KUCI?
Time constraints.
What do you want your legacy to be as a KUCI DJ?
Just that I had a really fun show that was entertaining. I don't want it to be taken too seriously but I also want people to know that I loved having the privilege of playing for anyone, however many people were listening.
What would you like to see happen in the future at KUCI?
I want the station to be involved in the community. I want it to really be the thing people listen to when they are in Orange County. I want people to be in a car, have one person accidentally tune to KROQ, and then say "oops" and then switch to KUCI.
What are your hobbies outside of the station? Do you have any leisure time, outside of studying or running KUCI?
I like getting involved in making music though I haven't done enough of it since I've been in Irvine. I have a column in the university newspaper. I will watch basketball whenever I can and I like playing basketball too. Everything I love doing is amplified when I'm doing it with friends and family.
How has KUCI affected your life?
KUCI has pretty much provided me with a second family here in Irvine. I've made very good friendships here at the station and I consider everyone involved with the station to be a friend because I know I could get along with anyone who's decided to be part of a community. It's the best thing I've been a part of at the university.
What else do you want the UCI community and our listeners to know about you or the station?
Thanks for listening, and listen more. The more you listen the cooler you are, it's a fact.
— November 6, 2009
---
Mari Frank is a local attorney and the host of Privacy Piracy, which airs every Wednesday from 5-6 PM on KUCI. She also presents the weekly public service announcements called "Orange County News and Safety Tips" sharing important safety reminders from our local Orange County sheriff.
---