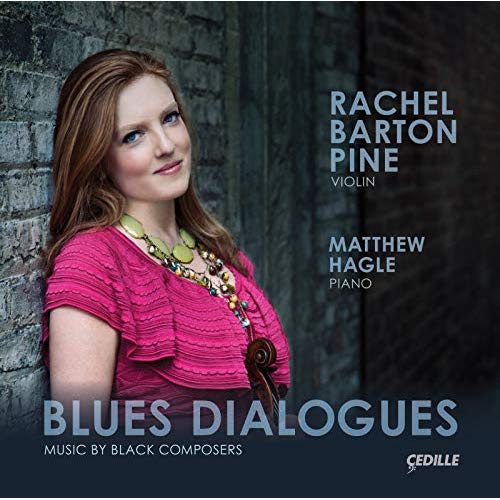 Jazz, Not Jazz | 11/1/18
1 November 2018 Jazz : Not Jazz
---
Rachel Barton Pine   – Blues Dialogues    – (Cedille Records)
This is an essential document for our times. In this period of transition and re-assessment about race, culture, and gender in our social and political worlds, it is  critical to have a genuine appreciation for the nuanced complexity of the diverse currents in the artistic world as well.
As the heading above my reviews indicates ("Jazz/Not Jazz"), I espouse the view that genre classification limits our understanding and appreciation of the peripatetic nature of  human experience.
Long ago I once met a very silly Allen Ginsburg at a party in a professor's house, and I confronted him because  earlier in the day had been extremely serious and dour in criticizing my poetry.  He smiled and said , "One minute your f***ing, the next your farting".
I took that to mean that the reality that matters is one that acknowledges the constancy of change and multiple perspectives.
Rachel Barton Pine is a renowned classical violinist. She also plays covers of Metallica. She is a middle-aged white woman. Stop. Think about the picture in your head. Discard it. She is a  authentic musician dedicated to craft and to the exposition of the human condition. As a person who gives to the world, she is and for quite a while has been, a resolute champion of the under appreciated contributions of black composers. The Rachel Barton Pine Foundation  devotes time and energy to research on their contributions. It also supports,in various ways, young musicians around the world
In 1997, she released a groundbreaking recording, Violin Concertos by Black Composers of the 18th and 19th Centuries (Cedille Records). In the current recording she focuses on 20th century composers. Accompanied by pianist Matthew Hagle (with appropriate sensitivity and acumen), the work ranges from blues based syncopation to dramatic romanticism, from an Ellington standard given  a reverent reading to an thorny modernistic rendition of the title compositions by living composer Dolores White. The revelation of White's music underscores how the twin demons of racism and sexism have impinged upon the contributions of important musicians in the world of "serious" music.
I started out this review by saying that this was an essential document. I believe that fervently, but not because it is a small step toward restorative justice in the music world, but because it showcases extraordinary music that should be heard and that makes lives better for the listening of it.
---
Guillermo Nojechowicz/El Eco – Two Worlds – (Self-released)
Composer/drummer Guillermo Nojechowicz and his band, El Eco, take a measured and formal approach to these Latin American inspired creations. Often accompanied by the wordless singing (vocalese) of Kim Nazarian, the passion is bridled, the solos fell charted. This is not a criticism. Nojechowicz has specific visions he wants to share. For instance, in the plaintive "Time Lost" the guitar plays a soliloquy from the heart. These melodies are intentional and sustained expressions that could almost be translated into words… no into the feelings and thoughts behind words.
---
Jeff Denson  –  Outside My Window  – (Ridgeway Records)
When an instrumentalist sings we sometimes get a clearer perception of how their "voice" informs their playing.  I am not referring to the physical voice, I am referring to their aesthetic values, what she or he finds beautiful.  Bassist composer Denson sings with fluid dynamic resonances and in higher registers and falsettos. At times he almost approaches the performance of a counter tenor. Juxtaposed with his bass solos, say on his cover of Peter Gabriel's "In Your Eyes", his presence feels encompassing, inclusive, complex, and it is difficult to tease out elements in the arrangements with out losing his totality of vision. This was, in my mind, the genius of David Bowie, the ability to arrange songs that you can't take apart without destroying them. His own compositions are mini-masterpieces of earnest irony (oxymoronic wonders). Check out "Have We Really Gone This Far", a hilarious break-up song that tragically unravels. All the musicians fall deeply in the sway of Denson's spell. They are drummer Ronen Itzik, keyboard/pianist Kari Ikonen, saxophonist Dayna Sephens, and engineer Tom Tedesco who missed not a moment of nuance in this complex and intricate work.
---
Strat Andriotis  –  Night Manager – (Dekatria Records)
Canadian composer/guitarist Andriotis, joined by violinist Jerry Goodman, (Mahavishnu Orchestra),and pianist, Adrean Farrugia, create a collaboration akin to, but not imitative of, the grand collaborations of Django Reinhardt and Stephane Grapelli. The tunes can be blues based or neo-classical, swinging, or full of sturm und drang, but they are consistently played with deep consideration and heartfelt wonder.
---