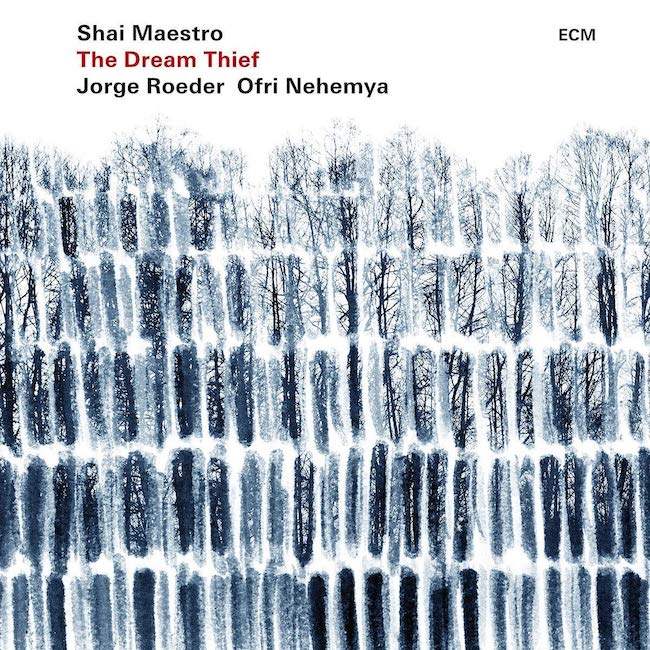 Jazz, Not Jazz | Piano Edition
3 October 2018 Featured Jazz : Not Jazz Music Reviews
---
by Hobart Taylor
Now let us celebrate the orchestra in a box, the piano.
Shai Maestro – The Dream Thief – (ECM)
Composer pianist Maestro, working here in a trio setting with bassist Jorge Roeder and drummer Ofri Nehemya, is profoundly expressive in his writing and arrangements without being ponderous or overly assertive in differentiating his pianistic persona. This may be why his quiet eloquence made him an outstanding accompanist for Avashi Cohen and a critical element on a recent Theo Bleckmann release. Early in ECM founder Mannfred Eichner's career the form "chamber jazz", an extension of Bill Evans' and Modern Jazz Quartet neo-classical approaches to jazz, was codified in the performances of Keith Jarrett. Maestro propels that tradition into a new century with both elan and wisdom. The title tune fervently explores up tempo patterns of crescendo/decrescendo amidst modal circularity while a simple and gorgeous tune lies ensconced in the middle of the piece. I was most deeply moved by the simple delights of the ephemeral understated melodies contained in "A Moon's Tale", "Choral","New River, New Water", and my favorite piece with it's very intimate and human feel "The Forgotten Village".
---
Art Hirahara – Sunward Bound – (Positone)
Hirahara often makes me smile. The way Monk and Mingus do. You know goofy, lopsided, loving, impish grinning. Oh, and he's a technically superb pianist.
This outing has none but the finest joining him. Bassist Linda May Han Oh, drummer Rudy Royston, and Donny McCaslin on sax. He can be delicate and deft, his fingers seemingly hovering lightly over the keys, playing by vibration rather touch on the ballads and folk tunes.
---
Elio Villafranca – Cinque – (Artist Share)
I'm going to do something never do. I am re-posting the description of this project, a labor of love and compassionate intelligence, from the artist's website before adding my own comment. It is a precise description of the work, and I could do no better.
"This double album is a five movement suite inspired by the story of Joseph Cinque, who in 1839 led a successful revolt aboard the slave ship La Amistad, days after being sold and transported to a sugar plantation in Cuba. Elio's most ambitious project today, showcases the cultural diversity of the five Caribbean islands of Cuba, Puerto Rico, Haiti, The Dominican Republic, and Jamaica; while simultaneously high- lighting the Congolese musical heritage woven into the fabric of each of these diverse nations, and yet unified via the forced migration of Africans to the Americas."
Cuban born composer/pianist Villafranca melds the talents of leading New York jazz artists, Steve Turre, Wynton Marsalis, Vincent Herring, etc. with a quartet of Caribbean percussionists in a work that is Ellingtonian in scale and expression.
---
Theo Hill – Interstellar Adventures – (Positone)
Using both acoustic and electric pianos, Hill along with drummer Rudy Royston and bassist Rashaan Carter has for me a round and and graceful sound.
The title tune is a montage of melodies, a series of dissolves. In contrast "Black Comedy", one of my faves, seems like barefoot stutter steps through a beach littered with broken glass. Hill can also be quite funky if need be. I've played the explosive tune "The Comet" often on my show. It's a real ear opener.
---
Christian Sands – Facing Dragons – (Mack Avenue)
Sands, like Robert Glasper and Cameron Graves, keeps a strong connection to contemporary black popular music while mixing in bop and straight ahead jazz elements. He has the goods, playing with seemingly effortless proficiency extraordinarily intricate runs. Very radio friendly and accessible.
---
Paul Giallorenzo – Trio Flow – (Delmark)
From Chicago comes this minor key denizen. This is so cool that I play it often on my shows without fanfare on back announcing. It is so much about the music itself that I forget to acknowledge how really great it is. I get hypnotized by its deep link to my lizard brain that my monkey brain doesn't stop to access its critical functions. It's been here for a year, and it is about time that I surface this one of my very favorite releases of all time.
---
Justin Kauflin – Coming Home – (Qwest Records)
In quartet mode, piano (electric and acoustic), bass, drums, and guitar Kauflin, and producer Derrick Hodge have made a "big" sounding and highly polished record that has the big budget sound of hit records in any genre. I suspect that may because of Quincy Jones' involvement as an angel to the project. If you saw the 2014 film "Keep On Keepin' On" documenting the last years of Trumpeter and jazz lion Clark Terry you are familiar with Kauflin as Terry's young protegee who's friendship brought joy to Terry's last years. Jones appears in the film as well and takes Kauflin under his wing.
The tunes are straight forward and easy to follow as they unfold, but all along the way there are sophisticated delights and surprises. My faves, "Pendulum" (with a backward masking coda), the haunting "Lost", the Sufjan Stevens tune "John My Beloved", and "Somethin' Somethin' ".
---