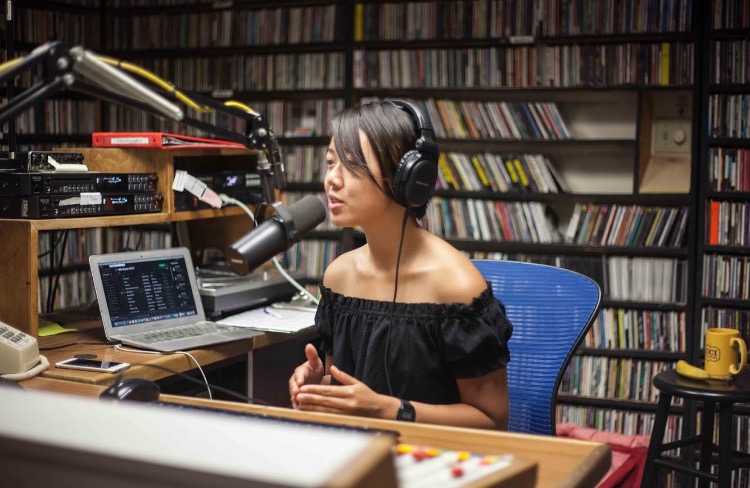 Lili Do | Sounds of Rich Mahogany
18 September 2017 Host Spotlight
---
by: Kelly von Hemert
"Lilsdo" is the laid back DJ persona behind Sounds of Rich Mahogony on KUCI Thursday mornings from 10:00 a.m. to noon. Besides playing a super fresh mix of neo-soulful alternative R&B, electro-pop, and all-round groovy tunes, she has a knack for curating a diverse playlist of high-quality covers.
So … how did the name, Sounds of Rich Mahogany, come about?
Very randomly. I was struggling coming up with a name for the show and I'd been talking with a friend when we thought it would be a good idea to Google "cool show name ideas." We clicked on a site and it just had a list of words and one of them happened to be "mahogany." My first thought was the line from one of my favorite movies, Anchorman: "I have many leather-bound books that smell of rich mahogany." In that instant, I thought, "Hey! What about Sounds of Rich Mahogany?" And from there, it stuck.
That's hilarious. Ron Burgundy lives! How long have you been doing your show?
Four years now, since summer 2013.
Congrats on your four year anniversary! You are one of those multi- talented DJ's who also has a P.A. show. Tell me about it.
Last year I began a public affairs show called Where's The Chase, since I've always wanted to have a talk show. It's about sharing stories of all kinds relating to love, dating, friendships, and more.
Cool! Such universal themes, and you have a great vibe that makes your guests comfortable. One time on Sounds of Rich Mahogany, you were talking about how you don't even know how you find your music anymore. Your life has become so immersed in—and enmeshed with—music that it has become a natural, organic process that just happens.
Yeah, honestly, my process just depends what kind of mood and setting I'm in. Normally, I dedicate a few hours of my day to listening to music and that's how I find it. The "Discover" and "Browse" tabs on Spotify are my best friends. But the more spontaneous way I find music is through movies, TV shows, and more recently, YouTube videos. I watch a lot of music channels, such as NPR Tiny Desk Performances and Colours, which help me find new artists. One of my favorite ways to find music is to bother friends and ask them what they've been listening to.
Lucky listeners. You always find great samples and covers. You introduced me to Flearoy's cover of Destiny's Child's, "Say My Name." I love it. What covers are you loving right now?
Finding covers are so fun, but finding good covers is the challenge. Some covers I've been loving are Kishi Bashi, "This Must Be The Place" (Talking Heads cover); Natalie Prass, "Any Time, Any Place" (Janet Jackson cover); The Bamboos, "Wilhelm Scream" (James Blake cover); and Moss Kena, "These Walls" (Kendrick Lamar cover). Those are some that come to mind right now, but there are more.
I got a chance to check out all of those you mentioned above—wow! In true Lilsdo fashion, it's a fastidiously-wrought list, yet comes across effortless. They are all so diverse and so well done. The Kishi Bashi cover of Talking Heads "This Must Be The Place" is brilliant. For me, a good cover is transgenerational and takes me from the original to the new version, but I'm sure it works the other way around for many. What does a cover do for you?
I'm glad you like the Kishi Bashi cover. I love covers because they allow me to hear the song from another perspective. I also love when the artist makes it his or her own by infusing it with his or her own unique style. Some of my favorite covers are when artists change the genre completely. It's a stretch, but if they can pull it off, it's awesome.
The time and research you put into your show is evident. You are a major influencer to your listeners. Were you always that way as a kid?
Hmm … looking back, I don't think so. I was more of a follower as a kid. I didn't really develop this until later on in high school. I've always been surrounded by people who listen to a lot of music, so I was being influenced by all kinds of genres until eventually I started to go explore on my own. It was after hearing my friends and family talk so passionately about music that I realized I wanted to be able to do the same.
What's your music background? Appreciation? Did you take voice? Instruments?
My music background is all appreciation. I wish I could sing (and in my mind I think I can), but it doesn't pan out so well. I did try out instruments like piano, violin, and guitar as a kid, but nothing really stuck. My dad was a huge influencer of my music taste. He loves classical music and I learned a lot about music appreciation from him from the days he would sit me down and talk about composers and all things classical. He also introduced me to lots of cheesy love songs from the '50s and'60s, and classic rock.
Awww, thanks Dad! who else got you into music?
My brother showed me rap, hip-hop, R&B, and EDM. My cousin introduced me to indie rock and pop. And my friend shared punk rock and everything weird. So I guess that sums up how I first started listening to music.
How great to have those memories with your family. What devices did you listen to music on when you were growing up?
It was always CDs for me. Everyone mentioned above burned me CDs all the time. I have 50+ burned CD's and I went through at least 3-4 CD portable players by age 12.
Queen of the Discman! Thanks, Lili!
You can find Lili's playlists and musings on her blog Sounds of Rich Mahogony and her PA show blog at Where's the Chase? and Soundcloud.

— September 18, 2017
---
Barbara DeMarco-Barrett is host of Writers on Writing, Wednesdays at 9 a.m., and a contributor to USA Noir: Best of the Akashic Noir Series (Akashic, 2013). Watch the book trailer at penonfire.com.
---