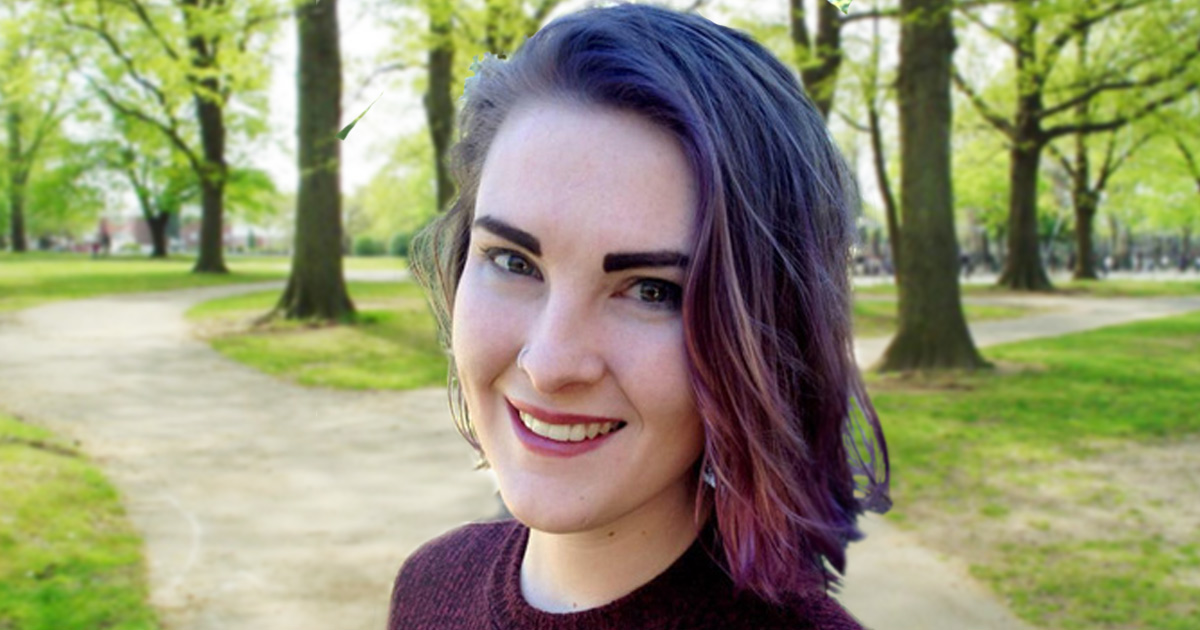 Liz Wood | Neon Daydreaming
9 September 2015 Host Spotlight
---
Tell me about your show at KUCI.
Neon Daydreaming originally started out last year as all synth-pop music, but has transformed into something much larger, covering more genres and taking more and more influences from my personal life. Whatever songs that I've had stuck in my head in the past week usually end up on the airwaves on Friday mornings at KUCI. I also try to showcase brand new releases, especially from local/LA bands.
Were you first interested in all types of music or did your interest in all types of music come from KUCI?
My knowledge of music genres was pathetically narrow until KUCI.
You're now Program Director. What's the best thing about the job?
I'm big on behind-the-scenes work, so I actually really liked making the schedule. I also love working with everyone at the station, and feel great every time I can help someone out or answer a question they might have.
The worst?
Maybe I've just been lucky, but I can't think of a single thing to say to this question.
And you're in band management?
I am and have been for about six months. I was interning with a management company, but recently ended my work with them, choosing instead to go solo. I currently manage two bands and work with others on PR/social media consulting, as well as booking and tour management.
As if that's not enough, you're also in your fourth year as an English and Criminology double major. What led you to this?
I followed everyone's advice going into college and majored in what I liked. I'm a good writer, and Criminology is simply fascinating. Looking back, I would have done many things differently, but I still plan to graduate with pride.
What music was playing around your home growing up?
I was raised on a mixture of Classic Rock influences from my dad (Van Halen especially), and Folk influences from my mom (my first concert was for James Taylor, Yusuf made up my lullabies). As soon as my younger brothers got a little older, my parents switched to Country music in the car. Country was a huge influence on me, and I found out recently that I still have all the lyrics from any given Country song between 1999-2007 stored in my brain. Around my freshman year in high school, we had a year of Christian Rock in the car, and then once I realized that I didn't know the songs at any parties or that any of my friends knew, we switched it over to a Top 40 station. It wasn't until my senior year of high school that I figured out I much prefer Alt-Rock, and now that's usually what my car radio is tuned to.
What stations do you listen to in the car?
KUCI, KROQ, ALT-98.7 mostly. I have an older car, no CD player, no way to connect my phone to the car radio. So I leave it on the dial, and sing along to every song. I like the mix of obscure music I have to listen to for my show versus popular music I get to listen to while driving.
Favorite shows at KUCI?
I don't play favorites. Or, I guess, any show that the DJ puts their time and effort and personality into. So, all of them.
What's the most surprising thing about KUCI?
I've fallen victim to a few pranks at the station. Once there was a (fake) snake hanging from the ceiling. At 6am with blurry morning eyes, that was a sight to see. I screamed pretty loudly.
Least surprising?
Honestly, all the vinyl and CDs on the walls. The first time I walked into the station, it just made sense. It was like, "Ah yes, this is right. This is home."
What do you hear from listeners?
A lot of my listeners are from bands that I play, tuning in to hear their song. They usually stay tuned through my show, and many have just become regular listeners. So mostly I hear words of thanks and praise for the station as a whole, for being dedicated to promoting underground and indie music and bands.
What would you like to hear from listeners?
I would like to hear from all the students at UCI that they've recently become listeners, and that they're fully aware that we have a radio station on campus. Too many times have I been talking to a classmate and they've been surprised at the fact that KUCI even exists.
What's the best thing a listener told you?
Because my show is from 6-8am, I get a lot of the driving-to-work crowd. Someone called in and said that they always listen on their way to work, and that they couldn't think of a better way to start their day. That made me really happy.
Tell us one thing about you that we'd never expect.
My first four front teeth are fake. I have a movie star smile — all straight caps. Someone get me on the big screen ASAP!
Favorite slogan?
I don't think it's a slogan, just something a teacher once told me: "Everything will be okay. Unless you die. In which case, everything will be okay." In times of anxiety, it tickles my dark-humor funny bone. And frankly, I believe it 100%.
— September 9, 2015
---
Barbara DeMarco-Barrett is host of Writers on Writing, Wednesdays at 9 a.m., and a contributor to USA Noir: Best of the Akashic Noir Series (Akashic, 2013). Watch the book trailer at penonfire.com.
---