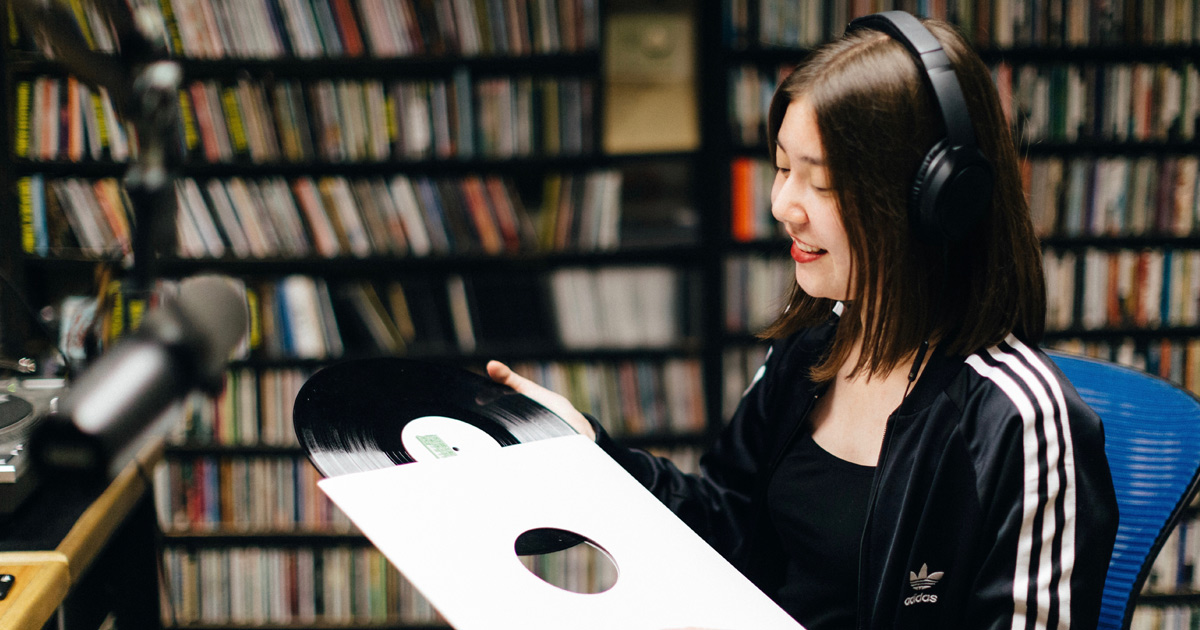 Emma Anderson | The Groove
9 September 2019 Host Spotlight
---
Tell me about your show.
My radio show "The Groove" celebrates the sound and soul of the '60s and '70s. I play classic soul tracks from long lost artists like Jean Wells, Andrea Henry, and Rufus Lumley. I also showcase modern soul groups like Thee Lakesiders and Durand Jones & The Indications.
Can you trace back and remember when your interest in radio began?
In high school I spent weekends exploring the underground music scene in Los Angeles. I would hunt down the cheapest concerts in the sketchiest venues because that's where new talent surfaced. Favorite spots included an alleyway garage called the Smell, an old flower shop in the Theater District, and a rundown church basement on York Boulevard. Often times these venues would get shut down, and I'd be forced to find music elsewhere. That's when I discovered college radio. I rotated between KXLU, KZSC, and KUCI to find the latest sounds. On top of diverse programming, I loved how college radio represented each campus community and their local artists. By the time I entered UCI, I was eager to participate in radio.
What did you listen to, growing up?
Growing up, my mom played a bunch of Madchester hits. Whenever we went for a drive there would be some combination of New Order, Happy Mondays, and Stone Roses playing on the stereo. New Order ultimately inspired my love for electronica. My very first show on KUCI was an electronic show that featured house and techno.
Where do you find the artists you play?
For older tracks I do a deep dive through digital platforms like Discogs or YouTube. There are plenty of collectors out there who upload their 45s online and archive music that is out of print. It's a real treasure trove. For modern soul and disco tracks, I go by the record label. Colemine, Razor-N-Tape, and Big Crown Records are all hot on the scene if you're looking for old school sound with a modern twist.
Have you discovered artists you would have missed if not for having a show?
Yes, definitely! As a Live Band Engineer I help run sound check for visiting bands. I've seen a lot of talent come through the station that I would not have discovered elsewhere. Some of these artists include XinXin, Dear Boy, and Plasmic.
Do listeners call in? What's one of the most wild requests or comments you've received?
I love telling this story. Back in Winter 2018, a female listener asked me to transmit a not-so-secret admirer message to her boy crush who was tuned in to my show. I announced their names on air and expressed the girl's feelings for the boy. Moments later I received a call from the boy, who asked me to announce that he, too, had a crush on the girl. The couple started dating after the radio broadcast and are still together to this day. A match made in radio heaven.
At KUCI, you hold the position of Funk genre assistant. What does that job entail?
I help expand KUCI's funk collection by seeking out new music and reaching out to different labels to obtain physical album copies for the station.
What are the benefits of doing the job?
I get a first look at the artists that go through KUCI's inbox. It also keeps me on my feet in search of new sound.
What do you do when you're not at KUCI?
I'm a full-time student studying Informatics. When school breaks for summer, I work as a software engineer intern at Intuit.
How has your involvement with the station affected your life?
Thanks to KUCI I'm now a self taught DJ. When I first started out at the station, I watched DJs like Gold Code, Kaiju, and DJ Loser mix their shows live. Observing their live sets got me interested in learning how to DJ. I practiced day and night on a controller until eventually I was able to incorporate live mixing into my own show. I'm always impressed by the people I meet at KUCI, and they continue to inspire me to be the best disc jockey I can be.
What's on your nightstand?
A miniature dala horse from when I lived in Sweden.
In your fridge?
Ben & Jerry's Half Baked (and half-eaten) ice cream.
The last great book you read.
Alchemy: The Dark Art and Curious Science of Creating Magic in Brands, Business, and Life by Rory Sutherland.
Your favorite quote?
"Gentlemen, you can't fight in here. This is the War Room!"
What advice do you have for students or community members considering the KUCI training course and subsequent hosting or DJing a show?
Don't be afraid to reach out to a host and ask to shadow their show. I've welcomed several guests on my show who were interested in radio but were unsure where to start. For some guests, watching a live broadcast in Studio A was just the push they needed to sign up for the KUCI training class.
— September 9, 2019
---
Barbara DeMarco-Barrett is host of Writers on Writing, Wednesdays at 9 a.m., and a contributor to USA Noir: Best of the Akashic Noir Series (Akashic, 2013). Watch the book trailer at BarbaraDeMarcoBarrett.com.
---