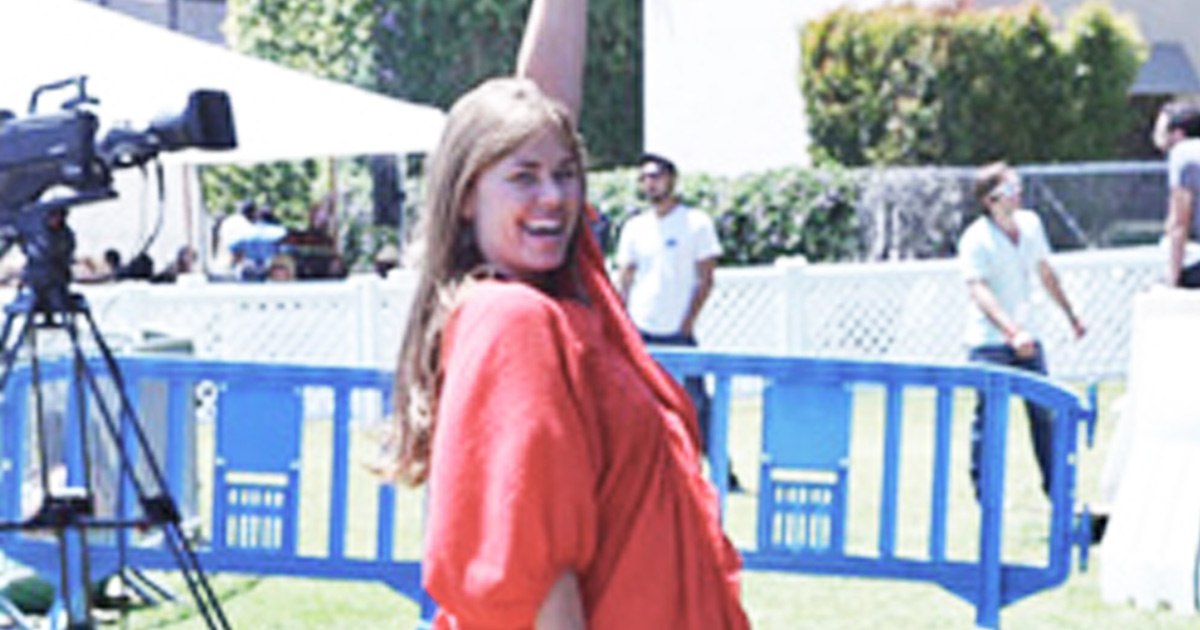 Tedde "Sister Rue" La Rue | Positive Vibrations
1 September 2011 Host Spotlight
---
Tedde "Sister Rue" La Rue, 25, grew up in San Diego. A dancer of ballet for 22 years, Tedde danced professionally before coming to UCI to pursue a B.A. in Dance. Besides hosting her radio program, Positive Vibrations, Tedde teaches Pilates at UCI's gym in the Anteater Recreation Center where she will lead drum circles starting in the fall quarter. Her other hobbies include Yoga, hiking, rock-climbing and playing as many instruments, and as often, as she can. Tedde has been involved with her show for more than two years now, and teaches deejay training classes. I became familiar with Tedde "Sister Rue" because her show follows mine on Wednesday mornings.
How did you find your way to KUCI?
Two years ago a professor friend of mine at UCI walked me to the station and basically told me I had to do this, that I had the music and the voice, so I signed up for an internship right then and there.
In your spot on Wednesday morning's used to be Big Jim's reggae show. Were you a listener?
The first show I heard on KUCI happened to be Big Jim's reggae show, so when I came to the station with the intention to play reggae, I signed up to intern with him, and he has been a mentor of sorts ever since. Once he left the station earlier this year I inherited his slot and his listeners, carrying the torch and hopefully doing it justice.
What do you listen to in the car? At home?
In the car, KUCI 88.9FM is my first choice. I love everything KUCI has to offer, reggae or not. My theory is good music is good music, no matter what genre, and it's all good on KUCI. At home, I jam 45's on my old school Califone, which is falling apart.
What do you especially love about reggae?
I love reggae music for the mere fact that the music is some of the most universal. There's never a moment I feel unhappy when I hear a positive message coming from an upbeat reggae roots, lovers rock, or rock steady jam. The message and meaning is pure, beautiful and uplifting. This is why I listen to reggae, and this is why I put it on air.
Any favorite artists?
The Gladiators, Alton Ellis, Bob Andy, The Ethiopians, Burning Spear, Johnny Osbourne and Don Carlos… just scratching the surface.
Do you do interviews?
Besides covering press for major festivals such as the Ragga Muffins festival in Long Beach, the Jazz/Reggae Festival at UCLA, and the Sierra Nevada World Music Festival in Mendocino County, I've done a few interviews. I've had the privilege to interview Ziggy Marley, Ky-mani Marley, Steel Pulse and Rootz Underground. Fully Fullwood & Tony Chin, have visited twice for in-studio interviews and a sweet live jam sesh on air.
What's the most interesting thing a listener has said to you about the show?
I normally get unbelievable praise and positive response on RadioFlag, my Tumblr and in station phone calls. A pizza place that plays my show loves it so much that they brought me a gift pizza! I suppose another interesting thing would have to be my listeners in Scotland who call in internationally just to tell me they love the show.
Where in Orange County do you like to go listen to reggae bands?
Sure, there are many venues in Orange County alone, from the Coach House, The Galaxy Theater, Mozambique's, and Don the Beachcomber to name a few. OC can be surprisingly reggae conscious.
Do you host live bands?
I do in fact. I've had a live DJ set by DJ Icky Green, I've had Fully Fullwood and Tony Chin play a mellow acoustic set before, and I am looking forward to having a special mystery guest in a couple of weeks.
What do you esp. like about KUCI?
I LOVE KUCI mainly because the station and the people are so unique. There's a sense of community, all of us volunteering to support and run our public, non-commercial, underground, freeform, free-speech, eclectic radio station.
Anything we should be listening for during the Fall?
Certainly my show, Positive Vibrations, at its normal slot, Wednesdays 10AM – 1PM, with more interviews and live bands, and the opportunities continue to seemingly fall into my lap. I am so blessed to have the show, and am looking forward to spreading the "positive vibrations" for another successful quarter.
— September 1, 2011
---
Barbara DeMarco-Barrett's son was four when she started "Writers on Writing." He's now 16. She's Orange Coast Magazine's new literary critic, author of Pen on Fire, and has a story in the newish collection, Orange County Noir (Akashic). More at Pen on Fire .
---