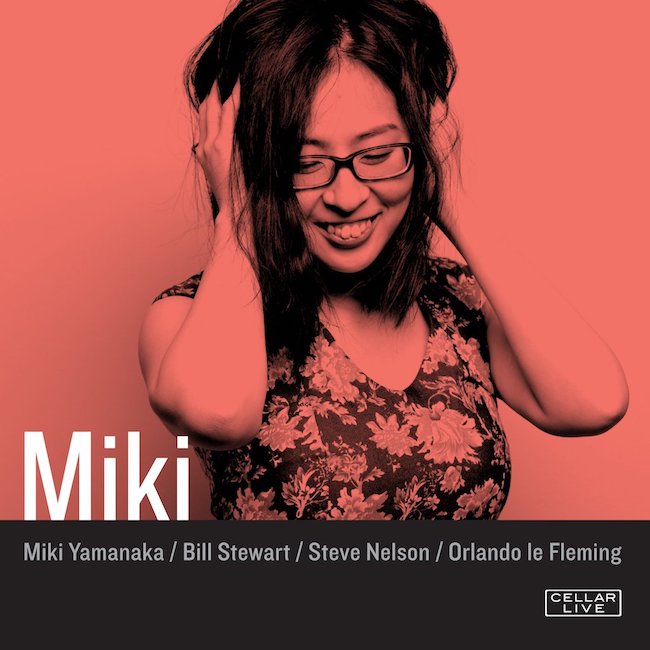 Jazz, Not Jazz | 8/27/18
27 August 2018 Jazz : Not Jazz Music Reviews
---
by Hobart Taylor
Miki Yamanaka – Miki – (Cellar Live)
Composer/pianist Yamanaka is joined here by my favorite drummer this week, Bill Stewart, renowned vibraphone player, Steve Nelson, and bassist Orlando le Fleming in a stunning debut. A master at "comping", providing support for other soloists, she shapes each of these basically joyous dashes through the changes by cueing Nelson and Stewart on crescendoing flights of fancy and then summarizing same in her solos. The ballads are even, light, waltzy, confections in the manner of Bill Evans. Yummy.
---
Monika Herzig's Sheroes – Sheroes – (Whaling City Sound)
Jazz's glass ceiling is the all female ensemble. German pianist/composer Herzig has assembled an all star cast of soloists including Canada's Ingrid Jensen on trumpet, Italy's Ada Rovatti on woodwinds joined by Jamie Baum on flute, Israel's Reut Regev on trombone, Leni Stern on guitar, drummers Rosa Avila and Mayra Casales, and bassist Jennifer Vincent. These artists have been laboring in the vineyards for decades and it shows on this excellent release. Deep in the mainstream with a lot of Latin inflection and some blues/ballad mood shifters,this is consistently beautiful and refreshing music.
---
Charles Lloyd and the Marvels w/ Lucinda Williams – Vanished Gardens – (Capitol Records)
Five decades of impassioned improvisation drive Lloyd. Williams adds Americana earthiness to the mix. The great new civil rights song of the 21st century ,"We've Come Too Far To Turn Around" is the highlight of the collaboration..
---
Gordon Grdina's The Marrow – Ejdeha – (Songlines Recordings)
Yeah, it's "World", but it's jazz in the ultimates sense, captivating improv on the oud, tombak, and the western instruments bass and cello. Gorgeous.
---
Roy McGrath – Remembranza's – (Self-Released)
Chicago based Puerto Rican saxophonist McGrath honors poet Julia de Burgos with a suite of compositions and also collaborates with other poets in this voyage to the Latin Caribbean and the worlds of dream and memory.
---
Bobby Sanabria – West Side Story Reimagined – (Jazzheads)
A big Band take on the "Carmen" of the Americas, "West side Story". Like Carmen, Bernstein's masterpiece summarizes the popular musical idioms of an era. This take slants Latin, and the polyrhythms surge like multiple currents under the surface of the melodies.
---
Henry Conerway III – With Pride for Dignity – (Self-Released)
Drummer Connerway leads a wonderful trio, (think Vulcan group mind, Trekkies), with Kenny Banks, Jr., piano, Kevin Smith, bass, in a spare Memphis blues driven romp with advanced abstract commentary through Ellington, Phineas Newborn, Jimmy Heath and some grand originals by both himself and Banks, (the title tune). Precisely perfectly, pristine.
---
Steve Turre – The Very Thought of You – (Smoke Sessions Records)
This release features maybe the premier trombonist in jazz today, (as well as the best damn conch shell player ever), Steve Turre. Turre and Kenny Barron, piano, Buster Williams, bass, Willie Jones III, drums, George Coleman, tenor sax, Russell Malone, guitar (and on a couple of tunes a string section) focus on classics with a couple of originals tossed in. Turre's tone is legendary, round and direct, all enveloping. This is textbook classical jazz.
---