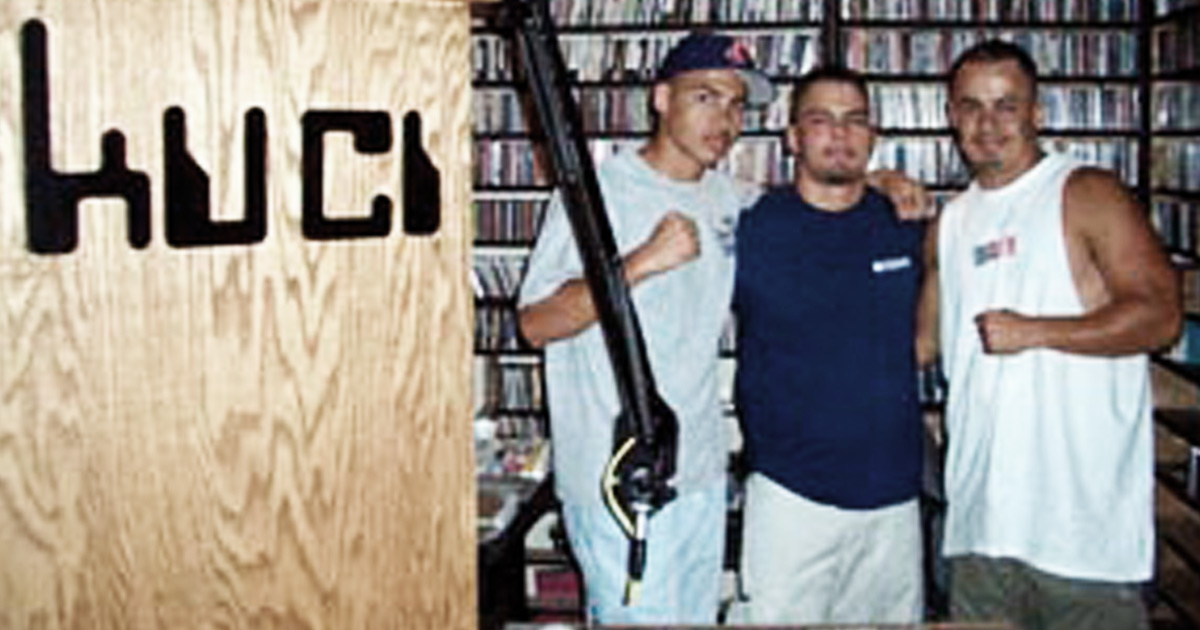 Armando + Javier + Mariano | Saxofones, Tubas Y Accordeones
22 August 2004 Host Spotlight
---
Tim Russert closes each edition of NBC's "Meet The Press" with the authoritative signature sign-off, "If it's Sunday, it's 'Meet The Press.'"
If they ever had the inclination, the Rubio brothers could close their KUCI show with an equally axiomatic farewell: "If it's Monday night, it's 'Saxofones, Tubas Y Accordeones.'"
"We have always been on the air on Mondays," Armando Rubio explains in an e-mail interview, chronicling the various permutations, hosts, time slots and titles of the long-running show he now co-hosts with his brothers Javier and Mariano on Monday nights from 6-8 p.m. On-air, the three Rubios are collectively known as "KUChI-locos."
The show debuted on KUCI in Spring of 1996 in a slightly different time slot, under a more than slightly different name. "First," Armando continues, "we were 'Bandas y Accordeones.' Now it is called 'Saxofones, Tubas Y Accordeones.'"
"The new name specifies the instruments used to compose the music we play. Since we play 'norte?o' music, which has various styles but the two types of styles we implement have something in common, which is the implementation of the accordion."
"One style will have this instrument with the inclusion of the saxophone as well. One is with and the other without the saxophone. The tuba is an instrument that is highly used in the 'banda' style of music, which is closely related to brass bands. That is how we named the show 'Saxofones, Tubas Y Accordeones.' Every Monday, we include these threes popular styles mixed in with our experience and character."
There are several stalwarts of those styles that the Rubio brothers tend to prominently feature on their show, including La Rebelion Norte?a, Temblor Norte?o, Conjunto Tarahumara, El Zarco Mendoza, Victor Gomez, and Adan Sanchez.
As with many other KUCI shows, there are artists and bands that "Saxofones" championed early on in their careers, but have since gone on to achieve a level of commercial success that renders them ineligible for further KUCI airplay. One such example, Armando points out, is "Lupillo Rivera, who began his artistic career with KUCI and now is in the mainstream. We still have his voice and old recordings in hand but his new releases are overplayed at other radio stations."
Helping expose a new or independent artist on KUCI whose later success means they can't be played on the station represents one of those bittersweet ironic scenarios that can't help but play out periodically on long-running KUCI shows. And you could probably count on one hand the number of KUCI music shows that are as long-running as "Saxofones, Tubas, Y Accordeones."
Still, if the lengthy tenure of the program constitutes one distinctive trait, another is that the show is broadcast in Spanish (one of only two, Armando says, on KUCI–the other: Radio Rokanroll, Tuesdays 8-10pm), and a third such trait may be that it's hosted by three siblings.
And the sense of family and community that more literally connects Armando, Javier and Mariano Rubio while they're behind the microphone also applies on a broader, more figurative level.
For starters, at least one Rubio (Armando) has been a member of the KUCI family for more than eight years. Similar story, as it turns out, when it comes to the UCI community: Two of the Rubios–Armando and Javier–are UC Irvine alumni, while Mariano is currently attending UCI.
And beyond their own academic careers, all three Rubios reflect a deep devotion to education and serving the community. Armando graduated in 1998, currently works as a first-grade teacher and is pursuing a Master's Degree in Educational Counseling; Javier, class of 2001, is following a similar path–he's teaching high school math and getting his Master's in mathematics, and Mariano is a Sociology major about to start his fourth year at UCI, planning to pursue a career in education or the social service public sector.
But their commitment to teaching, higher education and advanced degrees all take a back seat when the three Rubios rendezvous on Monday nights at the KUCI studios. At that point, the trio–in their guise as KUChI-locos–quickly kick into a fast-paced, energetic blast of controlled chaos: fun, frivolity, laughter-laced banter, show & station IDs aplenty, phone calls, etc. –and lotsa music, wonderful & spirited music, distinguished of course, by saxofones, tubas y accordeones.
The two hour program zips right by, and like the best films, concerts, TV series and–well, radio shows–it's over far too fast, and you wish it went on much longer. "Saxofones" is a peppy, well-oiled machine, but Armando says that it was hardly such a smooth operation in the earliest days, recalling there was lots of trial-and-error, even with the show's most fundamental facets.
"Well, at the time," Armando remembers, asked to describe the very first time on the air, "it was myself and the other show initiator Jose Ruben Olivares. We were confused, excited and nervous prior to the show. Our show had no focus or structure; we accommodated as we gained experience. We did not know whether to keep it in English or Spanish."
"When we first began the show," he elaborates, "we tried to do an English speaking program, but somehow it didn't feel right. A program director once told us that it had to be an English speaking program but it did not suit us and we made it into a Spanish speaking program."
Eight-plus years later, Armando and his various co-hosts have also made it into an immensely popular, prized and distinctive KUCI show–and one that you can always find on Monday nights.
— August 22, 2004
---