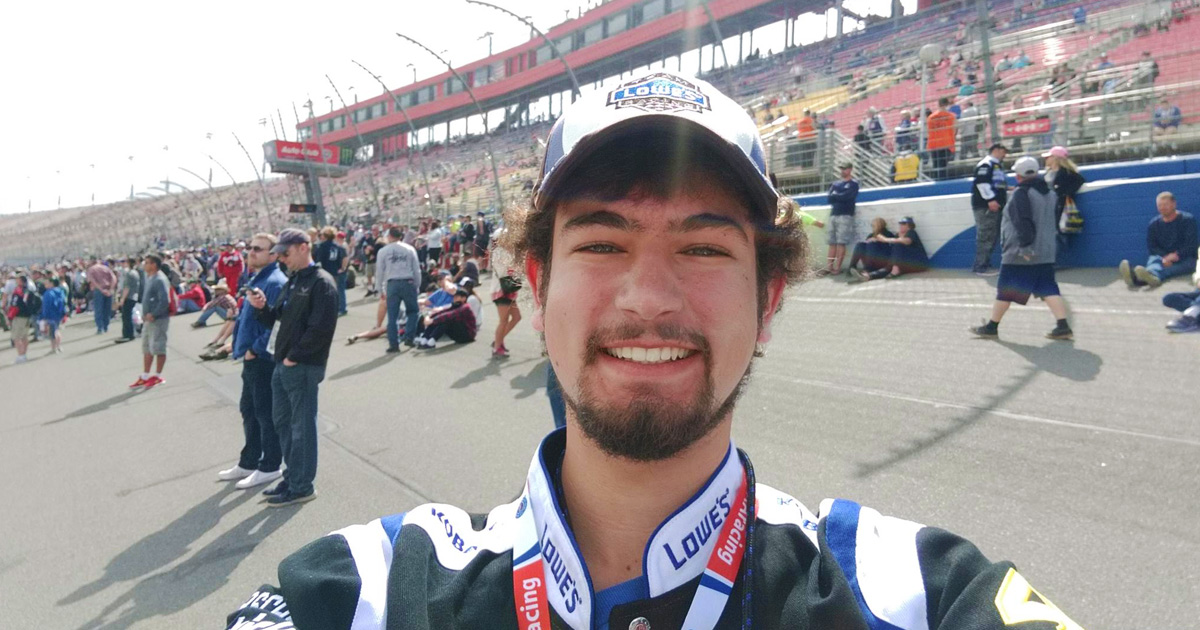 Noah Stein | Speedway Sounds
21 August 2017 Host Spotlight
---
How did your show come about?
I had no idea I could do this until the moment I saw "KUCI" on a sign over a booth at the Anteater Involvement Fair on my first day at UCI as a freshman just last September. As a lifelong fan of motorsport and NASCAR radio shows, I immediately thought, "I wonder if they have anything about cars on the station?" So I walked up and asked about talk shows. From there, I signed up for the training course, interned, volunteered, passed the exam, applied, and within four months, a crazy dream became reality.
Tell me about a typical episode.
I start with the exact same greeting on every Speedway Sounds show: "Hello car fanatics in Irvine, Orange County, California, the United States, and around the world: It's time for the most famous words in motorsport!" The former part recognizes both the local and worldwide aspects of KUCI, and the latter part is exactly how the big races—NASCAR, IndyCars, Sports Cars—officially start. I play a TV clip of "Drivers, Start your engines!" then the title theme. For the body of the show, I recap the weekend's races and interview people from all occupations in motorsport, from my racing fan friends and fellow students (shout out to F1 Analyst Tristan Cortez, a regular contributor) to car owners, photographers, race officials, and especially drivers (shout out to #AnteatersInRacing drivers Matt McMurry and Samantha Tan).
What are listeners' reactions?
I have received a lot of great feedback from my interview guests because an interview request from a racing show on a college station often is a pleasant surprise—an opportunity they weren't expecting. I've also received good comments from listeners who are racing fans as well as a few from non-fans once in a while.
Are there shows like yours that served as the template on any stations?
The biggest influences come from all around the world: many shows on the NASCAR Radio SiriusXM channel, Radio Le Mans "Midweek Motorsport" in England, as well as the live broadcasts on Motor Racing Network and Performance Racing Network. All of these names, most importantly the broadcast personalities behind them, are the Gold Standard in motorsport coverage.
What kind of car do you drive?
In high school, I drove a 2003 Honda Civic Hybrid. I loved being the only one at my school with a hybrid—I saved so much on petrol (what the Europeans call it). I didn't bring it to Irvine because it ironically failed its smog check—not that I was going to anyway because of massive parking fees.
What do you listen to when you're in that car of yours?
Coldplay, Zedd, John Denver, Celine Dion, Journey, but most importantly, Rascal Flatts's "Life is a Highway."
What's been the biggest surprise since beginning your show?
Claudia Shambaugh, host of "Ask a Leader" and my biggest mentor at KUCI, told me as she was helping me with my first few shows: "Don't limit yourself when thinking of guests." So I used that advice when reaching out to several guests that I'm very fortunate and surprised to have had the opportunity to interview. My biggest surprise was getting to interview Jim Swintal, who helped officiate this year's Indianapolis 500-mile race from the race control booth. I interviewed him just a day after he returned from the IndyCar races in Detroit.
What would listeners be surprised to know about you?
I'm a huge fan of public transportation and would prefer not to drive when possible. In fact, I've taken the Metrolink to the NASCAR race at Auto Club Speedway once. Right now, I take two trains to UCI and one toward home to keep the show going since I don't live in Irvine over the summer.
Why should someone listen to your show?
"Cars, Car Culture and Motorsport here in Irvine and around the world" is the theme. My show focuses a lot on local motorsports and car culture, and I often talk about (and with) UCI's racing drivers as well as the Anteater Racing team from the UCI School of Engineering. My favorite part of the show is going to local/regional events and interviewing drivers there. I covered, the Sportscar Vintage Racing Association/Trans-Am West event in April and the Motor Massive Motorsport Social in July, both at Auto Club Speedway in Fontana.
Who's the most unusual listener you have?
My academic counselor in the Henry Samueli School of Engineering told me she listened to one of my shows last quarter. I tag the school's Facebook page every time I have Matt McMurry on the show since he's an engineering student.
What do you do when you're not doing your show?
Watching the races I'll talk about on next week's show and then studying for my mechanical engineering degree at UC Irvine.
What's coming up this fall on your show?
Fall's too far ahead but I know I'll have Jim Swintal on again so he can tell more stories about his 30+ year career in racing and Matt McMurry to talk about his season in Europe and his upcoming race in the Petit Le Mans in Georgia. And I look forward to discussing the F1 World Championship with Tristan as the season progresses.
Anything I should have asked but neglected to?
How I became interested in racing. Disney's "Cars" introduced me to racing 10 years ago and Kevin Harvick's spectacular win in the first NASCAR race I ever watched (2007 Daytona 500) hooked me. At that point, I found my life's purpose. I attended my first race at Auto Club Speedway the next year and I've been to at least 30 races all around the southwestern U.S.: Fontana, Phoenix, Las Vegas, Long Beach, and Sonoma.
What are your career ambitions?
Motorsport, of course! But specifically I want to be in a position where my passion, experience, and knowledge can contribute to turning an average racecar to a winning racecar, no matter where it is in the world. Alternatively, I want to contribute to the transition of our society from gas-powered cars to electric or another renewable source.
Thank you!
I truly appreciate this opportunity to tell my story!
— August 21, 2017
---
Barbara DeMarco-Barrett is host of Writers on Writing, Wednesdays at 9 a.m., and a contributor to USA Noir: Best of the Akashic Noir Series (Akashic, 2013). Watch the book trailer at penonfire.com.
---