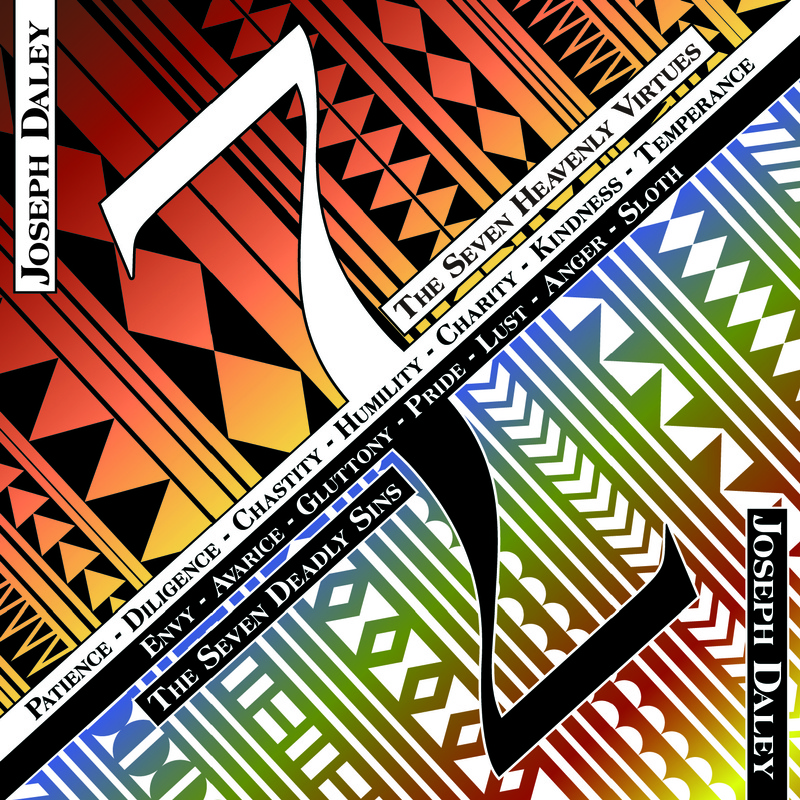 Jazz, Not Jazz | August 20, 2019
20 August 2019 Jazz : Not Jazz
---
Joseph Daley  – The Seven Heavenly Virtues The Seven Deadly Sins  – (JODA Music)
This glorious suite of music is reminiscent of suites composed for the Mass by classical composers like Bach and Mozart but is not tied to any specific doctrine or faith.  Meditations and proclamations on the nature of what we do in the world with, for, and to other people appear to be the surface rationale gleaned from the titles of the 14 tunes on this disc, but the underlying musical tone is reflective, empathetic, and graceful. Yes, in the fullest sense of the word, graceful. Working with jazz, classical, and avant garde musicians the power of the melodies transcends genre classification and leads to a purity in music rarely found.
---
Extended – Harbinger  – (OA2 Records)
Pianist Oscar Rossignoli, bassist Matt Booth, and drummer Brad Webb are "Extended". They are a perfectly balance triad rather than a pianist and a rhythm section. They all contribute compositions and you can almost hear them listening to each other.  The tunes simmer and seethe with with organic rhythmic and dynamic push pull, a celebration of life and humaness.
---
New Masters  – Reworks Vol. 1  – (Sony Music)
The New Masters are some of NYC's younger and hipper jazz artists coming together to fulfill a traditional jazz trope, taking pop tunes and exploring them to their fullest. Think Coltrane with "My Favorite Things", Miles Davis with "Time After Time", etc. Here pianist Sullivan Fortner, saxophonist Immanuel Wilkens, trumpeter Keyon Harrold, bassist Burniss Earl Travis, guitarist Gilad Hekselman, and drummer Eric Harland take hits like "God's Plan", "All the Stars", "Lucid Dreams" and "This is America" and explore and develop and deconstruct them so that we can have a more nuanced vision of their melodic  and harmonic structures.
---
Larry Corban –  Emergence   – (Nabroc Records)
This record swings wisely. It's pleasing to the ear but complex and engaging.  Guitarist Corban's lightening fast single note runs wash over you if you aren't tuned in, but if you stop to listen, the man's really talking you. My pick, the tune "Soon to Be", a modal exploration with a Coltrane feel to it where Corban and saxophonist Jerry Bergonzi double on the melody in the head before branching out into stellar solos.
---
Orbert Davis / Chicago Jazz Philharmonic –  The Chicago River  – (316 records)
In recent times because of global warming, air and water pollution, and soaring landfills we have decried the effects of the hand of man on the land. But in previous eras, great hydraulic engineering feats from the Grand Canal in China to the California Aqueduct elicited popular celebration and awe. One such project was the reversal of the flow of the Chicago river so the  sludge and detritus of the city was directed away from Lake Michigan and sent out of town via the Illinois river, a tributary to the Mississippi. This made the lakefront and downtown desirable and created the city's phenomenal growth. This suite reflecting that event  is majestic in scope, dramatic in tone, and gorgeously composed. Particularly haunting is the second movement, "Brewing the Toxic Stew".
---