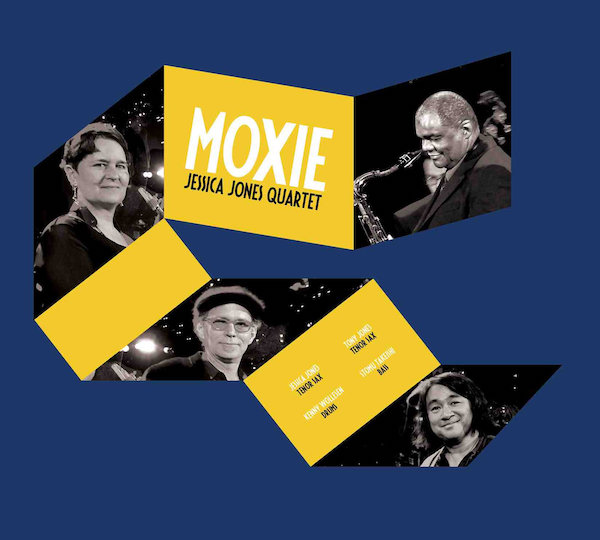 Jazz, Not Jazz | 8/15/18
15 August 2018 Jazz : Not Jazz Music Reviews
---
by Hobart Taylor
Jessica Jones Quartet – Moxie – (New Artists Records)
Jessica Jones. Why isn't played all the time on the radio is beyond me. If I have anything to do with it, and I probably don't, I will scream from the rafters, or at least post on this website JESSICA JONES. Tenor saxophonist/composer Jones along with collaborators Tony Jones also on sax, Stomu Takeshi, bass and on the battery Kenny Wollesen dropped a world class release with "Moxie".
The original tunes are really smart and full of heart. The covers go the essence of the compositions, not showing off, just showing up.
The quartet's sound is witty and wise the way AACM and the Mingus/Monk family are known to be, but more understated and very personally theirs.
What they have in common with the those great improvisational groups are magnetic forces of attraction and repelling, a process akin to coalescing and unfolding, inhaling and exhaling, earnestly conversing.
That happens here in spades. Thank you all.
---
Peggy Lee – Echo Paintings – (Songlines)
Canadian composer and cellist Lee melds melodies that morph and multiply. Her ensemble comprised of various horns,woodwinds, strings, electronics, and percussive elements is orchestral and yet breaks out into solos, duets, and small combos as befits transitions. The music is lush and jarring in turns and often simultaneously. It is often gorgeous and always alluring. Broken time signatures,passionate improvisational flights, and relentless crescendos drive this post generic masterwork to a plateau that looks over a glittering sonic landscape.
---
GaeLynn McKinney – McKinFolk:The New Beginning – (Detroit Music Factory)
Drummer/composer McKinney is a staple on the Detroit scene, leading and supporting several of the motor city's premiere ensembles. This release celebrates her family tradition. Her father was an esteemed pianist and composer. Some of his finest compositions are featured on this disc. Often funky or bluesy these tunes always swing. I particularly like "Conjure Man", sort of in the style of Wayne Shorter and the ballad "After The Sunset".
---