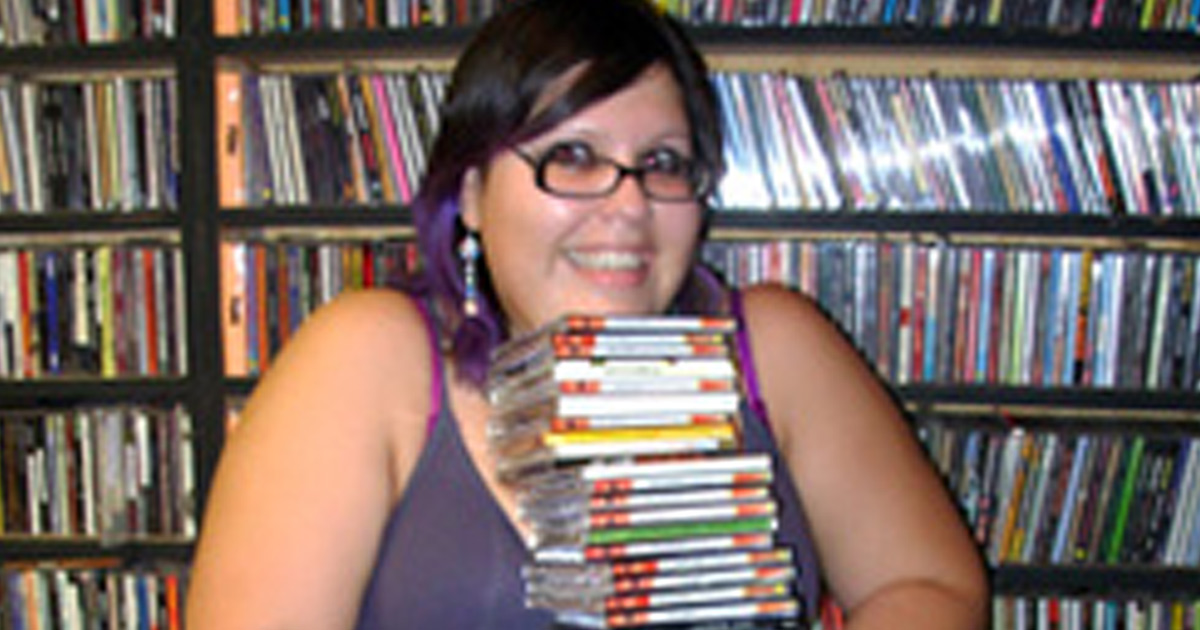 Samantha Varela | Naked Comedy
30 July 2009 Host Spotlight
---
by: Mari Frank
Samantha Varela is our new general manager at KUCI. I recently had the honor of interviewing her for our KUCI family of listeners.
I met Sam the night she was elected and found her to be warm, friendly and engaging. Then I had the opportunity to schmooze with her at a KUCI party to bid farewell to Mike Kaspar as last year's GM and welcome Sam in her new leadership role.
From the moment I first spoke with Sam, I was impressed with her enthusiasm, genuineness, and super organizational skills. Just attending the first few meetings with her at the helm has been inspiring. She runs a tight ship, keeps to the agenda, and imparts relevant information.
With her busy schedule as a student at UCI, a DJ bringing us great comedians and her huge task of efficiently running the station and handling dozens of DJs, Samantha is truly extraordinary. We are very lucky to have this fearless leader at KUCI.
I hope the following interview will give you a taste of Sam's great energy.
Tell us how you came to be at KUCI.
I came to KUCI in Spring 2008. I stumbled upon an ad for training in the New University and happened to be free on Tuesday nights. The training class was fun and informative, and it got me excited about the opportunities at KUCI. I've been enthusiastically involved with KUCI ever since.
What previous staff duties have you had?
I've had two different radio shows and have spent most of my time learning by doing. I've made a bunch of PSAs and station IDs with LA comedy legends like Tim and Eric, Patton Oswalt, and Bob Odenkirk. This led me to start bringing new comedy albums to the KUCI library as the comedy genre assistant.
Why did you decide to run for KUCI's general manager?
While I've only been with the station for a year, I've become 100 percent about the station. Every quarter I was doing 30+ hours of volunteer time with the station, and I was always trying to learn about everything that makes KUCI function. I tried my best to learn from everyone at KUCI, and luckily there are a lot of people at KUCI who were willing to answer my numerous, numerous questions.
What does the GM's job entail?
The GM is in charge of making sure KUCI functions smoothly. I make sure our managers get the supplies and information they need to do their jobs, and I make sure the entire KUCI staff is informed of all the programs and opportunities available at the station. This year the nation's economic situation has finally caught up with the university system, so a big part of my job is making sure our staff is informed to any major budgetary cuts so that we can work together to figure out new fundraising methods.
What part of the job is the most enjoyable?
Last year as a DJ, I felt the way to get the most out of my KUCI experience depended on actively doing things on my own. Now that I'm GM, I'm working on making our managerial system completely transparent to the staff, and it's really nice to hear people thanking me for making things like the budget clear cut to the staff.
What surprises have you experienced?
I think it's amazing to see how generous people will be when you treat them like an equal. I've never respected hierarchies. As GM I really try to downplay any separation between me and the rest of the staff. At staff meetings, I do my best to keep everyone informed of everything that's going on in explicit detail, and as a result I've seen the staff become much more actively involved in the processes of KUCI. It's really nice to see people coming out of the woodwork with amazing skills and abilities to help KUCI.
What are your goals for the station?
I'd like to see education become a bigger, continuous part of KUCI. We have an amazing training program, but I'd like to start continuous workshops to offer DJs a way to continue learning about everything involved in radio and broadcasting.
How is the job different from what you thought it would be?
Despite being GM, I'm still asking many questions. There are countless people at KUCI who do vital tasks to keep the station going that have gone under the radar, so a big part of these first few months has been finding out who's doing what, and what projects are already being worked on and who needs help.
Tell us about your staff.
The staff is amazing. As I said earlier, it's been amazing to see DJs becoming more involved in managerial projects. And I couldn't ask for a better managerial team. Everyone is 100 percent dedicated to the positions they have taken on, and they all have major plans for this year. I am more than happy to help them achieve their dreams for the station.
What's the name of your show on KUCI and how did you decide on that name?
My current show is called "Naked Comedy," Thursday mornings 12am-2am. I originally had a psychedelic music show that was called "Naked Music," and the title for that came from a juice I was drinking. The rest is history.
How long have you had your show?
I've had "Naked Comedy" for nine months.
What is the website URL for the show and what will we find there?
You'll find Naked Comedy at kuci.org/nakedcomedy, though I admit I don't update it as often as I should, mainly because it was designed on iWeb and I don't have a Mac at home. You can find previous guests, podcasts, and contact information for comedians/labels that want to be involved in the show. I have a MySpace for the show, myspace.com/nakedcomedy, which has a regularly updated list of upcoming interviews. I also have a Facebook group for Naked Comedy if you need intrusive reminders about upcoming shows to remember, as well as a Twitter account @Naked_Comedy where I post updates about interviews, live ticket give aways, and random tweet jokes, among other things.
What do you play on your show?
The live show is fun and full of clips from classic shows like "The State," "Mr. Show with Bob and David," "Tim and Eric Awesome Show Great Job," "Cartoon Planet," and more, along with amazing tracks from labels like AST Records, Stand-Up Records, and Comedy Central Records.
Describe the format of your show.
It's a mix of comedy CD tracks and clips, and original interviews with the coolest alternative comedians. The interviews are really fun for me because I basically just interview all my favorite comedians and actors. All the interviews can be found on iTunes under podcasts >Naked Comedy.
Who is your ideal listener?
I have two target audiences: hard-core comedy nerds and comedy newbies. I'd like to think that my show is both appealing to the most intense comedy fan through the selection of featured performers and interviewees, as well as being a nice intro course to alternative comedy for anyone who happens upon my show. The ultimate goal is really to help promote these amazing comedians get their material out to any and all audiences that will have them, I love introducing people to smart comedy (even if they're smart fart jokes).
You are a student at UCI, so tell us about what you are studying and your future career goals.
I'm studying Film and Media Studies with a minor in Digital Arts. I'm hoping for a career in entertainment, specifically in the comedy world. Right now I'm hoping for a career either as an editor, or possibly as a producer/agent.
What do you like best about being a student at UCI?
Reggae-fest.
What have you learned about yourself, your responsibilities, and others while working at KUCI?
I've learned that if you're doing something you love, nothing will ever discourage you. There's always a way to get the job done, and its nice to have a managerial staff that's always available to make whatever I need happen.
What's most challenging about being involved with KUCI?
I put a lot of work into my position as GM as well as into my position as a host/DJ/interviewer, but I never really see anything as too challenging. The benefits always outweigh the work for me.
What effect would you like your tenure as GM to have on the KUCI community?
As GM, I'd just like to see the KUCI staff become closer and have better, more open lines of communication among everyone.
What do you want your legacy to be as a KUCI DJ?
As a DJ, I'd like to help bring comedy back to the radio. Right now there are a ton of "funny" talk shows on the air, and a ton of amazing comedy podcasts, but radio is pretty much dominated by talk radio or music. I'd like comedy record labels to feel like they can approach radio stations for play their albums. That's why the 10pm-6am is a good fit for spicy comedy.
What would you like to see happen in the future at KUCI?
I can only fathom what I'd like to do in my time with KUCI. KUCI is 20 years older than I am, and is its own entity. I can't direct what it should do with its life.
What are your hobbies outside of the station? Do you have any leisure time, outside of studying or running KUCI?
I spend most of my time going to comedy shows. While that is in part to find new performers to interview, I really enjoy live comedy. Even if I wasn't doing my show, I'd still be going to LA multiple times a week to see people like Matt Braunger, Doug Benson, Tom Lennon, DJ Douggpound and others.
How has KUCI affected your life?
It's definitely taken over my life throughout the past year, but I wouldn't trade anything I've learned and have done for that time back.
What else do you want the UCI community and our listeners to know about you or the station?
TUNE IN 24/7 @ 88.9FM IN IRVINE OR ONLINE AT KUCI.ORG
Twitter: @kuciFM
Myspace
Facebook
Flickr
YouTube
Wiki
Thanks so much Sam for sharing a bit of who you are with us! It's wonderful that you offer a chance to laugh on your show. Laughing is good to stimulate the endorphins and to lift spirits. Although I can't quite stay up till midnight on Thursdays to hear "Naked Comedy," which airs Thursday mornings 12am-2am , now I know that I can download the podcasts from iTunes under podcasts >Naked Comedy and laugh whenever I turn on my iPod. We are expecting a great laughs on your show, and a super year ahead with you as our GM.
— July 30, 2009
---
Mari Frank is a local attorney and the host of Privacy Piracy, which airs every Wednesday from 5-6 PM on KUCI. She also presents the weekly public service announcements called "Orange County News and Safety Tips" sharing important safety reminders from our local Orange County sheriff.
---