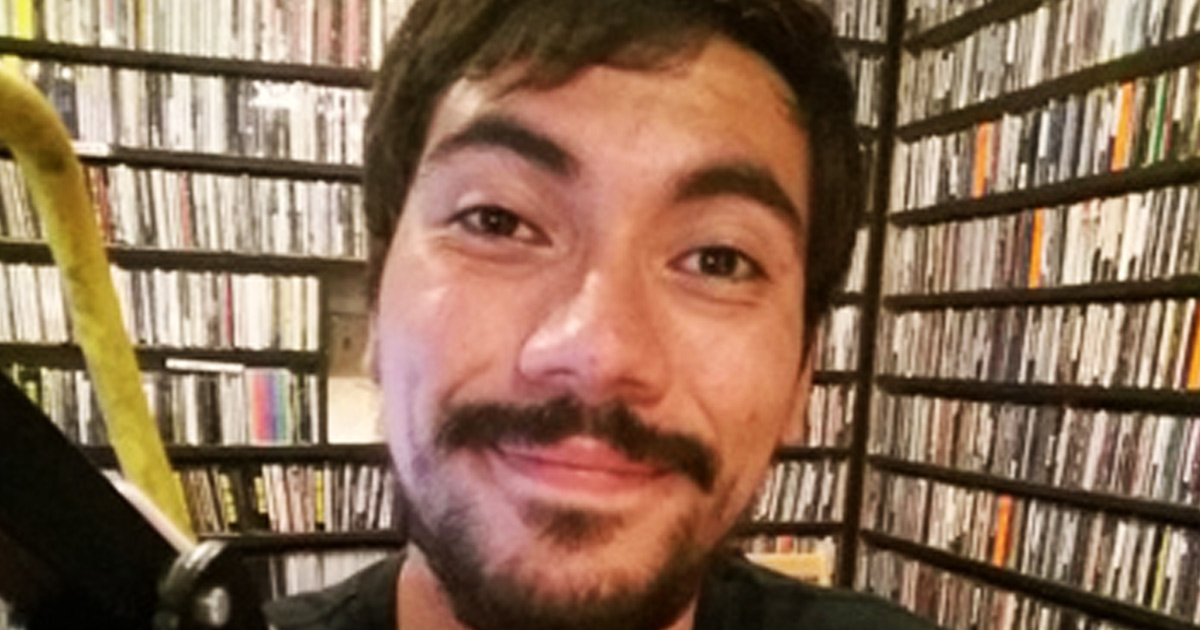 Erick Ramirez | Shut Yo' Metal Mouth
24 July 2016 Host Spotlight
---
Tell me about your show, Shut Yo' Metal Mouth, and how it came to be.
The name for the show came out of a really lame catchphrase I had in high school. I modified it to fit the music I wanted to showcase on the show: death, black, and folk metal. My first quarter on the air was in Spring 2013 and it was a blast. I played metal bands from all over the world and my music taste expanded like a friggin' balloon. But after a six-month hiatus, I came back wanting to offer a wider variety of music. Shut Yo' Metal Mouth has played metal, chiptune, and Gangnam Style mashups ever since.
I'm going to be like a lot of your listeners who know nothing about you or your background. Are you an Orange County dude and a student or former student at UCI?
I'm a former student, graduated June 2016! I was born and raised in Hemet, California. I thought it was a pretty forgetful small town but a surprising number of people here in Orange County actually know where it is. Moving here was a big change for me but luckily I had some good friends and KUCI to make the transition a little easier.
Before you had a show, what role did KUCI play in your life? Did you listen and if so, to which shows?
When I was applying to colleges, I thought it would be cool to get involved at a college radio station or newspaper so I looked for universities that had these organizations. I saw that UCI had this wonderful station right on campus. I didn't have the courage to apply my first quarter here, so I waited until Winter 2013 to enroll in the training class. KUCI has been a big part of my life ever since.
Your show airs 12-2 a.m. on Sundays. What do you like about this time slot?
Well, lots of things! I have the best show neighbor preceding me, Valerie of the Heart Beats Machine (Saturdays 10 PM – 12 AM). I get to meet the new DJs who get the 2-4 AM or 3-6 AM slots. I have the most interesting call-ins. And it's a fun thing to do on a Saturday night/Sunday morning!
Talk about your playlist and how you find the artists you play.
I tend to structure my playlist on the fly. I just pick out a song I feel would fit the moment. I've been told this makes for some disorienting sets because I will play a brutal Mongolian folk metal song and then follow it up with a Gangnam Style/Twenty One Pilot mashup or a chiptune cover of "Hotline Bling" or an airhorn cover of "Turn Down for What." It's that sort of musical whiplash that I really love and I think it embodies my show.
I've been to a couple shows where I found new artists, but I tend to stick to online sources like Youtube and Soundcloud. I also follow a lot of metal blogs to find some of the newer metal releases.
Any discoveries of bands/artists that came randomly in the mail?
I haven't really discovered any bands in the mail. If anything, combing through the library here at KUCI has been a huge eye opener for me.
Do you ever do shows with live bands?
I have cohosted other shows with live bands, but I haven't had one on Shut Yo' Metal Mouth. I'm a little shy when it comes to interviewing so I need to work up the courage to actually bring one on.
Do you take call-ins?
Yes! I love taking calls on my show. I usually get requests for some really popular music, so what I end up doing is finding a cover or remix of the requested song.
What do you hear from listeners? The most interesting/weird/compelling comment you've heard from a listener?
Most of the feedback I get is pretty positive. Listeners have told me they loved a particular song, hated that I switch genres so much and laughed at my back announcing. I've had tons of interesting and weird comments, but if I were to pick three, they would have to be the time a caller drunkenly ranted about mustaches being for hipsters, the time a caller offered his uncle's services to marry my guest and me, and the time a caller called my music taste horrible, proceeded to apologize only to call three minutes later to say my music taste was horrible again.
What else do you do around the station?
I've voiced a couple PSAs and show promos here and there. The New Video Games PSA is one I did about a year ago and I've done some other temporary PSAS too. But the ones I'm most proud of are the show promos for Shut Yo' Metal Mouth. Those took forever to write and produce, but they really capture the spirit of my show.
I've also been engineering the ISDN interviews at KUCI for about two years now. Basically, we have this dedicated box/line at KUCI that allows us to communicate with other stations as if they were on the other side of the table. So, say an NPR member station calls Kevin to book an interview and the guest, usually someone of interest from the Irvine area, sits down in Studio C. I handle the sound check and any problems that might arise during the interview. It's a pretty interesting job since I get to work with all these different guests, engineers and producers from around the world.
And just last year, I engineered the basketball and baseball broadcasts on KUCI. Heather McCoy taught me everything I know and I've managed to broadcast all the games over the air without too many problems. It was a blast working with Michael and Darren, the basketball announcers and Mark and Tim, the baseball announcers. They are a great bunch of guys. I actually don't have any interest in sports, but even I found myself at the tip of my seat during a few games.
What do you listen to when you're motoring down the highway?
All this time at UCI, I've just listened to whatever my ride was listening to in their car. Stuff like KROCK, KOST, KGGI. I've only just bought a truck but since the radio doesn't work, I'll be listening to my phone probably.
Any favorite shows at KUCI?
I love the Heart Beats Machine, Howdylicious, Weekly Signals, Mystic Parfait, Friday Soiree, The Radio Chimichanga Two Hour Special, The Mason Show and the Darkling Eclectica. The list could go on and on really. Everyone's show is so unique so whenever I tune into KUCI, its usually something or someone I like to listen to.
Describe your musical tastes in less than 10 words.
Brutal, groovy metal with lots of catchy pop and electro
In closing, any words of wisdom/tips/advice?
Not really. I've just graduated, so I've got nothing.
— July 24, 2017
---
Barbara DeMarco-Barrett is host of Writers on Writing, Wednesdays at 9 a.m., and a contributor to USA Noir: Best of the Akashic Noir Series (Akashic, 2013). Watch the book trailer at penonfire.com.
---