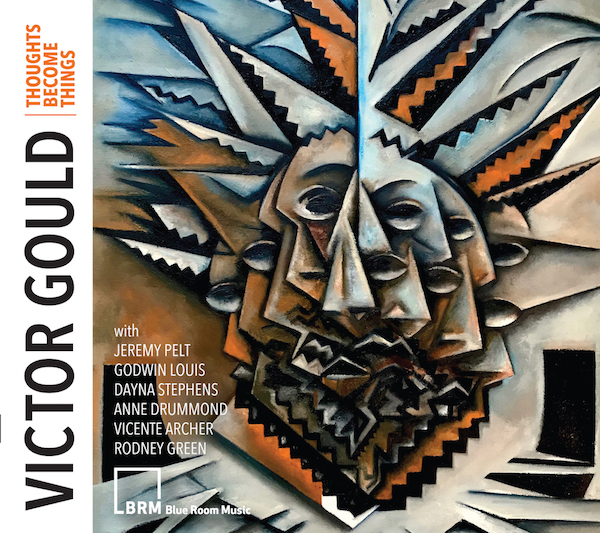 Jazz, Not Jazz | July 17, 2019
17 July 2019 Jazz : Not Jazz
---
HIGH ART: These releases are brilliant, thoughtful and uber musical
Victor Gould  –  Thoughts Become Things  – (Blue Room Music)
Pianist/Composer Gould and a large ensemble including trumpeter Jeremy Pelt and saxophonists Dayna Stephens and Godwin Louis explore his densely textured and brilliantly framed reflections.
---
Laurence Hobgood   – Tesseterra   – (Ubuntu)
Brilliant arrangements of familiar tunes ranging from pop standards "Wichita Lineman", "Blackbird" etc. to the civil rights anthem "We Shall Overcome" performed by a jazz trio accompanied by ETHEL, a string quartet. These re-inventions are stunning.
---
Richard Ford –  Basso Profondissimo   – (Self-Released)
Mainly solo explorations of the range of bass infused compositions in variety of musical traditions from Brazilian to experimental to 70's jazz fusion.
---
Rodney Whitaker  –  Common Ground: The Music of Gregg Hill  – (Origin)
Highly nuanced and mercurial compositions full of changes and surprises as band leader bassist Whitaker acknowledges an influence.
---
Dan Zinn  – Day of Reckoning   – (Origin)
Multi reed player Zinn with pianist Taylor Eigsti, bassist Zach Ostroff, and drummer Mark Ferber swings smartly in this 21st century version of be-bop  interspersed with music from the tribe. His tone is very conversational and articulate.
---
Partch –  Sonata Dementia   – (Bridge)
Composer Harry Partch (1901-1974) is another one of the long list of idiosyncratic (small "a") american geniuses starting with Ben Franklin and passing through Sojourner Truth and Walt Whitman  through Charles Ives and Georgia O'keefe to Bob Dylan and Jean-Michel Basquiat. Autodidacts all, they owe nothing to education and everything to being alive in the world. An L.A. based ensemble does a wonderful job of memorializing Partch's work.
---
Chuck Deardorf  – Perception   – (Origin)
Bassist/arranger Deardorf with pianist of the first rank Dawn Clement, the world's greatest drummer Matt Wilson, and saxophonist Hans Teuber perform melodic jazz should be classics and two canonized Monk classics  with precision and love
---
Ulysses Owens Jr. –   Songs of Freedom  – (Resilience Records)
Tunes by or inspired by Nina Simone, Abbey Lincoln, and Joni Mitchell sung by the singers singers, Theo Bleckmann, Rene Marie, Alicia Olatuja, and Joanna Majoko. If your eyes are not watering half way through Bleckmann's performance of "Balm In Gilead", then you must either be dead or President of the United States.
---
Avery Sharpe –  400  – (Self-Released)
This is a suite of compositions tracing the African-American experience from the first slave ships to an invocation to the future. 400 years ago in 1619 the first slaves were brought to this continent. The subsequent snapshots of Black life contained in each piece vary radically in style and presentation, but the constant thread of endurance and community passes through all the pieces.
---
Marlene Rosenberg – MLK Convergence  – (Origin)
Bassist/composer Rosenberg along with jazz masters, pianist Kenny Barron and drummer Lewis Nash provide profound reflections on the current state of the nation in a lovingly critical way. The music is superb.
---