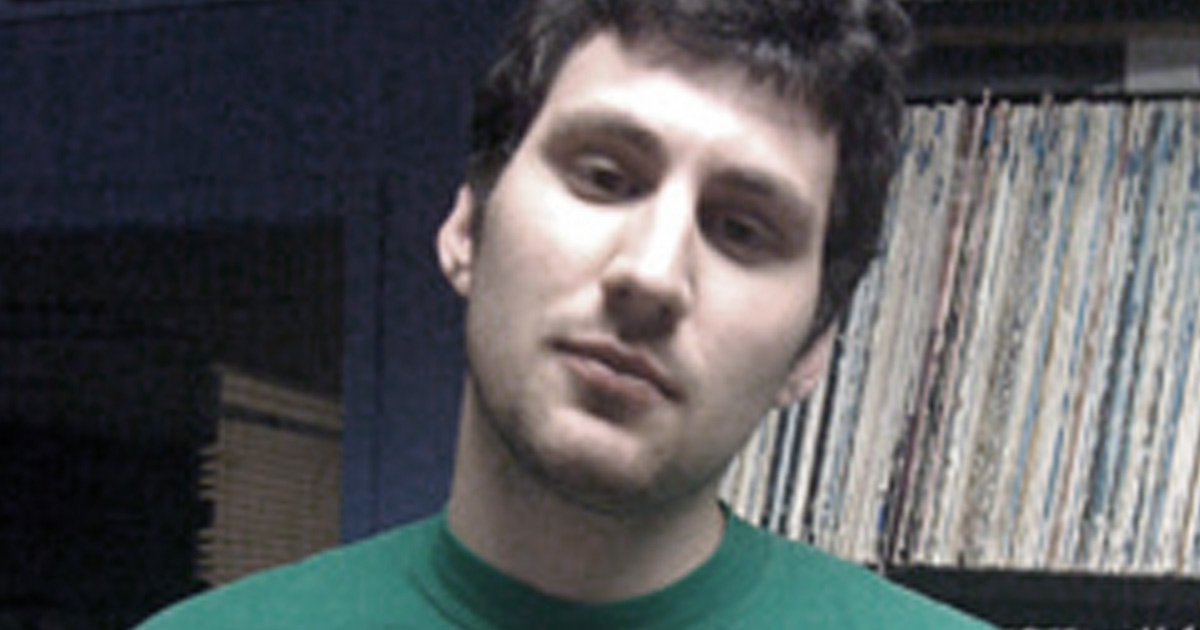 Polar Bear Jack | Vanguard Again
3 June 2009 Host Spotlight
---
by: Mari Frank
Jack Bartlett, whom you may know as DJ Polar Bear Jack, brings you great jazz, and its offshoot, every Wednesday from 8 to 10 p.m. right here on KUCI. His show, "Vanguard Again," explores jazz from the past and present. He even mixes in experimental music and a broad range of genres that have been influenced by jazz. He'll introduce you to notables such as John Coltrane, Miles Davis, Sun Ra, and John McLaughlin. Then he'll bring you up to date with newer music, such as minimalism, math-rock, post-rock, ambient, down tempo, and Afro beat. He even plays my favorite smooth jazz, then he throws in a bit of hip-hop to add some spice. Jack says, "Jazz is more than a swing beat, four on the floor and improvisation." Lloyd and I had the pleasure of getting to know Jack when his show followed ours. We even had the opportunity to play our own favorite old time jazz records a few nights when we pitch hit for Jack while he was stuck in traffic. He's been at the station since 2005 and has donated many hours to KUCI in managerial positions and most recently as co- trainer of our newest DJs. I am thrilled to introduce our listeners to Jack.
Tell us how you came to be at KUCI?
I knew about KUCI when I was a freshman at UCI and thought it would be something fun to do. I showed up at the training class during the spring of '04 and asked if I could enroll. I was declined because I came to the class weeks too late, so I had to wait until the next year to start. I then took the class in the fall of '04 and got my first show in the winter of '05.
How did you decide on the name of your show?
My show, "The Vanguard, Again!" is based on a John Coltrane album, Live at the Village Vanguard, Again! I liked the name because of the fact that it said "Again!" in it. Very uppity. All my shows names have been created at the last minute during my career at KUCI. My first show was called "The Bill Clinton Show" because it just popped into my head 20 minutes before the show application deadline. My second show was called "The Festivus Music Show" because I applied for the show on December 23, which is the holiday, "Festivus," from Seinfeld.
How long have you had your show?
I have been going on and off since January of 2005. My current show has been going on for a year.
Do you have a website and what will we find there?
At my website you'll find a simple introduction to my show with lots of different colored texts, a little bio page with some cool links, and a link to my blog where I post all my playlists.
Tell us about the music you play on your show.
I play jazz and stuff that I think blends well with jazz like afro beat, funk, soul, experimental music, ambient music, and post-rock. I never really wanted to have a traditional jazz show. In the LA area, there is 88.1 KKJZ which plays straight-ahead jazz and then there is smooth jazz on "The Wave" (don't get me started on that). I didn't just want to play straight ahead jazz because there is so much other music that I love to play too. I didn't want to have a "museum" show, meaning play just old music. I figured that this is a college radio station, I have the freedom to do that, and I also want to connect with the crowd and other DJs at the station.
You still hear a lot of straight ahead jazz on my show, especially hard bop off of the Blue Note, Impulse!, GRP, etc. Also, Latin jazz and new jazz as well. New music is very important. In L.A. there's a great improvisational-based label called Cryptogramophone, I play a lot of their music.
Lloyd and I have appreciated having you and your great show as a neighbor. We've enjoyed you playing some old fashioned jazz. Who is your favorite musician and why?
I don't have a favorite musician. I like so many. I have a partiality to trombonists like JJ Johnson, Carl Fontana, Conrad Herwig and Roswell Rudd because that's the instrument I play. Otherwise I love Keith Jarrett, Charles Mingus, Nels Cline, Brad Mehldau, and Coltrane. Besides that, I love any thing raw, organic, rocking, and awesome. I love Sigur Ros, Broken Social Scene, Fugazi, Antibalas Afrobeat Orchestra, and Animal Collective, to name a few. The list goes on
Describe the format of your show, and do you ever bring in live bands or guests?
I play music. I talk about music I played. Occasionally, I'll tell a joke. One time I was going to play some PSAs but Cartworks, (a program that plays public service announcements for the non-KUCI folk), was down. So I recited three PSAs from memory. It was hilarious.
Who is your ideal listener?
Anyone!
Now that you're training director, what does that entail?
For the past year Brian Quon and I have been training the new blood at KUCI. We introduce the station to people who want to be DJs or Public Affairs hosts. We teach station policy and practices, FCC policies, how to use the equipment, station history, and more. We basically serve as the gatekeepers to the station. Our goal is to make sure the new DJs are prepared to host a show.
What do you like best about your job at KUCI?
I love working with the new trainees and inducting them into our little club. Seeing them go from being scared to even turn a microphone on to having a successful show is amazing. I am a spokesperson of the station and a guide to people who really want to be involved.
What other previous staff duties have you had?
I was a librarian for year, and I did productions for a year too. That was really fun.
What have you learned about yourself, your responsibilities, and others while working at KUCI?
Training can be very rewarding but after a few years at the station, it's sometimes hard to break down some of the definitions of equipment to people who are not familiar at all with the process and procedures. Sometimes I would "techno speak" too much and leave the class dumbfounded. I have learned to be a better communicator and more patient with people. I like to say the station is run by "controlled chaos".
That's because of the laid-back environment, the size of the staff and the lack of frequent communication among the staff members. Like everywhere, the station sometimes has its difficulties but in the end, it works out.
What's most challenging about being involved with KUCI?
Taking the station to the next level. Since we are a volunteer run station and we all have jobs and outside lives, it's hard to really devote much more time than you really can to the station. Growing our presence in Orange County is challenging too. For the past few years, the OC Weekly has given us "Best Radio Station in OC," but in terms of reader's polls, the mainstream stations are still the favorites. Staff turnaround is another challenge. Our management staff is only in charge for a year, so ideas that really start to blossom tend to happen after a few months of work, and then, a new management team comes in and tosses those ideas. Its like every new year, the station goes back to square one.
What effect would you like your music to have on the KUCI community?
I want my show to introduce more people to jazz and prove that jazz isn't dead and that it is still a creative force. We have many great experimental shows at the station that play really "out there" music but jazz for some reason always are labeled as "too weird." I want to show that jazz can be enjoyed by people who like indie rock. It seems like it's really hard to dive into jazz unless you grew up with it or played it in school. I feel that jazz can have just as much an effect on someone as the first time they hear a punk rock record.
What do you want your legacy to be as a KUCI DJ?
I was the guy who put up the PSA about the Lost Cat Magnet that's really silly and funny. That was when I was doing productions.
What would you like to see happen in the future at KUCI?
I want to see the station become more known around the southland. For many people, we are known as "the radio station at UCI" but I feel that our station can get as big and as powerful as stations like KCRW. I want KUCI to support more local shows and local music events in the county without forgetting our philosophy of only supporting the underground.
What are your career plans?
I'm planning to go back to school to be an educator.
How has KUCI affected your life?
I have met so many awesome people, made so many great friends and learned about so much great music. I love just being at the station. It's like a cool clubhouse where I can hang out with zillions of records and just listen! In fact, I used to come to the station quite a bit during my lunch breaks just to escape from the workplace!
What else do you want the UCI community and our listeners to know?
I want to thank all the listeners for supporting the station. They really care about KUCI. When I leave the station I will continue to support it as long as I can. The listeners care about great music, and they don't want to lose a radio station which takes so much pride in playing good music.
As for the UCI Community, I encourage listeners to tune in at least once. If you think that UCI is a boring and stale place, tune in and you'll be pleasantly surprised. If you don't feel the need to get involved with anything on campus, at least consider KUCI. We are a great bunch of people, we love doing our shows and we would love to have you join us by getting involved or just listening anytime, 24/7.
— June 3, 2009
---
Mari Frank is a local attorney and the host of Privacy Piracy, which airs every Wednesday from 5-6 PM on KUCI. She also presents the weekly public service announcements called "Orange County News and Safety Tips" sharing important safety reminders from our local Orange County sheriff.
---