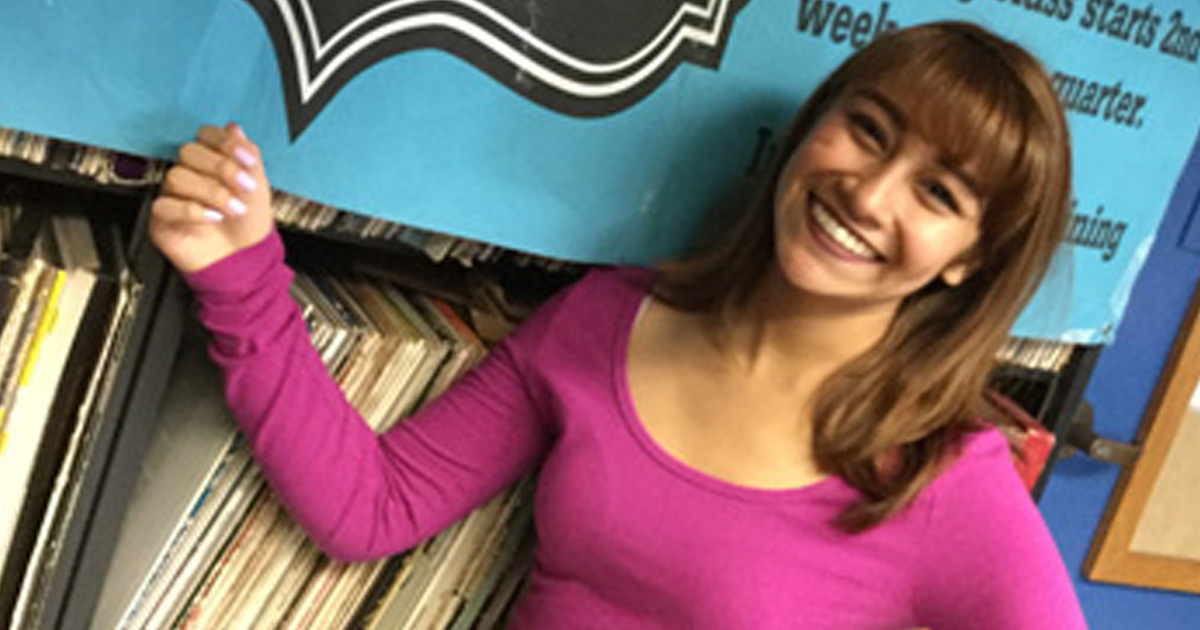 Brenda Flores | In the Meadow
9 May 2017 Host Spotlight
---
First tell me about your DJ name and your show name—what inspired them?
My DJ name is Sweet Jane, after The Velvet Underground song called "Sweet Jane." I love that band and I absolutely adore Lou Reed. My show's name is In the Meadow. My last name is Flores, which means "flowers" in English. And you find flowers in a meadow so that's where you'll find me. Admiring the flowers and listening to music.
On the schedule, the description says "Awesome unknown songs." Embellish, please.
I actually didn't write that description; the person in-charge of that wrote that because I never knew what to submit for my show description. But I think it perfectly describes my show. I play a lot of talented underground artists and I love to showcase their work. I don't typically stick to one genre, I play anything that catches my ear. So that's all I basically do, play awesome unknown songs to people who may never be exposed to their awesomeness.
What do you hear from your listeners?
That they like how different my approach is to hosting a music show. Not a lot of DJs talk about the meaning behind songs. Also, my listeners say they like my mind set and taste in music. Hearing all of those compliments really brightens up my day and makes me feel that I'm being appreciated for the work I'm doing. And then I get the occasional song requests; I love when I get those calls. I love being exposed to new music. Plus it feels great to know someone is taking the time to listen to me.
Do you take call-ins?
Of course! I'm always urging my audience to call In the Meadow. I love interacting with people about music. Music is a huge part of who I am.
How did you come to be at KUCI?
A friend of mine told me about KUCI and how they have walls covered with vinyls and CDs. I had to see for myself and so we went. The second I walked into KUCI, I felt like I died and went to heaven. I felt so overwhelmed with joy by all the music and the chill atmosphere. I found my happy place at that moment. And now it's my second home. I started to hang out there admiring the music and then I got to know a DJ and he told me about the DJ training class. I immediately signed up and now I'm here. It's going to be a year in spring of me being a DJ and I've loved every minute of it!
You're Kevin Stockdale's assistant. What does that job entail?
I am the operations manager and the assistant to the operations manager. Which is a fancy way of saying I'm Kevin's assistant. My job entails working with a lot of spreadsheets, keeping the station clean, and making sure everyone correctly fills out our FCC paperwork. Also I make sure the DJs are turning in their playlists, paying for parking, and aren't saying/playing anything that could get the station in trouble. I basically make Kevin's life a bit easier and organized.
How is Kevin to work for and are you a Simpson's fan?
Incredible! I love working for him. He's the greatest boss anyone could ever have and that's not me exaggerating. He is always kind to me, he's super understanding, and he consistently listens to my show. There's never a moment when he's not awesome. And of course I'm a Simpson's fan, I used to watch the show religiously as a kid. It's a great show and I completely understand why Kevin loves collecting their merchandise. Have you seen his office? Its walls are covered with Simpson's toys and band posters and other neat stuff! That just screams Best Boss Ever!
What shows do you listen to?
I try to listen to everyone's show but the one show I do consistently listen to is The Graveyard! They play great music and the hosts (Grim and Dead Money) are hilarious! I love their banter and the silly stuff they say. Plus their theme song is the Goosebumps intro which is pretty dope if you ask me.
What's on your nightstand at home?
A Ramona Flowers Pop, perfume, lotion, chattering teeth toy, necklaces, makeup, a toy London Double decker bus, the heads of my enemies (Just Kidding), sunglasses, headphones, my iPod (aka my soul), and lots of bobby pins. I love clutter and colorful knickknacks on my night stand; it's a visual representation of who I am. No wonder Kevin and I get along so well.
If you snack during your show, what do you usually snack on?
I don't usually snack during my show because with my luck I'm bound to have food in my mouth while I have to announce the songs that just played. But when I do snack I love to snack on Flips chocolate covered pretzels! They are what the cool kids call "the bees knees!" I'm addicted to those and I don't care who knows.
Any unexpected surprises that have come out of doing your show?
Ummmm … not from my show specifically but being a member of KUCI has definitely given me wonderful surprises. I got to meet and see The Frights and The Regrettes perform live at KUCI. I got to see Devendra Banhart and the Beach Fossils (my favorite artists) at the Santa Ana Observatory for free all because of KUCI.
What would listeners be surprised to know about you?
I have a CD collection and I have about 110 CDs so far. A lot of albums from my favorite artists like The Strokes, Mac DeMarco, Devendra Banhart, The Smiths, Sublime, Phoenix, etc. I love Greek mythology; Aphrodite (goddess of love and beauty) is my favorite. I'm a fraternal twin; my twin is a boy and we look nothing alike. I'm pretty short which has its ups and downs. I love, and practice, ballet. On my 16th birthday I met the actress Mary Elizabeth Winstead who is famously known as Ramona Flowers in the movie Scott Pilgrim vs the World. And lastly, I like to write poetry and create lyrics to instrumental songs just for fun.
— February 24, 2017
---
Barbara DeMarco-Barrett is host of Writers on Writing, Wednesdays at 9 a.m., and a contributor to USA Noir: Best of the Akashic Noir Series (Akashic, 2013). Watch the book trailer at penonfire.com.
---