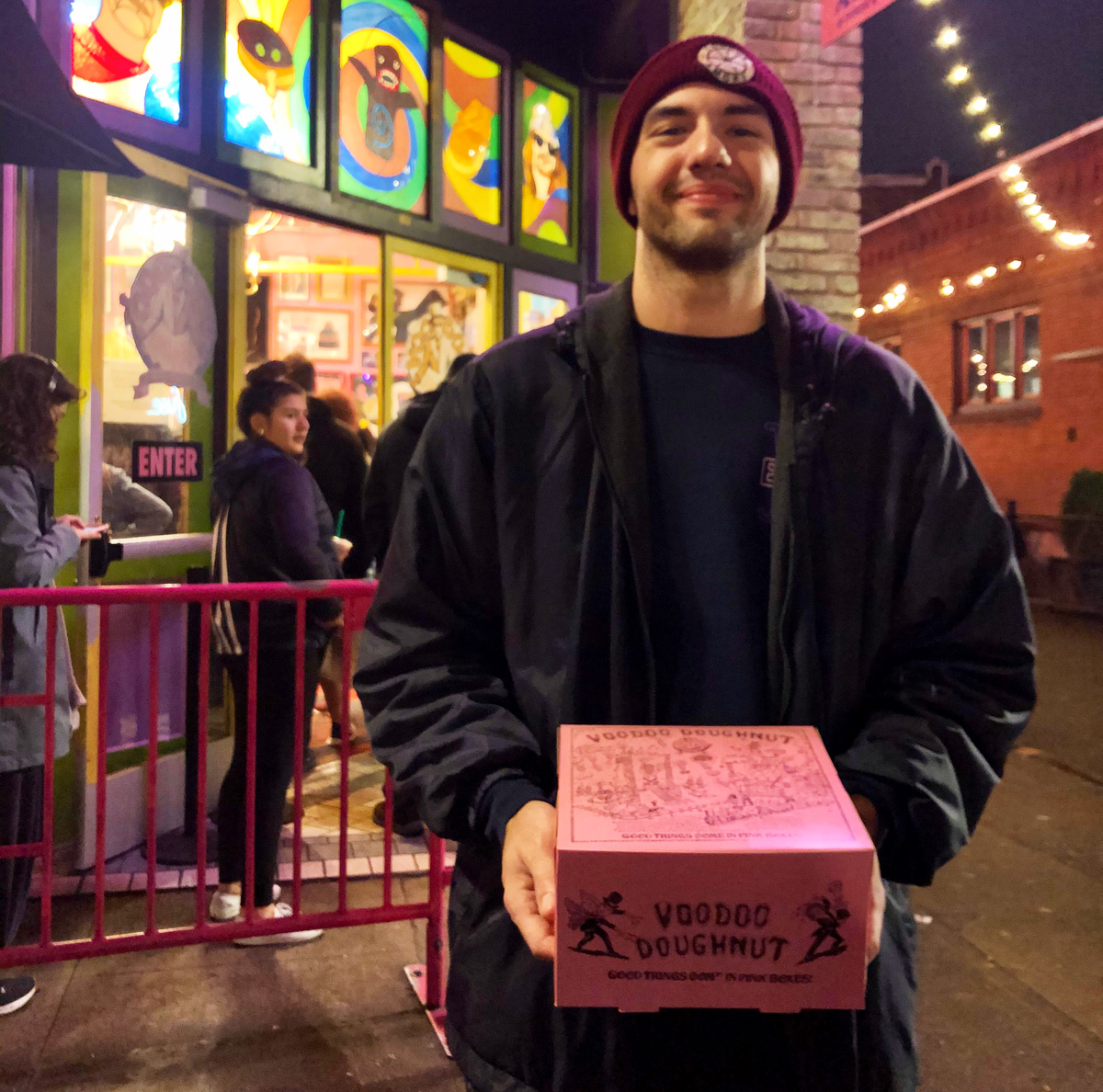 Tommy DeSilva | Broken Sound
1 April 2020 Host Spotlight
---
by Barbara DeMarco-Barrett
Tell our listeners about your show.
I host a show called Broken Sound, which airs on Monday nights from 10:00 p.m. to midnight, and I mostly play punk, hardcore, pop punk, emo, and any music that can be considered to be "punk-adjacent."
How did you come up with the format?
My show originated as a pop punk radio show donning the mantra, "Pop Punk's Not Dead!" The show itself is named after a New Found Glory song. At the time, it was kind of a trend for up-and-coming pop punk bands to name themselves after New Found Flory songs (example: The Story So Far, Such A Mess, Second To Last) seeing how they are considered by many to be one of the godfathers of pop punk as well as the first bands/artist to coin the phrase "Pop Punk's Not Dead," so that's where the idea came from.
As time went along and I started to mature and my music taste began to evolve (and because pop punk started to die out a little bit), I expanded the overall format of the show and went back to my punk roots, which is how I ultimately got into pop punk anyway, and decided to make the show more about punk rock as a whole, including all of its subgenres/offshoots.
Something I never really talk about on the air, but that I do make a point to emphasize in terms of the format of my show, is that I like to structure my playlists with a loud-quiet-loud approach, which was more or less coined by the Pixies (see loudQUIETloud: A Film About the Pixies). I usually like to start off a set with a loud, fast, angry, in-your-face song, and instead of continuing the set with more songs like that, I like to change gears and have the next song be more of a quiet, slow, sad, mellow/relaxing song, and then the cycle repeats from there. Sometimes I construct sets in reverse order (quiet-loud-quiet). The reasoning behind this is that I find myself changing moods a lot throughout the course of a day as I'm constantly moving through different environments and taking on different situations, so this is kind of my way of bringing those dynamic shifts in emotion that I experience every day to life in the form of music.
Do you have live bands?
Yes, I do host live bands! I've had quite a few bands play on my show actually. There's a lot of steps that go into booking a live band, but the main ones are to contact the band and set up a date for them to come on your show (this can be done through email, social media, or in person if you happen to catch a local band live at a show and are interested in bringing them in for a live-session) and to request live-band engineers to work the performance (KUCI has a team of staff members who are specially trained to handle all of the technical aspects that go into hosting an in-studio session).
Once you have the band scheduled and engineers lined-up to work the performance, there are a few other steps that need to be taken in order to ensure that the in-studio goes well including: promoting the in-studio both through KUCI's website/social media accounts as well as through your own website/social media accounts, reminding the band/artist of all of the KUCI/FCC policies that they need to follow while they are at the station, writing the interview questions, drafting a schedule for the in-studio (i.e. how long is the band/artist going to play, are they going to play their set all the way through or break their set up into 2 or 3 mini-sets, how long is the interview going to last, etc.), completing a day-of-show checklist, etc. If you've never hosted an in-studio session before, it may seem like a lot of work, but once you've done it a couple of times and get it down to a routine, it's actually pretty easy.
I really enjoy hosting in-studios because not only do I get to play a part in doing what KUCI has always sought out to do, which is showcase up-and-coming artists that aren't heard anywhere else, but I also get to meet a lot of cool people involved in the local punk, hardcore, pop punk, and emo scenes that I may have never gotten to meet if it wasn't for hosting them on my show (to this day I'm still friends with a lot of the people/bands that I've met through hosting in-studio sessions).
Do you take requests?
Yes! Granted, most of my requests come from the same three or four listeners, who, I might add, tend to call up a little intoxicated and like to chat for longer than I'd prefer. Either way I still appreciate their support of the show. I should also add that whenever I have live bands on the show, their friends/fans tend to call in and throw some crazy off-the-wall deep cut requests my way from bands/artists that I've never heard of before, and that's always pretty cool. I've discovered a lot of new bands/artists that way. Shout out to my guy Nick from Mildura for always DMing me sick requests while I'm on the air, as well (if it wasn't for him I probably would have never discovered The Weakerthans or Glacier Veins, both of which I need in my life).
On your website, you post a song of the day. How do you pick these songs?
Back when Tumblr was more of a thing, I wanted to have as much content on my show blog as possible in order to "expand my reach," so to speak, so I started posting a "song of the day" every day. The songs used to be songs that I had stuck on repeat or that had come up while I was driving around in my car listening to music that day. Now "song of the day" is more or less "song of the week" seeing that I don't post as often, and the songs that I post are usually new songs that I plan on playing on the show the following week. More than anything, you could say that "song of the day" now serves as sort of a "sneak preview" into next week's episode of Broken Sound. Every now and then I'll throw an old song up there for whatever reason (i.e. the song came up while I was driving around in my car listening to music that week, I saw the band/artist who performs the song live that week, something happened that week that reminded me of the song and/or the band/artist who performs it, etc.).
Of the music you play on the show, how much of it is from CDs from bands you're not familiar with that come into the station and how much of it is you playing what you already know?
To be totally honest, I like to keep my ear to the ground and discover new bands/artists on my own, so pretty much all of the music that I play on my show is from bands/artists that I already know. There has been a lot of overlap over the years, though where I've discovered a band/artist and added a song off of their new album to my playlist and I show up to the station and see that same album sitting in Studio A on the new releases shelf. Back when I was the Punk Genre Assistant, which is the person who is in charge of listening to and adding all of the new punk music that gets sent to the station, I would discover a lot of new bands/artists that I had never heard of before and end up playing their music on my show. I actually discovered two of my favorite bands through KUCI, both of which I still listen to and support like crazy to this day (Touché Amoré + The Menzingers). I've also noticed over the years that as our music library has continued to grow with more and more bands/artists, labels, and promoters sending us music, bands/artists who I was playing on my show three or four years ago that weren't necessarily on KUCI's radar back then now have records being sent to the station. It's awesome to see how bands/artists who I discovered in the past and that I have been playing on my show for a good while now are now accessible to our all of our DJs and that some of those bands/artists have now become household names around the station.
Tell our listeners what else you do at KUCI besides DJ.
I'm also KUCI's In-Studio Coordinator, which is the person who is in charge of overlooking all of the bands and artists that hosts bring into the studio for live sessions. I'm also the person to contact if you are a new DJ or a DJ who is new to in-studio sessions and needs help getting started. This is my first year on the job, and my main focus this year has mostly been on the latter portion of my job description. We have a lot of DJs at KUCI who are interested in hosting in-studio sessions and who have the resources/contacts to do so, but before this year there wasn't really a place or person to go to or something to reference where DJs could learn how to host in-studio sessions. Most of the DJs (including myself) who currently host in-studio sessions on a regular basis essentially taught themselves how to host in-studios with a little help from various veteran DJs/staff members who had the inside scoop.
To help with this, earlier in the school year I (along with our Promotions Director and our Marketing Director) created a super detailed step by step guide/booklet on how to host in-studio sessions that is now available for all of our DJs to check out. We've also been hosting info sessions every quarter where we go over everything that DJs need to know about hosting an in-studio session as well offer our advice on we think makes for a fun/successful in-studio based on our own experiences. I like to think that the booklet and these info sessions have made a difference seeing that we have had a lot more in-studio sessions taking place as of late (most of which have been hosted by newer DJs or DJs that have never hosted an in-studio before). There's still some work left to be done though, because at the end of the day I think it's important for us to be regularly hosting in-studio sessions at KUCI (ideally every week) so that we can keep our listeners engaged by continuing to showcase new and up-and-coming artists that aren't heard anywhere else at our station and so that we can continue to expand our reach in the local underground music scene and beyond.
Let's back up a bit. How'd you find your way to KUCI?
I started out at KUCI during the fall quarter of my sophomore year at UCI (October 2013, to be exact). Near the end of my freshman year, I decided that I wanted to get more involved on campus, so I started looking through all of the various clubs that UCI had to offer. I had always been very passionate about music, so I was hoping to find a club or a student-run group that had something to do with music. None of the clubs at the time fit the description of what I was looking for, so my mom (who is a UCI alumni) suggested that I check and see if KUCI was still around, and if they were, that I should try getting involved there. After that I went on KUCI's website and saw that they were indeed still around and that they were hosting a training class during the summer, so I signed up, completed the class, applied for a show, and the rest is history.
Anything that has come out of your association with KUCI that's surprised you?
Probably all of the cool/interesting people that I've met over the years. There are so many people that have come and gone throughout my time at KUCI (many of whom I still consider to be friends of mine and who I check in with every now and then) who have shaped my overall experience in the worlds of underground music and college radio (as well as in life in general). I've learned a lot and had my mind opened up to a lot of different things during my time spent at KUCI, and even though we all come from different backgrounds and have different tastes in music, I feel as though that all KUCI DJs and staff members share a bond where we are all able to naturally connect and talk with one another and work together to make the station what it is and to me that's pretty special.
Favorite book(s) you've read recently?
I'm not much of a reader, but when I was in Portland earlier this year, I paid a visit to Powell's Books and bought this book called Unfuck Your Brain: Using Science to Get Over Anxiety, Depression, Anger, Freak-outs, and Triggers by Faith G. Harper. I haven't had the chance to sit down and read through the whole thing yet, but what I've read so far is pretty insightful.
What's on your nightstand?
In order to give a little context to those of you that don't know me personally, outside of KUCI, most of my time is spent working as the league director of a youth basketball league that my family and I run called Orange County Shooting Stars. I'm a coach there, as well. On my nightstand sits all of the championship trophies that my teams and I have won over the years. Coaches always joke that they are going to sleep with the trophy next to them after they win the championship, but for me I really have no better place to put those trophies other than my nightstand. Also, at the risk of sounding corny, I always start off my day in good mood (unless I have to get up super early) when I wake up and see those trophies sitting there because they remind me of all of the good memories that I had with all of those teams and players and all of the hard work that we put in to win those championships.
In your fridge?
Water, soda, juice, various leftovers, condiments, eggs, milk, and parmesan cheese.
Favorite quote?
"When you're through learning, you're through." – John Wooden
— April 1, 2020
---
Barbara DeMarco-Barrett has hosted Writers on Writing (Weds 9 a.m. PT) for 21 years. She teaches here and there, has published here and there, and her book, Pen on Fire (Harcourt, reissued by Mars St. Press) was a Los Angeles Times bestseller. More at penonfire.com.
---