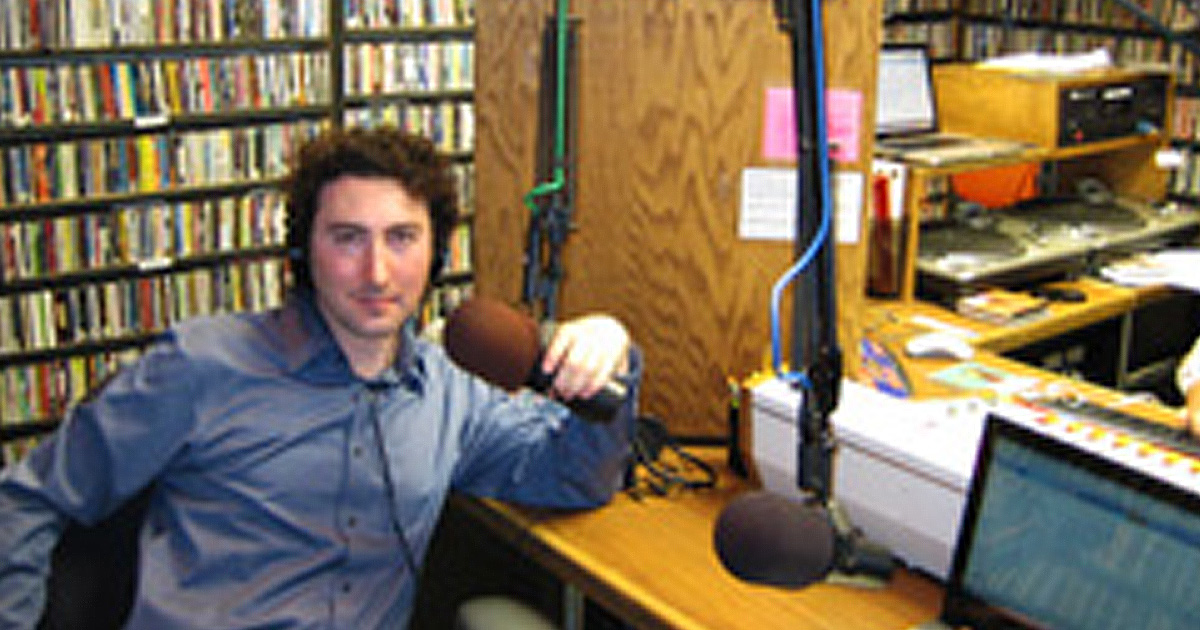 Evan Simon | The Docket
1 April 2011 Host Spotlight
---
Barbara DeMarco-Barrett: How did you first come to have a show at KUCI?
Evan Simon: Wow, you?re making me think back to my days in college. There I was?a bright eyed and bushy-tailed freshman who could think of nothing else but getting his own radio show. Okay, so it wasn?t entirely like that, but even before college, I had been excited about radio. I loved listening to various talk radio shows when I was in high school, and thought to myself: doing a show like that seems like a lot of fun. And so when I came to UC Irvine, I knew I wanted to get involved with KUCI. I started interning with a program and after a few quarters, was given a half hour to fill the time. By the end of my first year, I was off and running. I hosted the show "Topics" for more than three years, ending in 2003.
BDB: Then you took a break.
ES: Yes. Signing off the air was probably the hardest part about graduating. But doing the radio show led me down a path I certainly could not have imagined when I first started the show. Many of the things I talked about touched upon law, but I didn?t have any formal study in law. One of the reasons I went to law school was that if I were ever to come back to radio, I thought I should at least have some background in law, so that I could sort of know what I was talking about. And so after graduating from UC-Irvine in 2003, I went to law school.
BDB: And then you came back, with a new show similar to the old show…
ES: Similar, but different in a few respects. First, I?ll just say that I knew that if I landed back down in Orange County, it would only be a matter of time before I came back to KUCI. I love the place. The people you meet are incredibly diverse and smart. And I love broadcasting. It?s a real rush for me. I now host "The Docket." Having gone through all the legal training, and practicing law, I began to realize that there are enough programs out there that spin the news and that focus on commentary. And when it comes to legal subjects, there?s little to no discussion about why courts reached the decisions that they did. By and large, my goal with the show is to get away from the spin and to focus on creating an understanding about how our system works, and to point out areas where our system could use some improvements. So there?s less commentary. I try my hardest to keep my opinions to myself. I can?t entirely hide a bias, but the focus is creating an understanding.
BDB: Why is your show important for you to broadcast?
ES: I think people are getting tired of hearing and watching spin all day long. There are very few outlets where people are delivered information that they can use or at the least find fascinating without having to cut through endless chatter. I try to make law relevant to people, and I think when people look under the hood of the legal system, they will find some extremely fascinating and interesting questions. One of the things I find most fascinating about law are the tough questions that must be grappled with. When most news outlets report on the law, they just skip over these issues. I try to take listeners under the hood of the legal system.
BDB: As some, but not all, of our readers here and listeners to the station know, KUCI's mission is to offer what can't be found on mainstream stations. A hypothetical: Why would a mainstream station not broadcast your show?
ES: KUCI?s mission speaks to me as well. Nowadays the sources of news and information from traditional broadcast channels are becoming even slimmer and owned by a handful of companies. I think some of these outlets do an okay job, but there?s still very little like KUCI out there. Complete freedom is how I describe it. It?s incredible. So I think most mainstream outlets wouldn?t care to broadcast a show for which they would have zero editorial control. Also, most media outlets have to cater to the mainstream, and there?s this perception that law is a niche field, that people can?t understand it, that people aren?t interested in the ?fine points? of the law. I think that?s nonsense, but that?s the perception. An hour, commercial free, on KUCI allows us to explore things that most shows, just frankly, don?t have the time to explore.
BDB: Any guests or shows that have been your favorite, and why?
ES: When I was in college, I interviewed Milton Friedman, a few years before he passed away. That was special for me, as I had read a lot of his work, and still believe that he was one of the most influential people of the 20th century. On "The Docket," I?ve been fortunate to have a number of great guests. On the anniversary of Sesame Street, I had a show with an attorney who represented Jim Henson. He talked about the challenges as an attorney he faced in having to identify and characterize the 1,000 or so different Muppets that Henson had created. I just found that absolutely fascinating.
BDB: What's the most surprising thing that occurred on your show?
ES: When everything works right. Just kidding. Actually, perhaps this is a good time to plug our fund-drive. The reality is, our equipment often needs updating, and KUCI depends on listener support to keep the electricity on if you know what I mean. If you like what you hear on KUCI, send us a few bucks, it really does go a long way. But one thing that was surprising was getting a call from a gentleman all the way from New York City. The reach of the Internet is amazing, and you just never know who?s listening out there in radio land.
BDB: What do you do when you're not at KUCI?
ES: My full-time job, and I do mean full, is that of an attorney. I not only play one on the radio, I am one in real life. One of my favorite areas to talk about on air is Intellectual Property law, and it?s the one I mainly practice in. Otherwise, I try to find the time to spend with those who are important to me. I had a health scare a few years ago, and it taught me more than anything that life is about the people you have to share it with.
BDB: What's your own radio dial tuned to?
ES: KUCI of course. And KCRW.
BDB: When you were starting out, was there a public affairs host you were
hoping to emulate?
ES: I was very fortunate to have been mentored by someone who had a
lot of experience in the broadcast world when I first started out. From there, I think I tried to grow as a broadcaster, and I?m always learning and trying to experiment and push the envelope.
BDB: Parting words?
ES: I hope everyone enjoys the show.
"The Docket" currently broadcasts at 9 a.m. Thursday mornings at KUCI-FM. Check KUCI.org for the current schedule and lots of other good stuff!
— May 1, 2011
---
Barbara DeMarco-Barrett's son was four when she started "Writers on Writing." He's now 16. She's Orange Coast Magazine's new literary critic, author of Pen on Fire, and has a story in the newish collection, Orange County Noir (Akashic). More at Pen on Fire .
---