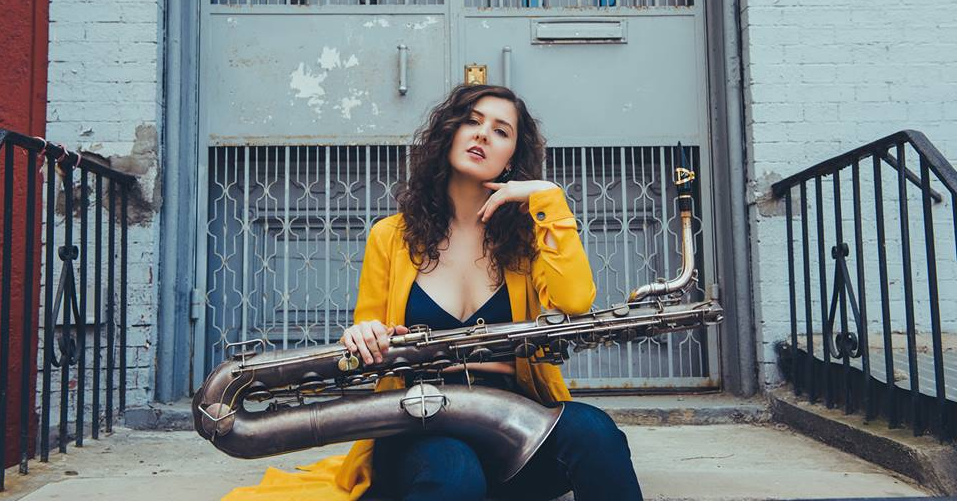 Jazz, Not Jazz | March 15, 2019
15 March 2019 Jazz : Not Jazz Music Reviews
---
Adison Evans   – Meridian  – (AdiTone Music)
Baritone sax is implicitly gendered because of its lower register. It also is used more frequently in harmony than as a lead instrument. Well Adison Evans gleefully destroys stereotypes in this funk driven mainstream romp which periodically zig zags across genres from baroque to the blues. With tenor star Troy Roberts, the illustrious Silvano Monasterios  on piano and the rest of her crew she is off to a grand start with this debut recording.
---
Abelita Mateus  – Mixed Feelings –  (Vivenda)
Brazilian composer/pianist/singer Mateus writes and plays with casual certainty, sort of the trademark of the samba tradition. She also demonstrates mastery of the mainstream tropes. Helping her kick it up a notch on occasion is guitarist Romero Lubambo. Her voice on the ballads is a songwriter's voice, not crooning bel canto, but intimate and reflective.
---
Herlin Riley – Perpetual Optimism – (Mack Avenue)
New Orleans born and bred drummer composer Riley has long been recognized for his frequent collaborations with Wynton Marsalis and Ahmad Jamal. His own compositions have the drive and funk of the great Cannonball Adderley and  Art Blakey releases. To highlight that point, he works here with a stunning young band that includes saxophonist, Godwin Louis,Trumpeter, Bruce Harris, and up and coming comp meister pianist Emmet Cohen. They provide a smooth swinging surface while Riley and bassist Russell Hall lay down a heavily accented foundation. The uptempo "Borders Without Lines" and the soul drenched "Wings and Roots" sit at the epicenter of the be-bop laced modern jazz of the Jazz Messengers era. The covers of the ballad standards "You Don't Know What Love Is", ( a personal favorite melody of mine), and "Stella By Starlight" display studied elegance, but best of all is a gorgeously arranged opus, "Touched". For fun there is a jazzed up version of the Willie Dixon classic "Wang Dang Doodle".
---
Godwin Louis   –  Global  – ( Blue Room)
The saxophonist  on the Herlin Riley release reviewed above, Godwin Louis, has a two CD release that flows like a mix tape between various world musical traditions and hip hop infused soul jams. He is supported by a world class crew including Axel Tosca Laugart on piano, Sam Dickey, guitar, trumpeter  Billy Buss and Vibraphonist Joel Ross. This is a big and ambitious record chock full of moments, some clearly traditional melodies from various cultures, some interstitial meditations and jams. There are vocals, mainly vocalese, and Louis plays his butt off on top of it all.
---
Emmet Cohen Trio  – Dirty In Detroit – (Self Released)
Pianist Cohen who was also on Herlin Riley's release had one of the great legacy jazz records last year with his collaboration with the true grand old man of Jazz, the tastiest bass player of all time, Ron Carter. Here, Cohen works with his own trio, bassist Russell Hall, (also on the Riley record), and drummer Kyle Poole in a live set recorded at Detroit's Dirty Dog Cafe.  The tunes are all covers of classics, Monk, Fats Waller, Cedar Walton, etc. but Cohen re-writes them with stride touches and rollicking vigor.
---
Justin Robinson  –   At First Light  – (WJ3 Records)
Alto sax player Robinson may be familiar to you from his stellar work with Roy Hargrove in both big band and small ensemble settings, but he came up under the strictest of task masters, Betty Carter. Here working with Sharp Radway, piano, Ameen Saleem, bass and drummer Jeremy "Bean" Clemons, they get all modal on you, and then they lay down in the deep grooves, bop and wail, blues, and out there whispers. Yes.
---
Hafez Modirzadeh –  Voices Unveiled – (Lifeforce Jazz)
Bay area musician and producer Dawan Muhammad has been on the ground championing spiritually based jazz inflected creative music for decades, and does so here by producing this collaboration between saxophonist Modirzadeh and several different ensembles on various tracks. While there are definite middle eastern influences like what sounds like to me a call to prayer, free jazz pre-dominates, and worlds seemingly on collision course dissolve on contact and collapse into shimmering silvery snowfalls.
---