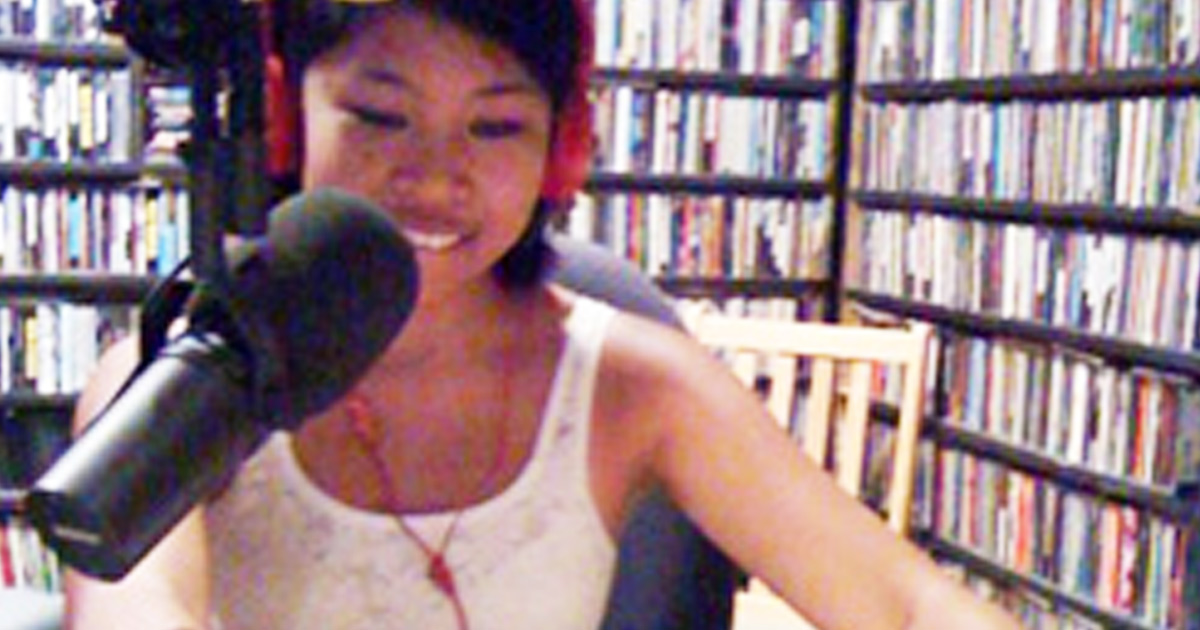 Lauren Quijano | Activism for Amateurs
11 March 2013 Host Spotlight
---
How did you choose the topic of your show?
Since I was ten, phrases like social justice and mass movements have excited me. My dad taught me about progressive Filipino youth groups, and I eventually joined a group in high school called Anakbayan in Los Angeles. I learned about grassroots organizing and Filipino American issues. I knew in my heart that I wanted to be an activist for something in college — anything!
So, I decided to start up my talk show, Activism for Amateurs! The title says it all. I originally wanted a PA show where aspiring activists like me (back when I was a freshman) could learn how to be a better activist and community leader. I was thinking I would present interviews and guests that could give that answer.
But I learned over the course of my show that anyone can be an activist. You just need to be passionate about something you believe in, and that activism takes many different shapes and forms, and can be seen in different people. There are all sorts of activists in a variety of careers: a nurse can be a health activist, a teacher can be an activist for education, musicians can create music to facilitate a movement, and community members can help inspire the next generation. What they all have in common is that they speak out for what they stand for. This in itself is a very powerful tool and is what it means to be an activist. An activist does not need to chant on the streets or picket. An activist does not need to be angry. An activist can be anyone.
Does the theme of the show have anything to do with what you're majoring in at UCI?
Definitely. I am currently a double major in Public Health Policy and International Studies. In public health policy, I learned the importance of law and lobbying, and that activist work can help improve health policies. With international studies, my focus is on human rights. I learned a lot about human rights in international organizations, and sometimes feel that organizations like the U.N. get human rights all wrong. I have met so many people who take the concept of human rights to heart. And they truly believe that all people should have these human rights. So who should deny them otherwise? I think activists like them understand because, they live without the things they strive for today. They fight for it.
What sort of guests to you ask to come on?
I love having student leaders who are involved on campus to be on the show. A lot of students at UCI who are involved on-campus generally spend their extra time to promote good things on campus. A lot of campus events keep an important vision in mind: whether it is for UCI to be a more sustainable environment, for our fellow students to be healthy, or for students to really understand their rights. The list includes: PASS (Pilipinos Americans in Social Studies), Delta Sigma Co-Ed Fraternity, International Justice Mission, Afghanistan Development Project, Muslim Student Union, The Olive Tree Initiative and many more. Other than students, I love to invite community members to talk about how they advocate in their communities. Hip-Hop MC's, the Shining Sons, made one of their first debuts on the air, and talked about their experiences with gang violence in the Long Beach area. I interviewed Pat and Sandy O. from Emma's Revolution on their progressive folk music and their tour across the nation. I even had guests from other countries as well, from activist Elora West and her travels to save dolphins in Japan, to UCI alumni now teaching English abroad in South Korea. I call the show Activism for Amateurs: Internationale this quarter. The idea is to present a topic each week that students at UCI are involved with, and then connect it with a bigger idea on a global scale.
How do you find your guests?
Most of my contacts are made through the network here at KUCI. What I love about KUCI is that all the staff really loves to have other peoples' voices heard on the radio too. That is what Public Affairs at KUCI is all about! So I have found it increasingly lucky to have the amazing staff at KUCI. Everyone has always been very supportive since I was a freshman. I am a senior at UCI now, and still loving KUCI! I even had the opportunity to become Public Affairs Director this year. It has been challenging, but I learn a lot and I have had the chance to meet some very inspiring people.
Who is your ideal guest?
The Dalai Lama! He is really funny as well as wise. He has visited UCI, but it would be awesome to interview him live in the station. And Jose Maria Sison — he is exiled in the Netherlands right now but I would love to interview him, maybe through Skype!
What has been your favorite show, to date?
With very convenient timing, the famous tabla player and musician, Salar Nader, visited the UCI campus with a performance scheduled through the Afghanistan Development Project. I was able to get him to fill in a KUCI interview into his busy schedule! On top of that, we invited musician Sandro Estravi and students studying under the UCI Music Department to have a live jamming session with him on the air. We followed with interviews of course (since its a PA show), but it was so awesome to hear all the different instruments combine into a very ear-gasmic culture clash! It was just awesome. If you would like to hear that show, there's a recording of it under the show blog at activismforamateurs.kuci.org.
As Public Affairs director, what can you tell us about what's changed and/or what's to come at KUCI?
For Public Affairs, we are trying to recruit more students to host their own public affairs. KUCI offers this really great opportunity to learn about media and public relations in this way. This year we also started having a Weekly News Report on the air thanks to the hard work of Adam O'Neale and other volunteers and staff at the station. Our newest additions to the schedule are Red Does Research for your science news updates, The TPS Report for all news in technology, Ear to the Ground is a show presenting interesting and insightful views, and Off the Couch is your motivational reason to exercise. And hopefully more shows to come in the next quarter!
What do you listen to when you're in the car (other radio stations as well as KUCI)?
I listen to KJAZZ. I especially love the Bing Band/ Swing music segments they have during the weekends in the morning.
At KUCI, which shows do you seem to listen to the most?
I listen to the music shows, Beat Surgery and Memories of the Future. I really like the music the DJ's play for these shows. I still listen to old podcasts of Subversity and Justice or Just Us. Both of those shows were inspirational to me while I was starting Activism for Amateurs.
As PA director, you have to review PA shows and make sure they are up to snuff. What sort of things do you find that some new hosts do without realizing it?
Definitely saying "uh" and "um" is common. I still find myself doing that as well. Also, sometimes we forget to turn off our mics when setting up a phone call or music. Other than that, all of the new hosts are excellent.
If you could offer three tips to PA hosts, what would they be?
1. Get Business Cards! You can get them for cheap online, just pay shipping!
2. Always present a counter argument on the air whenever you present an issue on the air.
3. Maintain marketing for your own show. Especially to KUCI students, they might want to help out themselves if they love your show! And they would get more experience with working for a radio station.
Any public affairs shows on other stations that you hold as examples of what a PA show should be?
It's difficult to say. It can be a show of any topic as long as it has a good format. But what I love about KUCI is that we are not here to try to sound like everyone else or any other shows on other stations. All of our hosts are here to be themselves. Whatever that might be. Just because it does not sound like other shows in the other stations doesn't mean that their shows are not good. I think we have some really great PA shows on KUCI! As long as the host is clear, interesting, with a good personality and that host does good research, then I think it is up to the listener to decide that KUCI PA is a great example in itself.
When you wake up to an alarm in the morning, what's the first sound you hear?
Birds chirping. Really — Its nice.
— March 11, 2013
---
Barbara DeMarco-Barrett is host of "Writers and Writing" Wednesdays at 9 a.m. PT. She is founder of the Pen on Fire Writers Salon and author of Pen on Fire. Her story, "Crazy for You," is anthologized in Orange County Noir (Akashic, 2010). More at penonfire.com. If you're a KUCI DJ or Public Affairs host, and wish to be featured in this spot, email email Barbara .
---