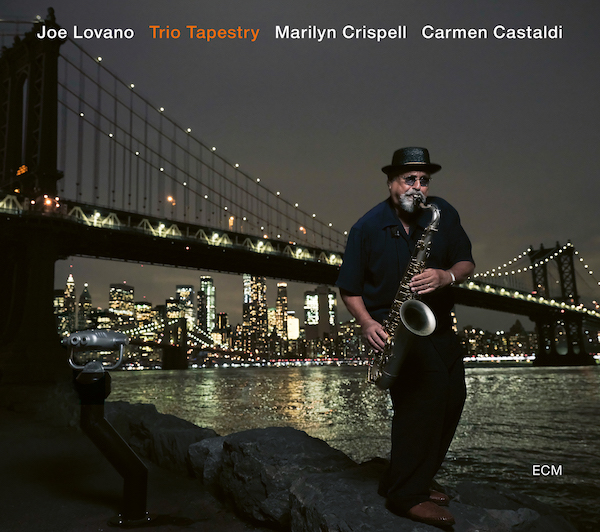 Jazz, Not Jazz | March 5, 2019
5 March 2019 Jazz : Not Jazz New Releases
---
Joe Lovano/Marilyn Crispell/Carmen Castaldi Trio – Tapestry – (ECM)
Lovano is among the most revered saxophonists in jazz. Thirty years with Paul Motian after starting with Woody Herman and Mel Lewis, collaborations with maybe jazz's finest pianist, Hank Jones, master arranger and dean of third stream music (jazz/classical admixture), Gunther Schuller, and avant garde master trumpeter Dave Douglas and decades as a staple on the Blue Note label are among the credits for this multiple Grammy nominee. On this release for the European art/jazz label ECM he explores tonal range and subtle evocations of the mysterious and elusive.
Lovano will be appearing at Soka University March 8. You could win tickets to the show by listening to the station or checking out our social media sites.
---
Paul Jones Quartet – The Process – (Amp Music)
Tenor saxophonist Jones is understated but authoritative in his delivery. His compositions swing, wistfully. The "process" described in the title is the process of creating new music through touring and honing compositions on stage before recording them, rather than the reverse, making a record and then touring. The results presented here are polished and thought provoking works based on a series of improvisational variations that are sifted and refined.
---
Brittany Anjou Enamigo – Reciprokataj – (Origin)
Composer/pianist is a translator. Her album's title is in Esperanto as are several of her compositions' titles, but it's not the translation of words that so striking, it's the translation of time and moods that belie her sublime eloquence. Skew in a Monk like way (Thelonious,not Benedictine), she and her trios, (she has two different rhythm sections on the record), seem to be in fluid pointed dialogues that escalate, hover, and just before exploding, resolve. Really lovely stuff.
---
Ralph Alessi – Imaginary Friends – (ECM)
Composer Trumpeter Alessi is joined by saxophonist Ravi Coltrane, pianist Andy Milne, Drew Gress on bass and drummer Mark Ferber. Alessi's work is melodically liquid and nuanced,his solos are Arabesques of coiling smoke. This is the jazz equivalent of Debussy. Gorgeous.
---
Dave Meder – Passage – (Self-Released)
Pianist/composer Meder is very much a disciple of Thelonious Monk and Jaki Byard, and that is a good thing. I don't mean he copies them, I mean his compositions seem off the cuff yet thoroughly complete as ideas. Working mainly in a trio, Meder has a lot say, and says it very well. He's my vote for best new artist of 2019 so far.
---
Alison Crockett – Obrigada Sol – (Image)
Harlem hip, this vocal release is the sonic equivalent of Jiffy Pop, simmer, simmer, them bopity bop, hot and funky. Soul jazz for the 21st. The ballads ebb and swell gracefully.
---
Bill Cole Still – Breathing (Volumes 1 & 2) – (Self Released)
These two CDs feature master avant garde composer Cole, who is a denizen of the ancient future school of music, tunes that emanate from the cave and from the cosmos.  On both he plays Didgeridoo, first with bassist Gerald Veasley, then on disc two, with percussionist Alex Blake. The inspiration for the music is the police induced homicide of Eric Garner, who died on a New York City street in a chokehold while pleading "I can't breathe". So the title is a pun reflecting the despair and hope that is our current plight.
---