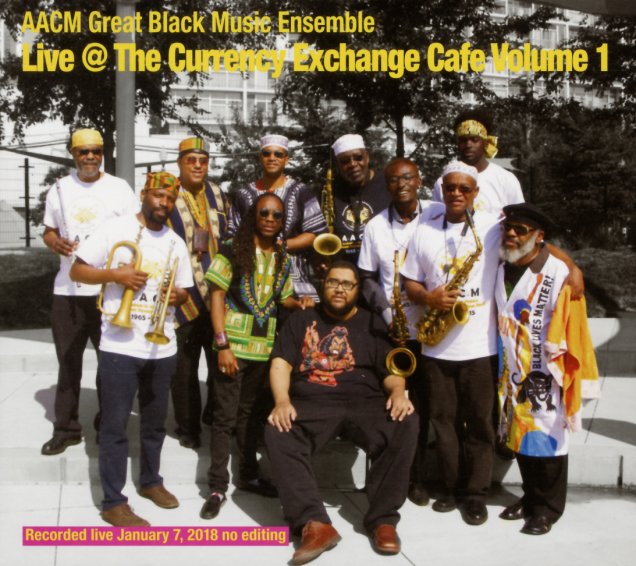 Jazz, Not Jazz | February 21, 2019
21 February 2019 Jazz : Not Jazz Music Reviews
---
AACM Great Black Music Ensemble   –   Live @ The Currency Exchange Cafe Volume 1  –  (AACM)
The Association  for the Advancement of Creative Musicians, founded in Chicago over 50 years ago, has sought to offer folks who seek to elude genre traps the opportunity to collaborate and support each other. By replacing the marketing sobriquet "jazz" with the term "Creative Music" critically important artists from The Art Ensemble of Chicago, Anthony Braxton, Muhal Richard Abrams, and UCI's own Nicole Mitchell have formed a guild that preserves and expands individual and communal expression inspired by multiple traditions.
Currently, AACM's Ernest Dawkins has been supporting the next generation of creative musicians by pairing them with masters in a series of AACM sponsored recordings. The latest, Live @ The Currency Exchange Cafe Volume 1,  collapses time and space by invoking in chant and large ensemble play the links between the ancient and the future. The medium for this "willing suspension of disbelief", or transcendent metamorphosis, is Great Black Music…
---
Yelena EcKemoff  –  Colors – (L&H Records)
Composer Eckemoff is among the most prolific and adventurous forces in contemporary music. She releases at least one, and often two stellar recordings a year. Her latest, Colors, features Eckemoff on piano with drummer/percussionist Manu Katche. The Russian born Eckemoff continues a tradition found in Russian classical music of finding inspiration in specific iterations of nature, memory, and perception. Here she addresses her personal synesthetic experiences assigning melodies to the spectrum and it's interstices. Wonderfully.
---
Jessica Jones Quartet   – Continuum –  (Reva Records_
One of my favorite discoveries last year was tenor saxophonist Jones' release Moxie. Jones copies noone. Here her quartet, Tony Jones, also on tenor, bassist Stomu Takeishi (Henry Threadgill, Cuong Vu, Myra Melford), and drummer Kenny Wollesen (John Zorn, Sexmob) find the sweet spot between gorgeous melodies and edgy performance that left me tip toeing on a high wire yet feeling perfectly safe.
---
Allison Au  – Wander Wonder – (Self Released)
Canadian alto saxophonist Au's current release contains moody interludes that unfold like time lapsed blooms, jaunty strolls through the woods, and gliding melodies that stream and curl. There are occasional explosive exclamations. Most rewarding indeed. Check out keyboardist Todd Pentney, a true "comp" master.
---
Kait Dunton –  Planet D'earth  – (Real and Imagined Records)
Composer/pianist Dunton has released this  homage to her mentor  trumpeter John D'earth. She includes three of his tunes as well. Joined by noted big band leader Bob Mintzer on tenor for three tracks, this ensemble swings in a Wayne Shorter/Herbie Hancock 70's groove with grace and aplomb.
---
Pablo Aslan   –  Contrabajo: Works for Bass and String Quartet  – (Soundbrush)
Jazz, classical, and tango have been in a menage a trois for decades. Here bassist Aslan, from Argentina but currently residing in Brooklyn, performs works by Villa-Lobos, Ellington, contemporary composers Alexis Cuadrado and Gabriel Senanes, himself, and others. Electric and nuanced, this is an instant classic.
---
Carla Campopiano   – Chicago/Buenos Aries Connection  – (Self Released)
This flautist joined by guitar and drums dances right on top of the beat, occasionally dipping her toes into tides of shifting tempos, delightfully. Tangos and more.
---
Julian Lage –  Love Hurts  –  (Mack Avenue)
This trio recording from electric guitarist Lage takes on a couple of country classics, a standard,  a couple of Keith Jarrett tunes and more and ties them together in his virtuosic re-workings that are passionate yet unsentimental.
---
The Humanity Quartet – Humanity – (Cellar Live)
Joel Frahm, tenor sax, Peter Bernstein, guitar, Sean Smith, bass and drummer Leon Parker have reached back to a time when music and listeners were not so distracted by technology and marketing, a time of true intimacy and connection with our mutual unmediated humanity. Using blues and post bop tropes they have provided us with a hopeful reminder that ultimately all we have is each other and all that other stuff is illusory.
---
Joe Magnarelli Quintet –  If You Could See Me Now  – (Cellar Live)
This straight ahead, bop, and be-bop grouping fronted by trumpeter Magnarelli performs an all Tadd Dameron program. Dameron was one of jazz's finest composers and arrangers who died early in life, leaving behind a plethora of vital and lasting work. Dameron's influence reached from Coltrane and Dizzy to the Dorsey brothers. His own bands included Miles Davis, Coltrane, Sonny Rollins and Dexter Gordon. You may not know his name, but many of his melodies such as "On a Misty Night" and "I Think I'll Go Away", performed gorgeously here, linger deep in the recumbent brain cells of most of us of a certain age.
---