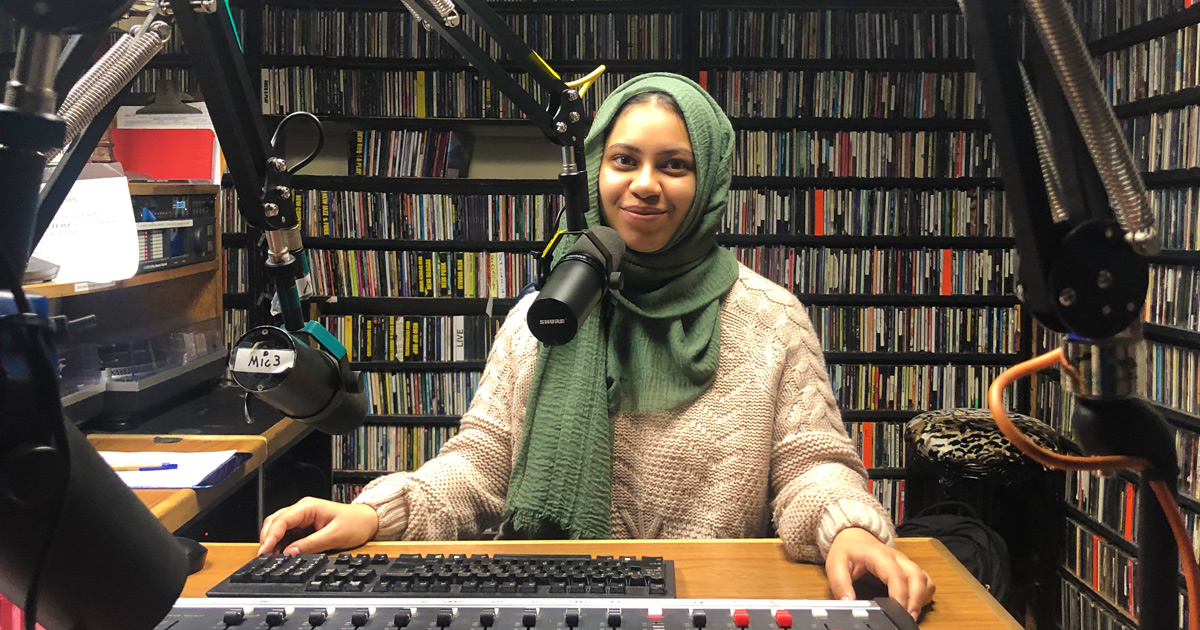 Zayan Reza | Passionfruit
1 February 2020 Host Spotlight
---
by Barbara DeMarco-Barrett
How did you come up with the focus of your show?
I have been an avid reader of poetry since middle school; I've always loved books and all kinds of literature and I eventually decided to try my hand at poetry writing. I discovered that I really loved it and poetry has been a huge part of my life ever since. Throughout high school, I competed in Poetry Out Loud, a national high school poetry recitation competition, and was fortunate enough to be mentored by the Ventura County Poet Laureate, Phil Taggart. As I transitioned into university life, I sensed that I was losing touch with poetry a bit, as I was always busy with schoolwork. Hosting ​Passionfruit ​is my way of reconnecting with the poems and poets I so admire.
Do you do interviews or play recordings or?
For now, I am pre-recording instead of hosting live. In time, I may transition into doing a few live shows, however I enjoy being able to edit and add different elements to my show. I am also just not confident enough to go on live right now!
What is your focus at UCI?
I am a Public Health Policy major, and it has been pretty amazing to receive a world-class education on a key issue that I am incredibly passionate about. I have always been interested in the medical field, and I feel it is vital for me to become as informed as possible on the topics of health disparities, government policies, specific public health measures, etc. before stepping directly into medicine.
This is your first semester at KUCI—how did you find your way here?
I received an email with information about the KUCI training class a few quarters ago, and I couldn't stop thinking about it! I decided to give it a shot last quarter, and soon became invested in the art of radio. I especially loved learning about the history of KUCI- the origin story, milestones, and other special moments. It feels pretty great to be a part of something so impactful.
What do you listen to, as far as radio or podcasts go?
I enjoy listening to a variety of podcasts on iTunes, and NPR is always great! Currently, I am listening to ​Gaslight ​on iTunes. It's a mystery story, full of twists and turns- a real thriller.
Do you have a favorite poet?
I love looking back and reading from Rabindranath Tagore's poetry. He was a Bengali poet, and our roots are similar in that aspect. There is an interconnectedness in his writing, a quiet appreciation for nature and life cycles. His poetry makes me feel like he had a lot figured out in his time.
What do you hope listeners glean from your show?
If anything, I hope listeners feel a renewed sense of appreciation for poetry and the great works that have been bestowed by acclaimed poets, old and new. I also hope listeners hold onto the fantastic power of words and use poetry in their own lives.
Any upcoming shows you care to talk about?
I hope to continue a sort of informal series on United States Poet Laureates in the near future. I am also planning on traversing the world of international poems and poets and literature in varied cultures. Stay tuned for all of that!
What's the last great book(s) you've read?
I highly recommend checking out ​Country of Origin​ by Don Lee. It's quite a tale, bitter at times. Reading that novel was a journey.
What's in your fridge?
I am currently a bit hampered by the flu, so lots of orange juice and soup.
What's on your nightstand?
A neat alarm clock my dad found at a thrift store, an aesthetically-pleasing orchid, and a lemon verbena candle.
Your favorite word (at the moment)?
I like the word "flummoxed". It feels like a pretty spot-on word to describe the feeling of being perplexed.
— February 1, 2020
---
Barbara DeMarco-Barrett has hosted Writers on Writing (Weds 9 a.m. PT) for 21 years. She teaches here and there, has published here and there, and her book, Pen on Fire (Harcourt, reissued by Mars St. Press) was a Los Angeles Times bestseller. More at penonfire.com.
---