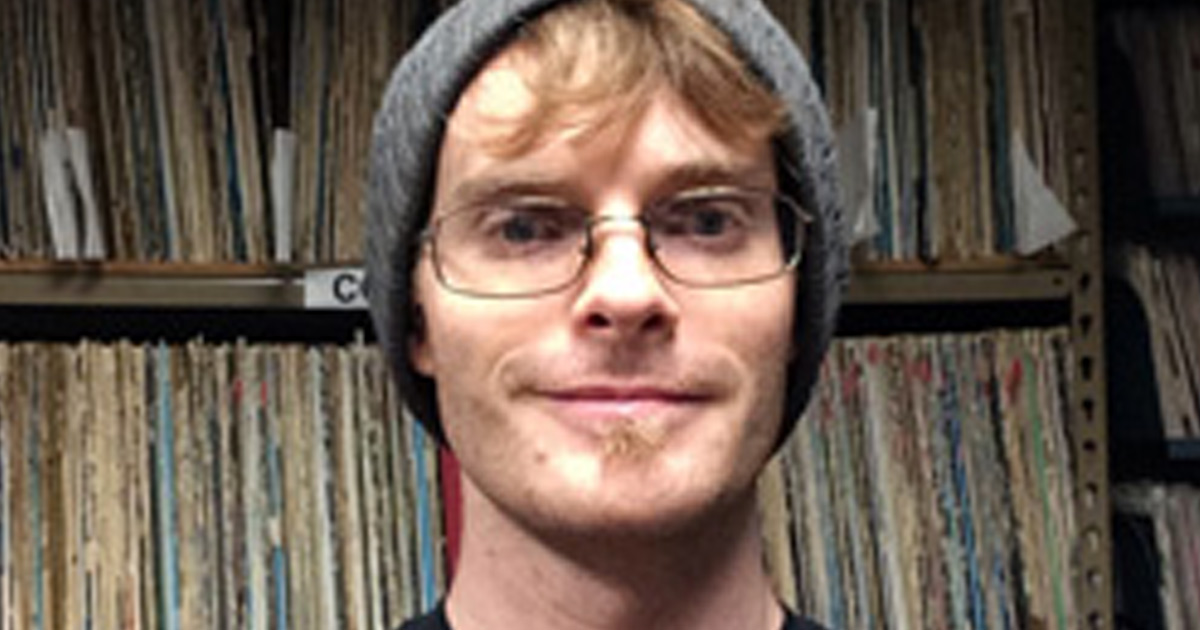 Chris Torrey | World Without Words
27 January 2014 Host Spotlight
---
Chris Torrey's show, World Without Words, focuses on instrumental music in the vein of post-rock, post-metal, neoclassical, and ambient genres. He trained at KUCI in fall of 2011, his first quarter at UCI (he was a transfer student from Santiago Canyon College). His show began January 2012 in the 4-6AM time slot. He worked his way up slowly, with his spring slot at 2-4AM, and has settled into Wednesdays 8-10PM. He's currently assistant training director at KUCI alongside John Kim, where he helps answer questions and takes care of most of the studio B one-on-one equipment training sessions.
How did you find your way to KUCI?
When I was transferring to UCI from Santiago Canyon College in the summer of 2011, I discovered a different radio station that belonged to a university in southern California (I forget which). This sparked a connection in my brain to see if UCI had its own radio station, and if so, to see what it was like.
This all happened on a fateful Tuesday night when I first tuned in to KUCI and fell in love with Lily's "Beatification" program from 10PM to midnight. She was playing numerous tracks I had never heard, by artists I knew nothing about, and it sounded absolutely amazing. From there, I started listening regularly, winning tickets to some shows over the summer, until I decided I'd learn how I could become a part of the station and share my own treasure trove of lesser-known artists with the world.
Talk about your show and a typical playlist — or is there no typical playlist?
My show seeks to showcase an area of music very rarely touched upon by commercial, mainstream radio stations: instrumental music. I do understand, though, that this is an extremely broad label, so I look to shed light on particularly niche genres under the realm of instrumental music, those being post-rock, post-metal, and ambient. Over the past two years of my program, I have been no stranger to music with spoken word, nor to more electronic music one might expect at raves, but they always serve as a transition between the three major aforementioned genres.
Back when I first started my show, I wanted to create a structured program that I could follow every week. I would start with the post-metal section of the show, getting my audience interested with high-energy music and catchy guitar riffs. After 30-45 minutes of this, I would move into the post-rock section, highlighting more of the traditional sounds associated with the genre. For those unfamiliar with post-rock, the genre is often characterized by superb musical dynamics, with many songs starting very slow and soft, but building up over the course of sometimes 10-20 minutes to reach a "wall of sound," oftentimes emotionally charged. Finally, the last 30 or so minutes of the program would dwindle down on the energy, reaching "sleepy time" music comprised of solo piano pieces, atmospheric tracks, and other softer songs.
Since this age of starting with high-energy and working my way down, I have evolved my show some to follow this formula loosely, but not be so strict in what is defined as "high-energy" versus "low-energy." Plenty of my shows will start with more energetic post-rock, bouncing back and forth with slow, drudging post-metal, then lead into chill wave and trip hop, before tackling ambient tracks.
How did you decide on the format for your show?
During my high school years, the dreaded MySpace era, I went to a friend's page one day and saw she had a song on her page from a band I had never heard before. The album had a pretty cover, so I took a listen. This song was the masterpiece "Threads" by Texan band, This Will Destroy You. It was like a fusion of the beauty of classical music with the catchiness of rock and the raw emotion of metal, and it was unlike anything I had ever heard. My interest for the genre soared when I discovered that this sort of music was not just an American trend, but an international one. I found a Japanese band called MONO, considered by many to be "post-rock gods," among others, that had even more classical influences apparent in their music. Needless to say, I was hooked.
When I first decided to join the station, I scoured other programs to find out if my sort of music was played. Being as unique of a station as KUCI was, I had found a couple programs that played some post-rock tracks, but often used them as segues into other genres like folk and indie rock. I knew then that I could do something really unique and special that would enrich the station with diversity and appeal to society at large.
How did you come to call it World without Words?
I definitely had some difficulty deciding on a decent title for the show. While working through the training class to become a DJ here at the station, I searched through the current program schedule to get ideas. Many of the shows seemed to have rather random names that could have been inside jokes or the like, and I knew I didn't want to go that route with my show title. So I took to analyzing the style of music I was playing and what made it unique. By connecting the dots of playing wordless music from countries ranging from Ireland to Egypt, Ukraine, and beyond, I came up with the alliterate name I use today.
Your first time slot was from 4-6 a.m. Was that difficult?
It was definitely a challenge at first altering my sleep schedule to accommodate the 4-6AM slot. I often finished classes at 8PM, raced home to eat dinner by 9, then set no fewer than 5 billion alarms to make sure I would wake up in time to walk to the station. But I knew going in from the training class that I would likely be stuck with the late late night show time, so I was prepared to suffer for a bit in order to deserve a better time slot farther down the road.
And in many ways, I was happy with the 4-6AM slot because I got to work on my on-air personality, equipment familiarity, and time management skills. My first quarter of the show was spent trying out some very strange William Shatner-esque voice, so I'm eternally grateful I had that time to realize I sounded horrendous and could alter accordingly.
You must prefer being on Wednesdays from 8-10 p.m., where you currently are situated.
Yes, I absolutely love this time slot. It's late enough to be appropriate for the genres I play, because I can see someone coming home from work, settling down for dinner, then before bed, flipping on the station to hear fun instrumental tracks that slowly lead into tracks to help one get in the mood for bed. At the same time, it's early enough that people on the west coast can tune in without too much schedule confliction, while night owls on the east coast can stick around through at least the bulk of the program before knocking out for the night. Also, it's on good ol' hump day, so what better way to wash the stress of the work week away with some fine instrumentality?
The slot was formerly occupied by the fabulous show "Bunnies in Space," hosted by our previous General Manager, Katie, so I am honored to continue that slot's legacy in my own, special way. I hope I do it justice.
What do you hear from your listeners?
Usually listeners say how grateful they are to be exposed to such interesting genres of music. This is certainly not the sort of music you would find on commercial radio, so they usually talk about how glad they are they found my show and were opened up to a whole world of music they did not know existed. I've found many listeners who are in either the energetic post-rock/post-metal camp, really "digging the groovy sounds," or those who love the "beautiful, chillout, atmospheric" tracks. I hope both sides take a listen to each other's music, though. I think that, besides being instrumental, the two camps have a great amount of overlay in what messages their respective genres send and how they deliver them.
Any shows at KUCI that you listen to?
Absolutely. Although Lily's "Beatification" has been discontinued, I listen to her new show she cohosts called "#OthermusiC" on Tuesday nights 10PM-midnight. After that is Alex's "Palette Swapped" from midnight – 3AM, which is one of my all-time favorites, especially when he busts out his DJ gear and does his monthly live-mixing show. I listen to Katrina's new talk show "Isms and Rhythms" religiously on Fridays 4-5PM on the commute back home from Irvine, which is both great fun and informative. Whenever I catch "Surfa Nova" Wednesdays 6AM-8AM, it always puts me in a good mood. And finally, the back-to-back goth rock and steampunk shows "Shadows in the Corridor" and "The Cog and the Whistles" are a lovely way to close out Saturday nights, 6PM-8PM and 8PM-10PM, respectively.
How has the station changed since you arrived in 2011?
I think there is a greater emphasis nowadays, starting from training onwards, to foster a bond between the DJs. Thanks to the efforts of our great Dagmar Klaus, host of "German Radio Broadcast" Sundays 2PM-4PM, many of the DJs gather at the UC Irvine pub on campus after staff meetings and socialize over craft brews and tater tots. This, in addition to having scheduled meetings at a DJ's house, helps to solidify the members of the station. Given that most programs are hosted by only a single person, I think it is vital that friendships are built up between us. After all, we are all here as volunteers because we love what we do. Why not share in that wonderful, unique experience together?
You're currently assistant training director. Any tips or advice for students and community members considering a show?
Do it! KUCI is always losing precious DJs due to graduation, full-time jobs, etc., so we need a fresh stream of incoming, bright-eyed DJs. They are like a blood transfusion. So long as we have people who understand and appreciate the KUCI philosophy of underground music and talk, we will continue to provide the community at large with fantastic, unique programming you can't find anywhere else. Our station is only as good as the volunteers it is made of, so if you have a particularly special idea for a show that you would like to share with the world, take the training class we provide at the start of every quarter, learn the ins and outs of how the station works, and join a family unlike any other out there. We'd love to have you!
— January 27, 2014
---
Barbara DeMarco-Barrett is host of Writers on Writing, Wednesdays at 9 a.m., and a contributor to USA Noir: Best of the Akashic Noir Series (Akashic, 2013). Watch the book trailer at penonfire.com.
---