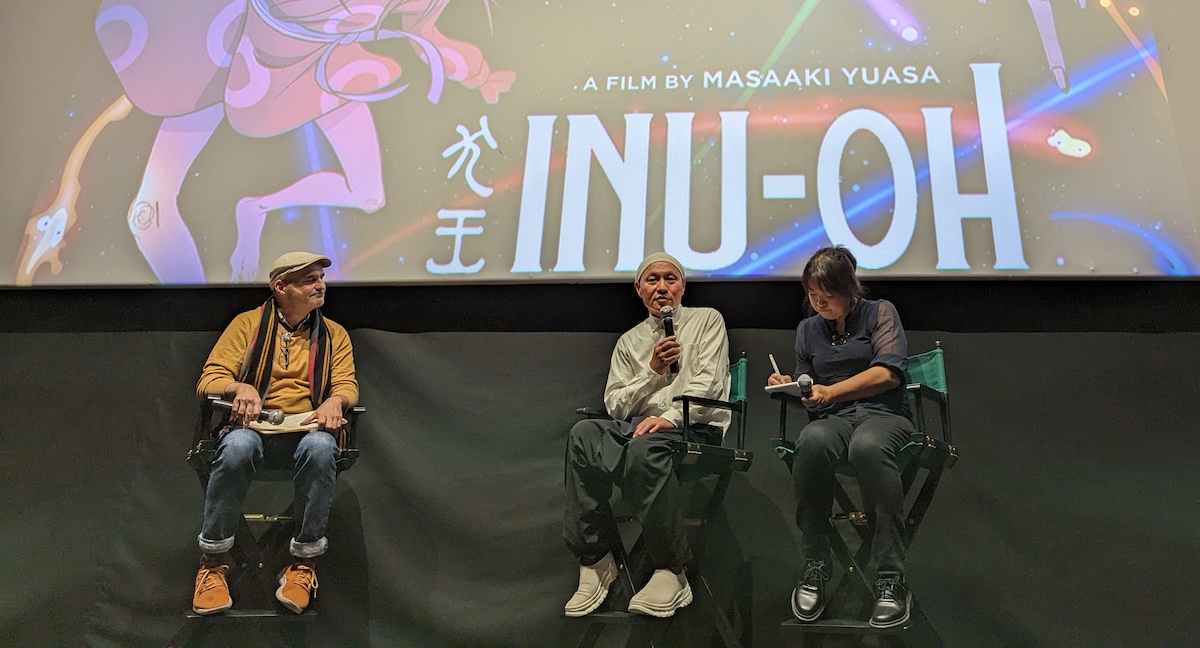 Inu-Oh, Masaaki Yuasa, and Yukihiro Gotou at the Westwood Landmark
17 January 2023 Featured Music Reviews
---
On a relatively unassuming Wednesday night, Westwood Los Angeles would be rocked by a hurricane unseen on any weather report. Like a swirling mass of light, energy, and music, legendary director Masaaki Yuasa descended upon the Landmark Theatre to deliver his newest full-length animated movie.
Though traffic may have delayed the evening a bit, when taking stage to present his work, Yuasa beamed with the radiance of a proud father. He explained to the audience "Don't worry about the complex historical bits of the movie. Even native Japanese people don't understand it perfectly." Instead he told us to focus on the second half of the film and treat it as a rock concert.
The story is about two real-life historical figures whose details about their lives were lost to time. Yuasa takes it upon himself to craft them a unique tale with his own brand of flourishes. Blind priest Tomono (v. Mirai Moriyama) discovers a passion for the biwa, a traditional Japanese stringed instrument. Rather than following a normal priestly path, he creates a musical group unlike any other. The titular Inu-Oh (v. Avu-chan) joins him by bringing fierce vocals and dance choreography reminiscent of Elvis and Michael Jackson, among others. Together they set out to reform the nation's understanding of what music can be and should do (answer: rock and rock out, respectively).
As expected, the team at Science Saru animated this historical rock opera in an incredibly distinct, memorable way. Their style, much like Studio Trigger, can be spotted a mile away. The scenes when main character Tomono is making sense of his world, having been blinded as a child, particularly stand out as examples of this. Splotches of scratchy colored shapes against a pitch black background help us understand how he meets and characterizes others.
But the real star of the show is without a doubt the soundtrack. Composer Yoshihide Otomo and Biwa supervisor Yukihira Gotou work together to craft a trippy rock-jazz-prog-Japanese traditional fusion, starting with a 15-minute 3-part epic: Inu-Oh 1, 2, and Burial Mound of Arms. This sets the stage for exactly what to expect from the back half of the film. The story certainly doesn't disappear completely, but it does step back to let the soundtrack breathe.
Speaking of Yukihira Gotou, after the film, we were treated to a demonstration of the biwa instrument by Gotou-san himself! Front row and center to this amazing performance, he played two tracks from the movie for us, while also making some adjustments and changes unique to this playthrough. Yuasa himself pointed this out and how he enjoys these performances because they're always slightly different.
Finally, we wrapped up the evening with the promised Q&A. Director Yuasa explained his inspiration process, how he is always hunting down for inspiration around him, and how he likes to imagine visuals set to whatever new music he happens to come across. He gave some insight into the character of Inu-Oh as well, describing how he seemed like he was being "healed" throughout the film by the music, but really it was transformation, implying neither "version" of Inu-Oh was superior or preferred to the other. Be it younger or older, Inu-Oh wanted a life not of healing, but of breaking through normalcy and tradition.
All in all, an outstanding evening for a sold out crowd of Yuasa fans. Be sure to check out the Golden Globe nominated Inu-Oh, available digitally on various online platforms and Bluray everywhere else. And a final big thank you to GKIDS for inviting me to attend this once in a lifetime event!
---