Date: Thu, 23 May 2002 22:30:29 -0700 (PDT)
Cultural Critic Paul Gilroy on "Race and Beyond"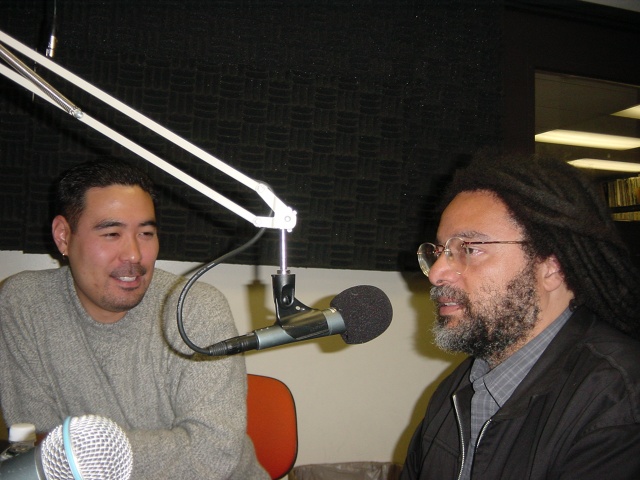 Glen Mimura with Paul Gilroy in KUCI's Studio B.
Photo by Daniel C. Tsang &copy 2002.
Irvine -- Cutural critic Paul Gilroy, recently on the UCI campus to deliver a series of Wellek Library Lectures, enages in a provocative conversation about "Race and Beyond" with Asian American Studies Assistant Prof. Glen Mimura and Subversity show host Dan Tsang this Friday, May 24, 2002, from 5-6 p.m. on KUCI, 88.9 fm in Orange County, California. The radio program is also web-cast live at the same time via kuci.org.
Gilroy, a sociology and African American studies profesor from Yale, is a key figure in cultural studies. He is the author of numerous books, including his latest, "Against Race: Imagining Political Culture Beyond the Color Line". Earlier works include: "There Ain't No Black In The Union Jack", "Small Acts: Thoughts On The Politics of Black Cultures", and "The Black Atlantic: Modernity and Double Consciousness." He is also a DJ and music writer, contributing to such publications as New Statesman and Sight and Sound. He also has a longstanding collaboration with filmmaker Isaac Julien.
Gilroy elaborates on his thought-provoking Wellek Library Lectures ("Elements of Post-Colonial Melancholia"), discussing race, racism, racialism and UC Regent (and anti-race data collection initiative's) Ward Connerly as well as 9/11. He suggests that just feeling good about one's community is not enough; there has to be a political commitment as well.
The show will be archived on the Subversity RealAudio Archive page AFTER the Web-cast: kuci.org/~dtsang/subversity/realaudio.htm. Click on Latest Archived Show.
Web resources include:
Paul Gilroy: A Bibliography
compiled by Eddie Yeghiayan [site includes photo of Gilroy at UCI]
sun3.lib.uci.edu/~scctr/Wellek/gilroy/
Paul Gilroy and The Black Atlantic
www.emory.edu/ENGLISH/Bahri/Gilroy.htm
For those who contributed to KUCI during last week's Fund Drive, our thanx for helping keep this alternative voice on the air. You can still contribute online at: donations.kuci.org.
Thanx for listening.
dan


Daniel C. Tsang
Host, Subversity, Fridays, 5-6 p.m.
KUCI, 88.9 FM and Web-cast live via http://kuci.org 
Subversity: http://kuci.org/~dtsang; E-mail: subversity@kuci.org
Daniel Tsang, KUCI, PO Box 4362, Irvine CA 92616
UCI Tel: (949) 824-4978; UCI Fax: (949) 824-2700
UCI Office: 380 Main Library
Member, National Writers Union (http://www.nwu.org)
WWW News Resource Page: http://sun3.lib.uci.edu/~dtsang/netnews1.htm
AWARE: http://sun3.lib.uci.edu/~dtsang/aware2.htm
Personal Homepage: http://sun3.lib.uci.edu/~dtsang/