Date: Fri, 19 May 2000 06:57:24 -0700 (PDT)
Fabulous Hell author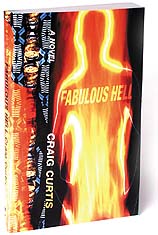 Irvine -- Craig Curtis has written a captivating fictional account of life in Orange County and beyond about sex, drugs and AIDS.
Curtis, the author of Fabulous Hell (Alyson), will be interviewed on Subversity this evening from 5-6 p.m. on KUCI, 88.9 fm and on the Web at kuci.org/listen.html. Curtis has lived in Orange County and the book contains a substantial amount devoted to this area.
For more on the book see: Alyson.
To chat with the guest, call 949 824 5824 during the show. You can also send e-mail to: subversity@kuci.org.
A review appeared in a recent OC Weekly: A Gay Inferno.
This show is dedicated to Kiyoshi Kuromiya, the Asian American gay pioneer and leading AIDS activist who founded Critical Path AIDS Project in Philadelphia. He died May 10. He was a guest on Subversity (February 1996) when he was a plaintiff in the ACLU lawsuit over the Communications Decency Act. The law was later overturned by the U.S. Supreme Court. For his involvement in various social change movements, see: Obit.

Daniel C. Tsang
Host, Subversity, now Fridays, 5-6 p.m.
KUCI, 88.9 FM [Live links at: Live]
 selected shows available as RealAudio files
URL: go.fast.to/sv
E-mail: subversity@kuci.org
Subversity, KUCI, PO Box 4362, Irvine CA 92616