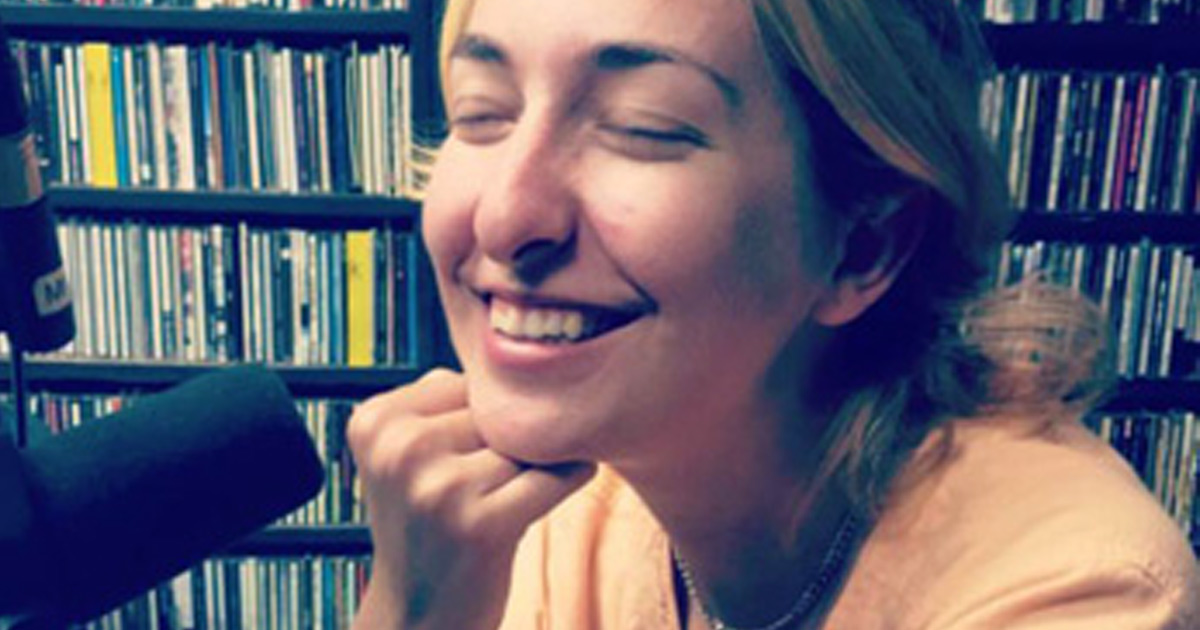 Savannah Peykani | Matching Separates
9 September 2016 Host Spotlight
---
by: Nicole Nelson
Savannah Peykani was the Managing and Features Editors for the New University newspaper last year. She also served as an Assistant Training director at KUCI. She is now the new Training Director. Her current show Matching Separates airs Thursdays 8-10p.m.
To start, tell us a little about your current show.
My show this quarter is called "Matching Separates" and the title is inspired by a fashion term for clothes where the top and the bottoms are made from the same fabric. So, the idea is we take two concepts that are disparate but show how they can go together cohesively. I co-host it with my best friend, Natalie Kassir, so we take our two different musical tastes and inspirations to try to find a common thread for each theme week after week.
What kind of feedback do you get from listeners about the show?
I usually get calls from older people who are excited when I play stuff from the 70s (like kraut rock and post punk). Besides that, once my mom told me a song I was playing sounded like a broken lawn mower. So I'd say it's mixed reviews haha.
How long have you been on the air? How did you decide to get involved with KUCI?
I've been involved in KUCI since spring of my freshman year. I always knew I wanted to do college radio; one of my parents' best friends worked at our local college station so it was just a super normal part of growing up.
Here at KUCI, you are the new Training Director, after having been the Assistant Training Director last year. What is your favorite part of the job?
My favorite part of being Training director is just being able to meet all the new DJs and PA hosts as they begin their KUCI journey! Having such a large radio station is bittersweet. On one hand, it's awesome that we have so many people in our community interested in college radio and a diverse listening experience. But on the other, it is hard to meet all of the staff members since we have so many! The training class allows me to have a stronger connection to the station, besides just coming in once a week for my show.
Are there other shows on KUCI that you listen to on a regular basis?
I have so many favorites on KUCI! I love Radio El Nopal, Mystic Parfait, Omakase and Ask a Leader. I think Gold Code, from Omakase, is a genius!
When you're not at the station, how do you spend your time?
When I'm not at the station, I go to so many local shows. (Dancing is my favorite thing!) I also watch a lot of movies, read and spend time (at least in the summer) soaking up the sun at the beach.
Where do you like to go for live music shows?
Observatory is a pretty convenient and solid place for shows. In LA, I'm really into the Teragram.
You are a double major in Literary Journalism and Film and Media Studies. So far, your shows at KUCI have all been music shows. Do you ever think of doing a PA show?
I've thought about doing a PA show before because I think radio broadcast for journalism is super important but honestly it sounds so intimidating! I'm not sure if I'll ever have enough time to plan out a proper PA show.
You are on track to graduate in March 2017. In terms of your career in media, do you hope to continue with radio, or print? Or are you going to try television next?
My ultimate goals actually are in film. I'd like to blend journalism with film and make documentaries.
Thank you, Savannah.
Nicole Nelson is a co-host of Writers on Writing, which airs Wednesdays at 9a.m. PT.
— September 9, 2016
---
Barbara DeMarco-Barrett is host of Writers on Writing, Wednesdays at 9 a.m., and a contributor to USA Noir: Best of the Akashic Noir Series (Akashic, 2013). Watch the book trailer at penonfire.com.
---